Brian Kim has stepped down as president of the Fort Smith-based Arkansas Colleges of Health Education citing family and personal health reasons. Kim, a native of Seoul, South Korea, was hired by ACHE in May 2019.
ACHE CEO Kyle Parker will fill the role in an interim basis, according to Tuesday's ACHE statement. Parker told Talk Business & Politics there is no time frame for finding a replacement.
"After much thought and reflection, I will be stepping down from my role as president in order to focus on my personal health and my desire to be closer to my family," Kim noted.
Kim, an attorney, has more than 20 years of academic experience and has held teaching positions at the University of Baltimore School of Law, University of Maryland School of Law, and George Mason University School of Law.
Prior to joining ACHE he worked as vice president for the Department of Accreditation and Associate General Counsel for the American Osteopathic Association (AOA), the member organization for more than 145,000 U.S. osteopathic medical doctors and osteopathic medical students. That job also included his role as secretary to the Commission on Osteopathic College Accreditation (COCA), the accrediting agency for all osteopathic medical schools.
Kim earned a bachelor's degree from Tulane University and received his Juris Doctorate from Boston College Law School.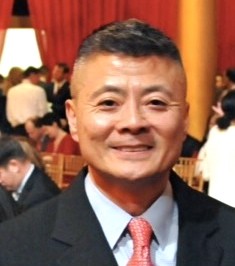 "For the past two years, President Kim has been an instrumental leader at ACHE," Parker noted in the statement. "President Kim's work has been critical to ACHE's operations and the advancement of its mission. I wish Brian much success in his future endeavors. In the interim, I will resume my role as CEO and President and look forward to the exciting future of ACHE and its thriving programs."
The most recent ACHE expansion, announced June 22, is funded by a $32.3 million anonymous donation that will support a holistic approach to health and wellness and include partnerships with public schools, art centers, a community garden, and a Northwest Arkansas-based culinary study center. The donation creates an endowment that will pay for staff, program costs and construction for the ACHE facility (former Golden Living headquarters) at 1000 Fianna Way.
ACHE acquired the former headquarters building in 2020 for the purpose of housing a medical research facility and a health and wellness education center. Work on the five-story facility – now known as the ACHE Research Institute Health and Wellness Center – is underway and should be complete within two years.
ACHE's first college, the Arkansas College of Osteopathic Medicine (ARCOM) welcomed its fifth class of osteopathic medical students in July. The ACHE School of Physical Therapy opened its doors to its inaugural class in June 2021. The ACHE School of Occupational Therapy announced is accepting applications for its first class of occupational therapy students, set to begin in January 2022.