Arkansas law suggests Mahony exit likely leaves Cotton without Democratic opponent
by Roby Brock ([email protected]) November 13, 2019 6:16 pm 2,899 views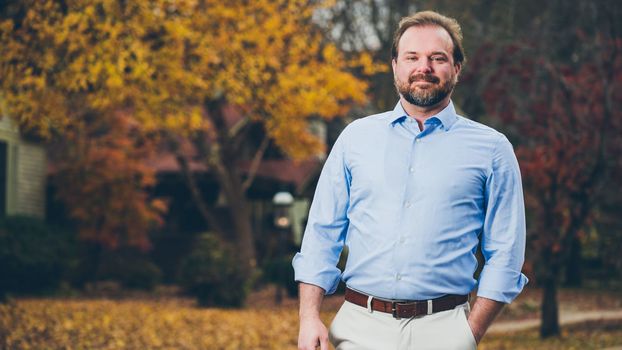 On the heels of yesterday's bombshell announcement that Democrat Josh Mahony was withdrawing his candidacy for his U.S. Senate challenge to incumbent Sen. Tom Cotton, R-Ark., the state Democratic Party may be in a pickle for finding a replacement.
Mahony announced two hours after the candidate filing deadline closed on Tuesday (Nov. 12) that his campaign would "cease operations immediately."
Citing a "family health concern," Mahony released a statement to supporters that explained he would no longer be able to devote time and energy to the race.
"I would like to extend my deepest gratitude to all of those who have supported me during this race. It has been the honor of my life to be able to meet and visit with so many Arkansans over the last six months and hear their voices. It was my sincere hope to be their advocate in Washington, D.C. However, in this moment right now, I need to focus on my family and place their interests first," he said.
Mahony asked for privacy on the matter.
Arkansas election law addresses what's known as "vacancy of candidacies" and "vacancies of nominations." Although Mahony was the only Democrat to file for the Senate seat, he had not officially been recognized as the nominee.
Democratic Party rules allow for replacing unopposed candidates for U.S. Senate within a certain time period, which could lead to a convention process for the state's minority party. But state law would trump the party rules.
The process for Mahony and party officials on both sides of the aisle will hinge on an official letter that Mahony must provide to Democratic Party officials, who will then notify GOP Gov. Asa Hutchinson within ten calendar days.
That letter and its contents are crucial.
Alex Gray, an attorney with Steel, Wright, Gray, PLLC in Little Rock, has worked on election issues related to ballot initiatives. He laid out the procedure for Talk Business & Politics of what should happen next.
"Pursuant to Act 648 of 2019, the Democratic Party of Arkansas must notify the Governor within ten calendar days the basis for filling the vacancy in nomination for United States Senate created by Joshua Mahony," Gray said. "In order to replace the candidate, the vacancy must be based on Mr. Mahony's (1) death, (2) serious illness, (3) moving out of state, or (4) filing for another office."
Mahony did not state which member of his family has the health concern, but his wording suggests it was not himself. Gray said the options for Democrats may be limited based on that scenario unless the letter from Mahony cites another motive for leaving the race.
"According to yesterday's press release, Mr. Mahony is alive, not claiming any personal serious illness, not moving out of Arkansas, and has not filed for another office. Barring the notification of a personal serious illness or a sudden move out of state within ten days, and because the filing period for another office has closed, the Democratic Party of Arkansas will not be able to fill the vacancy," he said.
Other scenarios could lead to the Democratic Party attempting to replace Mahony by convention, which would certainly lead to a lawsuit challenging the move from the Republican Party.
Mahony could produce a letter that offers one of the options for filling his candidacy that's allowed by state law. That move would also likely lead to litigation between the two major political parties since Mahony already publicly declared his reason for exiting the race.
A final option could be that Mahony "withdraws his withdrawal" and stays in the race. That would leave him on the ballot as he did pay his filing fee on the first day of filing period over a week ago.
Democratic Party officials tell Talk Business & Politics they are studying their options. Republican Party officials say they feel the legal case is pretty airtight.
For now, it looks like Sen. Cotton will only have to contend with two remaining challengers in the field – Libertarian Ricky Dale Harrington, Jr. and Independent Daniel Whitfield.
It's quite a role reversal from nearly 12 years ago when Democratic incumbent U.S. Senator Mark Pryor ran without Republican opposition.