Walmart continues manufacturing mantra with Open Call, pushes private brand deals
by Kim Souza ([email protected]) June 13, 2018 3:41 pm 3,332 views
Warren Brown of Virginia and Casey Millspaugh of Fort Smith were among the more than 450 business owners welcomed by Walmart to its Bentonville home office Wednesday (June 13) for its fifth annual Open Call event, promising them at minimum a 30-minute meeting with a buyer.
Cindi Marsiglio, Walmart vice president of U.S. manufacturing and sourcing, said five years into the initiative to create more U.S. manufacturing jobs the retailer is 90% toward its 10-year goal to source an additional $250 billion U.S. made products by 2023.
"We know there is more we can do as we continue to look at 1,300 categories for opportunities to source items in the U.S. and shorten the supply chains on everything from patio pillows to tires," she told Talk Business & Politics. "Walmart is uniquely positioned to help and our customers love it."
Arkansas Gov. Asa Hutchinson spoke to the gathered hopeful about the importance of manufacturing to the state and nation. He said Walmart's initiative to returning manufacturing jobs is important for America and Arkansas.
"Arkansas has a strong manufacturing base and is the sixth leading state in terms of workforce engagement in the sector," he said. "We are a leading state benefiting from direct foreign investment and have set up 26 career centers across the state to teach manufacturing skills. Arkansas is a hidden secret."
Hutchinson has been supportive of Walmart's U.S. manufacturing initiative, saying he keeps meeting with Walmart executives at plant announcements across the state from Fort Smith to Springdale to Clarksville and Jonesboro.
"U.S. manufacturing jobs represent American at its best, and entrepreneurship at home is important for our economic prosperity and our national security," Hutchinson added.
PIE SUCCESS
Walmart U.S. CEO Greg Foran said the day will be "great" regardless of what happens. He said Walmart was happy to welcome the entrepreneurs and hope they leave Bentonville having learned something, no matter if they get a deal. Foran said quality "items" are the center of Walmart's success and he spends much time in stores looking at products much the same way customers do.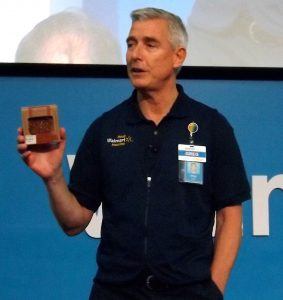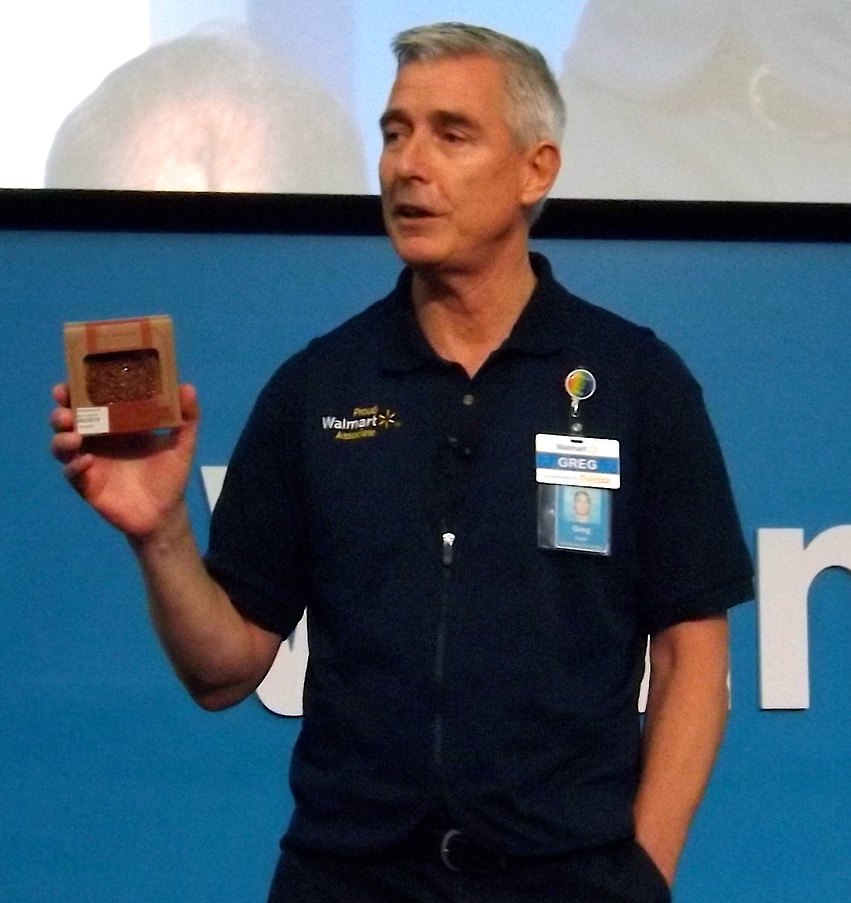 He said each item sold often has a great story and even the smallest product multiplied by a big number will equal a really big number. He pointed to a mini baked pie sold in Walmart stores for 50-cents each. He said a Florida store was selling 600 of the apple versions each week. He said in Puerto Rico a pineapple version of the pie was selling 3,000 a week. Walmart projects to sell 185 million of the mini pies this year, made by The Bakery, a private brand manufactured in Massachusetts.
"We are an item business and we all have a merchant mentality dating back to Sam Walton's moon pie," he added.
Foran also highlighted Softex, a supplier manufacturer located in Puerto Rico who makes private brand toilet paper, paper towels and napkins for the retail giant. When the plant was badly damaged by hurricanes last year, Foran said it was touch and go. The plant owners opted to move into a new facility and upgrade equipment after Walmart gave them a commitment to buy the product. He said Softex invested $6.5 million in the business and Walmart promised to buy $1 million dollars of product which was the financial support for the investment which also created 44 new jobs on the island.
Marsiglio said private brand is an important strategy at Walmart and the product expo held on Tuesday in conjunction with the Open Call focused on connecting entrepreneurs and product manufacturers with Walmart's private brand teams in various categories.
"This was the first time we have done this around Open Call but we have learned over the years the importance of helping to educate these entrepreneurs and manufacturers on the possibilities that exist with private brands," she said.
She also told Talk Business & Politics it's important for entrepreneurs to not give up if they don't get a deal right away.
"We rarely buy products in 30 minutes, but what we can do is make sure those folks who are ready get directed to the people who help get them products into Walmart. We still offer almost everyone the opportunity to put their items on Walmart.com which is a good place for some of them to start," Marsiglio said.
'POETIC JUSTICE'
Economist Roger Tutterow was also a guest speaker at Wednesday's general session. Sporting a purple tie he purchased earlier at a Walmart store after arriving in Bentonville without one, he said manufacturing is a mainstream message. Tutterow said as the U.S. economy just entered its 108th month of expansion, consumer confidence is at its highest level in 18 years. He credited Walmart's efforts to support U.S. manufacturing saying the jobs have a bigger payoff than other sectors.
Tutterow said when manufacturing grows it also supports logistics and retail. As more manufacturing jobs are being onshored, he said the supply chain is shorter and thereby reduces the need for manufacturers to carry as much inventory. He said when weather shocks occur, having inventory close to where it's needed is essential and that can only happen if goods are made in the U.S.
"There are many tailwinds driving U.S. manufacturing. … Modern manufacturing can now take advantage of more affordable and sustainable energy sources that were not available when they moved offshore," he said, adding that labor costs in the U.S. are now competitive with China who is now complaining that Vietnam is undercutting Chinese labor costs.
"Now that's poetic justice," he said.
CUSTOMER RESPONSE TO U.S. MADE
Tony Rogers, chief marketing officer at Walmart, said Walmart finds 85% of the consumers it surveys are supportive of buying U.S.-made products. He said 30% believe it's more important to them to buy U.S. made now than it was five years ago. Rogers said the retailer is again promoting U.S.-made seasonal items throughout its stores in a campaign that began on Memorial Day and runs through July 4. Marsiglio said the featured items in the campaign have seen a 30% bump up in sales because customers do support made in the U.S.
Steve Bratspies, chief merchandising officer of Walmart U.S., said the retailer wants to be the optimism that fuels the dreams of product suppliers so the two can win together. Bratspies also said Walmart is a big company and there can be bumps in the road, but it's important for entrepreneurs to remember Walmart is a partner trying to help them succeed. He was clear Walmart won't compromise on price or quality. In some cases, suppliers have to work with the retailer to reset the cost structure to make a deal work. He said when a supplier is willing to be flexible to change there can be opportunities.
Two years ago, an outdoor grill was pitched by Meco of Greenville, Tenn. After working with the buyer the supplier got the cost down and the American grill was sold in 100 stores. A year later the supplier came up with a pre-assembled version and they sold 90,000. The product was adapted again to bring new colors, a Walmart logo and a  lower price. The grills are going into 3,000 stores. Bratspies said going from 100 stores to 3,000 in three years represents substantial growth for the supplier.
Brown made the trip from Virginia last year to pitch his frozen single-serve bakery confection called Cake Love. After working on the price structure and changing the name to "Don't Forget The Cake," he was able to get the product in 250 stores to start. Brown told Talk Business & Politics he's back this year to present a healthy protein snack.
Millspaugh was pushing his organic popcorn under the Fort Smith Popcorn Co. label. Millspaugh did not land a deal, but said Walmart buyers had ideas to help him lower costs and do other things to be better prepared for next year.
Also Wednesday, Walmart said it opened its first corporate-owned manufacturing facility in Fort Wayne, Ind. The milk production plant, under construction for two years, employs 200 and supports 100 contract dairies in the region. Charles Redfield, executive vice president of food at Walmart U.S., said this is Walmart's own investment in private branded milk which shortens the supply chain and can help reduce the costs.
"We want to be your partner, be willing to take risks and bring us your best, and if you do that we will help you grow." he said.
Following are just a few of the hundreds of products pitched Wednesday.
• Dude Flushable Wipes of Chicago
It took them two years to get the product into stores but are launching into 4,000 this month.
• Just Poppin of Nokomis, Fla.
Company owners pitched their gourmet popcorn product last year, made changes in packaging and landed in Texas store in March. So far they have sold 20,000 units.
• Thompson Brothers of Minnesota
They pitched their Great Scrape grill cleaner last year. After a cost restructure and revamped packaging the grill cleaner is in 2,000 stores and projected to sell 100,000 units this year.