State Sen. Mathew Pitsch, R-Fort Smith, announced Monday (Feb. 1) that he would seek the GOP nomination for Arkansas Treasurer of State. The seat will be open in November 2022 as current State Treasurer Dennis Milligan is term-limited.
"I'm proud of the work we've been able to accomplish in the Senate and the House of Representatives during my time in office," said Pitsch. "Arkansas is fortunate to have a strong financial strategy and outlook and it's crucial we maintain our economic footing. Keeping Arkansas financially strong for its citizens is paramount."
Pitsch is the Senate Majority Whip in the 93rd General Assembly. He was elected to the Arkansas State Senate in 2018 and also served in the Arkansas House of Representatives from 2015 to 2018.
He is the vice chair for the Senate Transportation, Technology and Legislative Affairs Committee and a member of the Senate Insurance and Commerce Committee and Senate Efficiency Committee. He is also a member of the Arkansas Legislative Council and Legislative Joint Auditing Committee and serves on several subcommittees.
Co-chairs for his Treasurer campaign committee include Mike Carroll, Arkansas Economic Development Commission; Keith Gibson, Arkansas State Highway Commission; and Bennie Westphal, Arkansas State Game & Fish Commission.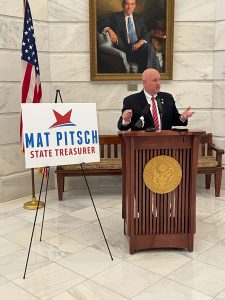 If elected, Pitsch said his primary focus will be on managing the state's $4.5 billion investment portfolio as well as helping oversee things like the state's college savings plan and state employee pensions. Additionally, he said he will continue promoting economic development, expanding and maintaining transportation infrastructure, and stimulating pro-growth economic policies for the state.
No other candidates have announced for the office of Treasurer of State.
Pitsch is the executive director of Western Arkansas Intermodal Authority. He previously served as Dean of the College of Applied Science and Technology at the University of Arkansas Fort Smith and vice-president for Economic Development for the Greater Fort Smith Regional Chamber of Commerce.
Pitsch earned his bachelor's and master's degrees in electrical engineering management from the University of Missouri in Rolla in 1985 and 1986, respectively. He was born in Buffalo, Wyo., and is married to his wife, Seanna. They have four children.
On Monday's Talk Business & Politics Daily, Pitsch discussed his candidacy and efforts in the 93rd General Assembly.