Sen. Boozman-sponsored bill would increase federal funds for medical residents
by Steve Brawner ([email protected]) February 8, 2019 2:44 pm 785 views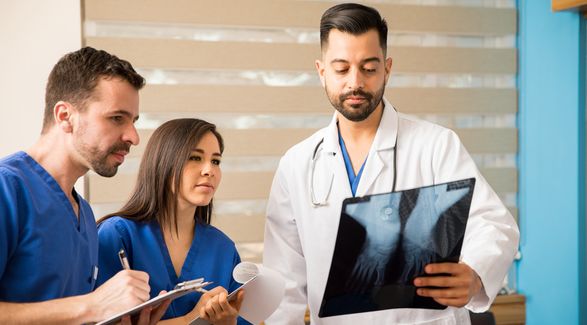 Sen. John Boozman, R-Ark., is the lead Republican sponsor of a bill that would increase the number of Medicare-funded medical residencies by 15,000 over five years.
The Resident Physician Shortage Reduction Act, authored by Sen. Bob Menendez, D-New Jersey, would lift limits on the number of Medicare-funded residencies by 3,000 each year over the next five years. The caps were created by the Balanced Budget Act of 1997.
Resident physicians have graduated medical school but must complete three to eight years of supervised training before becoming board-certified. According to University of Arkansas for Medical Sciences Chancellor Dr. Cam Patterson, it costs a hospital about $200,000 to train and pay a resident, but the Centers for Medicare and Medicaid Services offsets part of that cost in many cases.
"Without that offset, it's really, really difficult to expand the number of residents that we train," he said.
According to the Association of American Medical Colleges, the United States could have a shortage of 120,000 physicians by 2030. That number would include a shortage of between 14,800 and 49,300 primary care physicians. Moreover, one-third of active doctors will be older than 65 in 10 years, the AAMC reported in April 2018.
The AAMC said medical schools have increased enrollment by nearly 30% since 2002, but the cap on residents remains.
According to AAMC, teaching hospitals across the country currently are operating 10,000 residency positions without support from Medicare.
The bill gives first priority to hospitals in states with new medical schools or branch campuses. That's followed by hospitals that are already training more residencies than their current cap, hospitals affiliated with Veterans Administration medical centers, hospitals focused on community-based training, and non-rural hospitals operating an approved "rural track" program.
At least half of the new slots would be directed to shortage specialty residency programs. Qualifying hospitals could receive up to 75 new positions per year over the five-year period.
Arkansas has two new medical schools, the Arkansas College of Osteopathic Medicine in Fort Smith and the New York Institute of Technology College of Osteopathic Medicine at Arkansas State University – Jonesboro. Boozman spokesman Patrick Creamer said those schools along with UAMS have indicated support for the bill.
Boozman sponsored similar legislation in the previous Congress. Creamer said sponsors are waiting on a Congressional Budget Office score to see how much the bill would cost. The legislation does not include any offsets, but sponsors will look for one.
"It's always easier to get people on board if you've got a way to pay for it," he said.
Creamer said Arkansas currently has 223 residencies available for graduating medical students.
UAMS has a medical student class size of 170 and has roughly 870 residency slots in Little Rock and eight other locations. Arkansas has more medical school graduates than residencies, which means it ends up exporting graduates elsewhere. More slots would allow them to stay in Arkansas for their residencies. Moreover, residents are most likely to practice within 50 miles of their final training, said Patterson.
Patterson said Arkansas has the nation's fifth worst physician-to-population ratio. While the national average is 270 per 100,000 individuals, Arkansas has about 200. The problem is worse in poorer, more rural parts of the state. The state has a shortage of both primary care physicians and specialists, and in particular there is a critical shortage of physicians specializing in geriatrics.
He said he recently was struck by the low number of physicians on staff at Helena Regional Medical Center.
"There are people who live more than an hour away from the nearest primary care provider here in the state of Arkansas, and that's no good for anybody, and that's one of the big reasons why we are 46th out of 50 states in health care outcomes," he said. "This (bill) will have a big impact on improving health care outcomes for 3 million Arkansans."