Governor: Arkansas Medicaid spending at 'zero growth' for first time in state history
by Wesley Brown ([email protected]) August 3, 2018 9:43 pm 862 views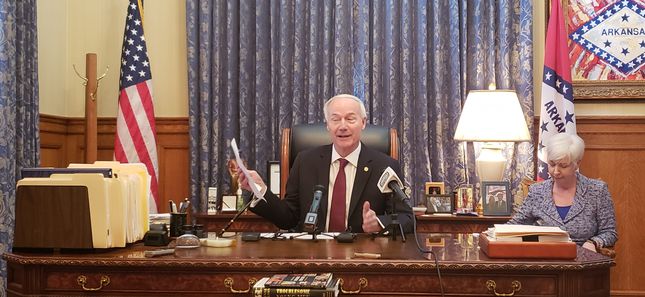 Gov. Asa Hutchinson offered a steady dose of good news concerning the state's healthcare marketplace on Friday (Aug. 3), highlighted by new year-ending data showing Medicaid spending in Arkansas in fiscal 2018 was flat or near negative growth for the first time in recent memory.
"Today, I am pleased to emphasize the point that Medicaid spending has had a zero percent growth rate (in 2018), which is the only time in Arkansas history that has happened," Hutchinson told reporters at a pen-and-pad press availability at his State Capitol office.
The year-end update by Hutchinson, with Department of Human Services Director Cindy Gillespie at his side, confirms projections by DHS in February that state Medicaid spending was more than $400 million below baseline five-year projections halfway through the administration's government "transformation" efforts.
The Medicaid transformation effort was created after Hutchinson and a legislative task force set a goal of reducing Medicaid spending increases by at least $835 million from fiscal years 2017-2021. For the fiscal year ended July 31, Hutchinson and Gillespie reported savings of $22 million compared to the previous year.
Hutchinson noted that the year-end snapshot of Medicaid spending is also the first time the state has seen a dip in Medicaid spending since 2013. He further emphasized that the lower spending did not mean there has been a decline in services.
"This is not a change in services, this is simply the result of people that are working (and) the decline in the number of Arkansas Works and the traditional Medicaid, and our transformation efforts that have been successful in savings and this is a reflection of that," said the governor, citing the state's low unemployment rate at 3.8%.
Counting last year, state savings now total $230 million, about $77 million more than expected. Since the beginning of 2017, another $259 million in savings has occurred outside of those transformation efforts. Those came primarily because an improving economy has reduced the number of Medicaid recipients, while DHS and medical providers have made efforts to streamline services.
Just last month, DHS officials said 7,000 of the 279,602 Arkansans benefiting from the state's Arkansas Works program did not satisfy its work requirement in June. They face losing coverage if they continue to fail to satisfy the requirement during the next two months.
The report said that 7,464 did not satisfy the work requirement, including 7,392 who reported no work activities. Due to closures unrelated to compliance, that number had fallen to 7,041 as of July 8. If those individuals fail to meet compliance standards for three straight months, they will lose coverage.
Medicaid is the government's program that serves the poor, the aged, the disabled, foster children and other needy Arkansans. Arkansas Works is the state program that uses mostly federal Medicaid dollars to purchase private health insurance for Arkansans with incomes up to 138% of the federal poverty level. It was created in 2013 after the U.S. Supreme Court said states could not be forced under the Affordable Care Act to expand their Medicaid populations.
Arkansas chose to participate in the expansion and obtained a waiver to use that money to purchase private insurance. The number of recipients of traditional Medicaid and Arkansas Works fell by 117,000 people in 2017.
Hutchinson and Gillespie told reporters that the transformation savings have come from a variety of reforms. According to a Medicaid "scorecard" provided to Talk Business & Politics by DHS officials, about $214 million in transformation savings came from lower costs in pharmacy, dental, behavioral health and developmental disabilities services.
Later during the press conference, Hutchinson also credited Gillespie and her staff for cutting the state's backlog of low-income families waiting to receive vouchers to enroll in the state's early childhood program. According to DHS, more than 5,300 children statewide are served through infant/toddler, pre-K, after-school and summer programs.
Hutchinson and officials from DHS's division of Childcare and Early Education also announced in May that Arkansas had received $26 million through a federal child care block-grant that can provide child care assistance for up to 3,800 additional children from low-income families – enough to eliminate the state's backlog of family's seeking assistance.
At the time, there were 2,056 eligible children waiting for assistance because of past funding constraints.
"I am pleased to say that waiting list for those childhood vouchers is zero," the governor said.
During his 30-minute press conference, Hutchinson also highlighted a Department of Workforce Services initiative to give every high school district in Arkansas access to technical training. When school opens this fall in Arkansas, there will only be 17 school districts without a workforce training center, down from 54 a year ago, he said.
The Republican governor also touched on a Department of Insurance report that health insurance marketplace rate filing requests for fiscal 2019 are among the lowest in the nation. In his brief back-and-forth with reporters, Hutchinson answered questions on a range of topics from the state's low unemployment rate and Trump administration trade tariffs to DHS' ongoing efforts to terminate its contracts with Preferred Family Healthcare, the Springfield, Mo.-based nonprofit involved in a federal bribery and Medicaid corruption probe that has entrapped several Arkansas lawmakers.