Teacher pay, teen pregnancy are topics Henderson wants to address as governor
by George Jared ([email protected]) August 3, 2018 9:30 pm 450 views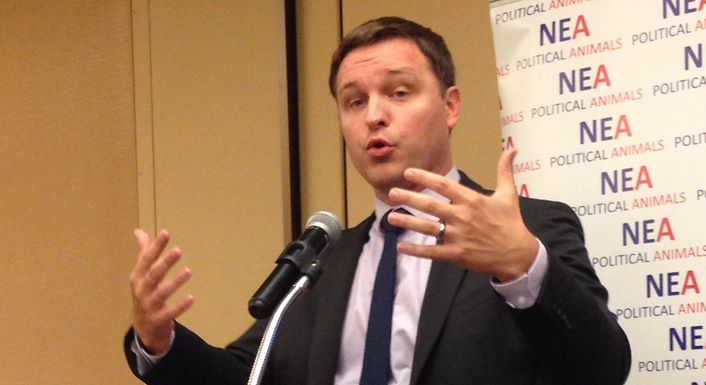 Lowering the state's teen pregnancy rates and raising the pay for teachers would be among Democrat Jared Henderson's goals if elected governor he said Friday at the NEA Political Animals meeting in Jonesboro.
Teachers are under siege and more needs to be done to pay them better and more needs to be done to attract the best candidates to become teachers, he said. Better teachers will lead to better students and will help bolster the economy, he added.
"If you don't get this right, nothing else matters," he said.
Henderson hopes to unseat Republican Gov. Asa Hutchinson this fall. Libertarian Mark West is also a candidate for governor.
Arkansas consistently ranks among the top states in its number of teen pregnancies, and that must change, he said. When teens have children it often significantly impacts their ability to acquire college degrees and other skills that could lead to higher paying jobs. It impacts the children negatively as well, he said.
Sex education and increased access to contraceptives could be tools to curb teen pregnancy rates, but he said there are no definitive cure-alls in every community. What works in one place might not be as effective in another, he said. Henderson said he understands that these options are controversial for some, and there are legitimate moral and ethical concerns that need to be considered, he added.
Henderson, the former executive director for Teach America and an operations manager at NASA, was himself born to an unwed teenage mother. She gave him up for adoption shortly after birth. When his son, Duke, was born a few years ago, it was the first time he'd met a biological relative, he said.
It was his son's birth that led him to seek political office. Politics have become divisive and toxic in recent years, he said, and the country needs new leaders who are steeped in substance, not political ideology. For instance, he supports charter schools in some communities, something a lot of Democrats loathe. He thinks those charter schools need to be held to stricter standards than they are now, but there are some that are a boon to the communities they serve, he said.
Two other issues that are concerning to Henderson are health insurance rates and small business development. Insurance rates are on the rise and it's hurting the average person's checkbook, he said. The constant fights over the state's federally funded Medicaid expansion that started in 2014 need to end and lawmakers need to focus more on why insurance rates and healthcare costs continue to rise, he said.
There are a few that abuse the Medicaid system, but most need the medical coverage, said Henderson. The state spends about $1.2 billion on Medicaid each year.
Another issue Henderson hopes to tackle is small business growth. He thinks the government should be able to dole small loans of $5,000 to $10,000 directly to small-time startups, and viable healthcare plans should be made available as part of his plan. Up to 20 hours of business operations training for free should be made available to new business owners, he said.
Arkansas has a rich history and a record of accomplishment on the national and international level, he said. The first woman elected to the U.S. Senate, Hattie Caraway, and the youngest woman ever to be seated in that chamber, Blanche Lincoln, are both from Arkansas, he said. He touts these accomplishments and others while on the campaign trail, he added.
"I look at this record of world class achievement … this past makes me demand a bold future," he said.