Hutchinson challenger Jan Morgan officially files to run for governor (Updated)
by Wesley Brown ([email protected]) February 26, 2018 4:29 pm 1,572 views
Editor's note: This story is updated to include Morgan's statement that she would not endorse Gov. Hutchinson if he were to win the GOP primary and it includes the governor's response.
–––––––––––––––
Republican gubernatorial candidate Jan Morgan told reporters Monday (Feb. 26) at the State Capitol that despite her Second Amendment bona fides she is not just a one-issue candidate as she officially starts her upstart gambit to unseat Gov. Asa Hutchinson in the GOP primary.
Morgan, a Hot springs gun range owner who often touts herself as an ardent gun rights advocate and NRA supporter, met briefly with reporters concerning her candidacy by immediately calling Gov. Asa Hutchinson a "career progressive," criticizing the "liberal media," and defending her often controversial stances on gun rights in light of the Parkland High School shooting.
Calling her populist campaign the "dawn of a new day" for Arkansas voters, Morgan said Hutchinson and other "professional politicians" in the Arkansas General Assembly are "taxing (Arkansans) into poverty, regulating them out of business and enslaving them with government entitlements."
"It's time to restore power back to the people of Arkansas," Morgan said. "I will be a governor for all."
Morgan made her comments after officially filing to run for governor on the Republican ticket against Hutchinson, the popular Republican governor who is seeking his second-term as the state's chief executive. Monday was the third day of the 2018 campaign filing season that began on Feb. 22 and ends on March 1.
Unlike the first day of filing when dozens of Democratic, Republican and Libertarian candidates announced their public intent to run for office in the 2018 election during a festive atmosphere at the State Capitol rotunda, Morgan was the lone candidate at Monday's event surrounded by a gaggle of reporters and a group of faithful supporters.
In her brief back-and-forth with reporters, Morgan offered few specifics about her own campaign but stayed true to her past talking points touting her credentials as a Trump-leaning conservative, while painting Hutchinson as an "establishment Republican."
She also defended her oft-controversial statements in the past on gun rights issues, including drawing national attention in 2014 to her private gun club in Garland County after calling it a "Muslim free zone."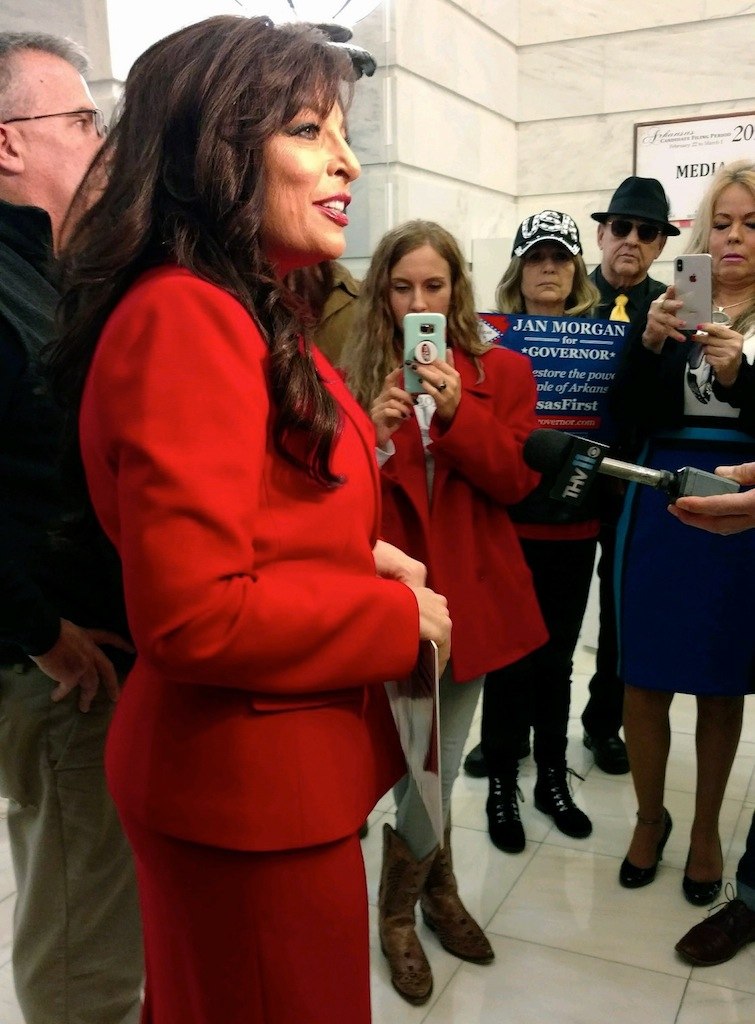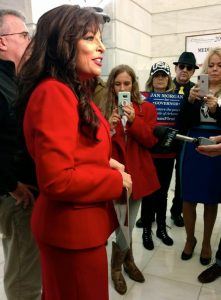 "I make no apologies for the rules and the decisions that I've made, and put in place, in order to make sure that people who are handling lethal weapons in my facility are in a safe environment," Morgan said, later offering that she would not discriminate against other religions if elected governor.
On the ballot this year, voters will decide the office of governor and six other constitutional officers, four Congressmen, 100 House members, 19 state Senators, and one state Supreme Court seat. Several judicial and prosecuting attorney races are also expected to file over the next week.
Morgan's primary race against Hutchinson is expected to be one of the most-watched races of 2018. In the general election, Democrat Jared Henderson and Libertarian Mark West have also filed to run for the state's top office.
Morgan told reporters that she plans a robust campaign against Hutchinson that will not only focus on gun-rights issues, but Trump-like fiscal matters such as overhauling the tax code and cutting government regulations and wasteful spending.
UPDATED INFO
Morgan also said she would not endorse Gov. Hutchinson if he were to win the primary, according to this report from KATV Channel 7, a content partner with Talk Business & Politics.
"Absolutely not, no I can't, and here's the reason. … If Asa was even remotely conservative I wouldn't be in this race," Morgan said in the KATV report.
Gov. Hutchinson's campaign staff issued this response when told Morgan would not endorse the GOP primary winner: "I believe Ronald Reagan would be profoundly disappointed in that viewpoint. President Reagan called for Republicans to unite and he led by example. When he had a tough fight, he supported the nominee of the party. I will support whomever the nominee for the party will be."
Hutchinson, who first ran for statewide office in a 1986 challenge to Democratic Sen. Dale Bumpers, filed for re-election last Thursday, the first day of the filing season. He said he remembered not garnering much media attention in 1986 when Republicans were a small minority party and his candidacy in opposition of the legendary Bumpers was deemed a long-shot.
In an appearance Sunday on Face the Nation, Hutchinson said he plans to meet this week with President Donald Trump to discuss efforts to make schools safer, the role of the federal government, and offer his thoughts on arming teachers.
According to a transcript of his interview on President Trump's idea of arming teachers following the Parkland tragedy, Hutchinson said that decision should be made "primarily at the state level."
"Whenever you're looking at school safety issues when you're looking at mental health issues this is a function that governors can be uniquely engaged in," Hutchinson told CBS host Margaret Brennan. "I want to focus on the school safety side and to make sure that the children when they go to school feel comfortable in their safety as well as the teachers and officials there so a lot of work has to be done there and because as your previous panel pointed out, we have different thinking in different parts of the country. This is uniquely the role of the states in determining safety."