Arkansas GOP Congressional delegation applauds Trump's handling of Iran
by Roby Brock ([email protected]) January 8, 2020 8:45 pm 523 views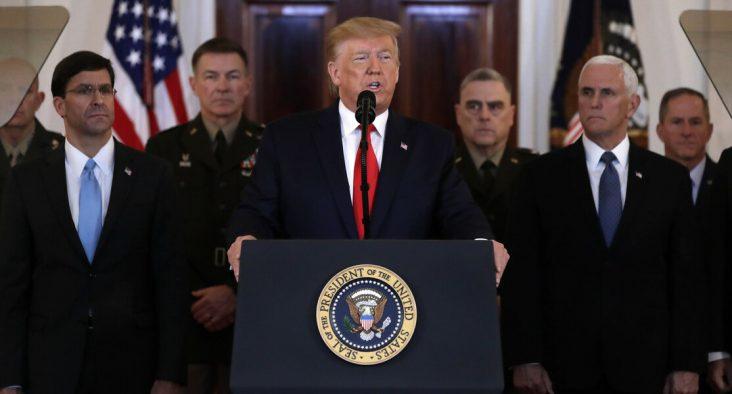 In a week that has seen an escalation of military confrontation between the U.S. and Iran, Arkansas' all-Republican Congressional delegation used words such as "decisive", "measured", "firm" and "restrained" to describe President Donald Trump's handling of the volatile situation.
Last week, Trump issued orders that resulted in the assassination of Iranian General Qassem Soleimani, a leader in a number of attacks on Americans for years through Iran's elite Quds force and through proxy terrorist groups. On Tuesday night, Iran took credit for a missile assault on two bases in Iraq that house American troops that it said were retaliation for Soleimani's killing. There were no reported casualties from the Iranian attack.
On Wednesday (Jan. 8), President Trump addressed the nation calling on Iran to dial back its aggression, asking NATO allies to become more forceful in the Middle East, and declaring that any future attacks on American interests would be met with lethal force.
"Peace and stability cannot prevail in the Middle East as long as Iran continues to foment violence, unrest, hatred, and war. The civilized world must send a clear and unified message to the Iranian regime: Your campaign of terror, murder, mayhem will not be tolerated any longer. It will not be allowed to go forward," Trump said in a White House speech surrounded by military advisors.
He also declared that he would not allow Iran to gain nuclear firepower.
"As long as I am President of the United States, Iran will never be allowed to have a nuclear weapon," the president said in his opening comments.
"As we continue to evaluate options in response to Iranian aggression, the United States will immediately impose additional punishing economic sanctions on the Iranian regime. These powerful sanctions will remain until Iran changes its behavior," Trump said.
SENATORS ISSUE STATEMENTS, SIT FOR INTERVIEW
Arkansas' two Senators offered varying degrees of support for the President. U.S. Sen. Tom Cotton, R-Ark., who has sparred publicly with Iranian leaders since he landed in the upper chamber in 2015, said he hopes the message to Iran is clear.
"If Iran wants to start a fight, the United States will end it," he said "I suspect that Iran's weak attacks on sand dunes at two of our bases in Iraq are a signal that the fight ended when we killed Qassem Soleimani, and that the mullahs are running scared. A leopard can't change its spots, and Tehran won't change course overnight. They'll continue using proxies to fight their battles. But they can't hide – we know who their proxies are, and the United States will remain vigilant in the defense of our citizens and allies in the region."
U.S. Sen. John Boozman, R-Ark., initially expressed caution in regards to the U.S.-Iran escalation. On Wednesday, Boozman said the president's strong action and his call to respond with economic sanctions were appropriate.
"President Trump's measured response to the dangerous escalations by Iran should send a clear message to the regime that its continued hostile actions will no longer be tolerated. With the support of our allies, we must reject Iran's aggressive conduct and continue to oppose its grip on the Middle East," he said. "By imposing additional economic sanctions, the president has again demonstrated our commitment to firmly countering the regime's destructive, destabilizing behavior while encouraging peace. It is in Iran's best interest to de-escalate the tensions, abandon its nuclear ambitions and stop sponsoring terror."
In an interview with Talk Business & Politics, Boozman added that he does not think the president should be restricted legislatively from being able to conduct military strikes such as the one last weekend. Some senators from both sides of the political aisle have suggested legislation may be needed to curtail the president's ability to conduct military actions without further Congressional approval.
Boozman also said he's not certain what the Iraqi government's recent vote to ask the U.S. military to leave the country amounts to.
"Much of the Middle East is celebrating the death of Soleimani, so they have voted and yet it's not clear yet as to what that vote actually means," Boozman said. "I don't think that we ought to pull out of Iraq right now. I think we need to continue to work with them as a partner to help them stabilize. A lot of blood's been spilled to get us in the situation that they're in. They appreciate that, so I think that they had to do something, but I don't see them actually forcing us out of there and opening themselves up to some really nefarious actors in that part of the world."
More of Boozman's interview will air on this weekend's edition of Talk Business & Politics.
FOUR CONGRESSMEN SUPPORT TRUMP, HUTCHINSON SHARES THOUGHTS
Arkansas' four Congressmen all issued statements or tweets about President Trump's Wednesday speech.
U.S. Rep. Bruce Westerman, R-Hot Springs, said:
"President Trump's decisive actions show that adversaries seeking to harm U.S. lives will pay a high price. After multiple attempts to avoid escalating the situation, President Trump drew a red line and made it clear that if the Iranian regime harmed American citizens, the United States would act. When Iranian proxies killed an American contractor, harmed multiple American servicemen and stormed the American embassy in Baghdad, the U.S. used credible intelligence to demonstrate what happens when you overstep our boundaries. Iran responded by firing rockets into two coalition bases in Iraq, but thanks to our military intelligence and reliance on allies, no lives were lost in last night's attacks. America and our military are not to be tested."
U.S. Rep. Steve Womack, R-Rogers, said:
"President Trump has put this issue back in the hands of Iran: embrace peace or realize the consequences of being a rogue regime. While past administrations have shied away from confronting threats, the President has used a strategy of maximum pressure to address destabilizing behavior. Bad actors will be held accountable, and hostility will be met with measured action. By reasserting deterrence and eliminating the resources this state sponsor of terrorism relies on, we will deter aggression and create a more stable global community. I support additional sanctions and continued efforts to counter all Iranian threats."
U.S. Rep. French Hill, R-Little Rock, said:
"Over the past few months, in the face of greater and more violent Iranian attacks orchestrated by General Soleimani against the United State and our allies, President Trump has been very restrained. This morning, President Trump reiterated that the United States does not seek to start a war with Iran, and his recent actions have sent an unambiguous signal to Tehran and their proxies that if they harm America, there will be a high price to pay," he said. "I support the decision to to continue our policy of maximum pressure by introducing new sanctions on the Iranian regime and calling on our international allies in NATO to step up and take a larger role in the Middle East."
U.S Rep. Rick Crawford, R-Jonesboro, said:
"The President sent a clear message to the people and leaders of Iran that peace and prosperity are theirs if they so choose. I am hopeful they see the seriousness of the President today and in recent days and choose to pursue these options," he said.
Gov. Asa Hutchinson, a former Congressman and former undersecretary at the Department of Homeland Security, told KATV's Marine Glisovic that Trump's response has been measured.
"I understand that he really has sent a signal to Iran that we're going to protect Americans and our bases and our property and that we will retaliate when the line is crossed. I believe he, with his new sanctions and with his response, it's measured. I think it has a way of making sure that hopefully this does not go further, but tells Iran you're not going to have carte blanche ability to hurt Americans and our allies across the country. So we hope that this will deescalate, we hope that it will send a signal to Iran that you need to stand down," Hutchinson said.