Tech Park board nears deal with CDI to lead Phase II of $26 million, STEM-space project
by Wesley Brown ([email protected]) May 8, 2019 9:14 pm 433 views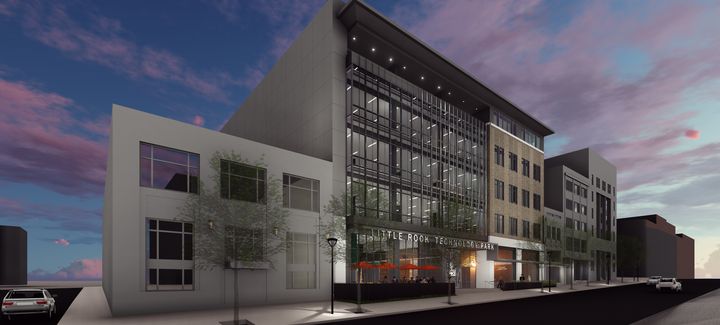 The Little Rock Technology Park Authority on Wednesday (May 8) moved one step closer to closing a deal with local construction firm CDI Contractors to lead the still unfinanced $26 million second phase of the city's multi-stage downtown startup village.
Tech Park Executive Director Brent Birch and local real estate developer Dickson Flake, who serves as the authority's treasurer, presented the seven-person board with the first draft of a 23-page unsigned contract with CDI, the local subsidiary of Little Rock department store operator Dillard's Inc. The firm was hired as construction manager of the multimillion-dollar project in August 2018, but won't get paid until financing is in hand.
Flake told the board that the only holdup to finalizing the pact with CDI was determining what entity will bear the costs associated with so-called Building Information Modeling (BIM) software, a construction industry management tool that provides digital representations for an ongoing project.
Instead of having an assistant construction manager stationed onsite to monitor and review cost reimbursements for the project, Flake said the BIM software allows the general contractor to keep track of the cost overruns offsite, or by hiring a BIM specialist.
"Now with technology, they have software and specialists who are figuring this out," Flake told the board. "What they use to do in the job shack, where they gathered all the subcontractors and they go over the plans and look for … anything that needed to be corrected, now they are all engaged with software experts."
"CDI has five people who are trained to do nothing but make this comparison with their software and building information models," Flake said concerning negotiations that have lasted more than three months. "They think they are entitled to what they use to do in the job shack. That's why we have been hung up for so long."
In late December, Little Rock-based WER Architects first unveiled architectural renderings for the five-story "shell" building on Main Street. At the time, WER CEO David Sargent said Phase II of the Tech Park's multi-stage tech village would follow a three-step process. After a final draft of the design schemes were completed, WER then delivered a "schematic package" to CDI in early 2019.
By mid-February, CDI had developed final budget estimates for the $25.99 million planned five-story, 83,000 square foot STEM-focused building located between the KATV Channel 7 building at Fourth and Main Streets and the current tech park.
The $26 million inflation-adjusted price tag for the downtown tech village is based on a two-year timetable necessary to complete such a project once financing is found or an angel investor steps in. Overall, Tech Park officials have said, there are $15.4 million of construction costs along with an additional $10 million in direct and indirect costs, insurance and contingencies.
Tech Park board members hope Phase II of the downtown project can serve as the "front door" or official centerpiece for the six-stage tech village. The second step of the city's original bid proposal for the project calls for a STEM-focused office building that would include state-of-the-art wet/dry labs for computing and research, commercial and office space, and additional tenant workplaces to house local startups and tech firms.
Birch said negotiations with CDI will continue until the Tech Park board and the local construction firm reach an agreement or compromise on the BIM costs, which is still unknown. Once that issue is resolved, then the board will approve the contract and move forward with developing a strategic plan to finance the project.
In other Tech Park business, board director Darrin Williams urged Birch to look at ways the authority can engage and market the local downtown tech incubator to financially-strapped, early stage black and minority-owned startups.
"Around the country, there are a number of people who are focused on businesses and startups of color and women businesses and how they are different and special," said Williams, CEO of Southern Bancorp. "What we can identify is holes, or people that are not really accessing the Tech Park, and then maybe we can develop a program and outreach for that, (which) in my mind is very valuable."
Birch also provided the Tech Park board with a monthly financial and operational snapshot of the taxpayer-financed nonprofit, touting that the development is fully occupied with nearly 55 companies. He also highlighted a long-term lease and service agreement with the Little Rock Venture Center to occupy the Tech Park's spacious sixth floor suite based on services offered to the authority.
Last week, 10 startup companies from across the U.S. and Canada were selected to participate in the fourth version of Venture Center's FinTech Accelerator program. Those early stage companies are now housed on the Tech Park's top floor. Their executives will live and work in Little Rock over the next three months as part of a rigorous, bootcamp-like program designed to accelerate the development of the firm's business concepts and ideas.
Each company will also get in-depth mentoring and training from Jacksonville, Fla.-based financial tech giant Fidelity Information Services (FIS) and The Venture Center, along with a monetary investment if they complete the program.