Lt. Gov. Griffin wants general revenue for highways, longer-term road funding discussion
by Roby Brock ([email protected]) May 12, 2019 10:23 am 671 views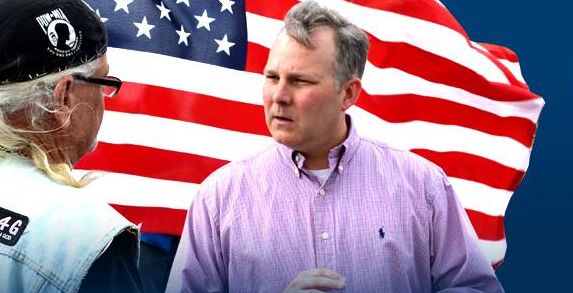 Lt. Gov. Tim Griffin, R-Ark., said the debate over highway funding doesn't need to end with just the current proposal that rolled out of the latest legislative session and he's open to new ideas on how to pay for the state's transportation infrastructure.
Lawmakers, the governor and stakeholders cobbled together a $300 million roads plan that includes higher gas and diesel taxes, fees on hybrid and alternative vehicles, and some pieces of miscellaneous revenues. The anchor of the highway plan is a 2020 request for voters to approve a permanent half-cent sales tax for highways, which would raise about $200 million annually.
Griffin, who appeared on this week's Talk Business & Politics, said "there's no one who is more for highways and infrastructure than I am" and that he'll declare his position on the plan at a later date. However, he wants to make sure that Arkansas has a bigger conversation about roads.
"I applaud the Governor and legislators for doing this particular thing. I want to see general revenue play a bigger role. Okay, Why? Well, first of all, 34 states and the District of Columbia rely on general revenue, to fund highways and infrastructure, not exclusively," Griffin said.
He's open to allocating the sales tax from road-related items, but he's also not closed the door to overall general revenues being directed to highways and infrastructure.
"I want to see a commitment from general revenue," Griffin said. "I am open to the idea of taking related revenue streams. That's an innovative way to do it, right? But the reason I think we benefit from using general revenue is because when you have a lot of dedicated funding streams, you lose control of the money, except for a very specific purpose. And different entities who have looked at our state government objectively, have come back and said, you know what, we have a ton of dedicated funding streams, which makes it hard for the governor and the legislators to take a look at the pool of money and fund our priorities."
When asked for his position on the current $300 million highway proposal, Griffin said, "I'm going to be speaking out on that very clearly. You've got to wait for the big press conference."
"Here's what I want to keep the focus on. There are innovative ways to do this. There's no question that when you go up a cliff and it's raise taxes and have good highways or don't raise taxes and don't have good highways. There's no question where that leads you because you won't get highways. My point was and is, there are a lot of other options besides the binary choice," he said. "And I want to make sure if I, here's the problem, if I answer your question, then we've written him off, move on to the next person. I want people to continue to give me the opportunity to talk about the other options that are available — intermediate to long-term — to help fund highways, and not everybody agrees with that approach. But 34 other states and the District Columbia have found it interesting, and I think we ought to continue to talk about it."
The Lt. Governor, who is term-limited from seeking re-election, said he'll be on the ballot in the next election cycle. When asked if he'd run for Governor in 2022, Griffin said "stay tuned."
"Certainly, I am not going to announce for an office for four years out or whatever, whatever number of years it is. But look, I'm not done. I don't unless the voters tell me I am done. I don't plan to be done with public service. I'm term-limited in this job," Griffin said.
Griffin said that transformation and tax cuts — two of Gov. Asa Hutchinson's premiere legislative proposals — were a big success in the 2019 session.
"We've got a lot of great things going on the state, so the governor's got a lot to be proud of… There are a lot, a lot of good things that happened. And I like to really emphasize the corporate and individual tax reductions, really important for competitiveness purposes," Griffin said, noting that tax cuts and transformation go hand-in-hand. "They really all go together… But the end game is not just, reorganizing. What we have, the end game is having government-wide efficiencies that will save money that will result in more lowering of taxes."
You can watch all of Griffin's interview, including his comments on workforce development, in the video below.