Arkansas pump prices falling fast before Christmas, some local markets below $2
by Wesley Brown ([email protected]) November 30, 2018 12:29 pm 406 views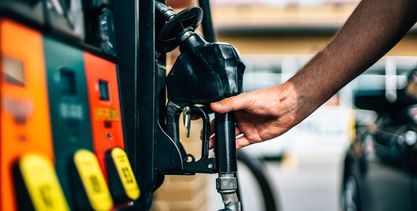 Arkansas motorists won't be getting a lump of coal this Christmas as gasoline prices are headed for their lowest level of this year.
The impetus, of course, is rapidly declining international and U.S. crude oil prices that threaten to dive below $50 a barrel, putting extra money in consumers hands with less than four weeks before Santa Claus gases up his sleigh and delivers gifts in all 50 states.
As of Friday, the national average price for a gallon of gasoline is down nine cents per gallon over the last week to $2.49 per gallon, the lowest level since early March, according to AAA's weekly gas gauge report.
In Arkansas, pump prices have swooned nearly a dime in the past week and are now averaging about $2.21 per gallon with wide disparities depending on where motorists decide to fill up. In parts of Arkansas, a gallon of unleaded can be found for $1.90.
Patrick DeHaan, head of petroleum analysis for GasBuddy, said Arkansas is among a growing number of states that have seen prices fall below $2 a gallon for regular unleaded. Beside the Natural State, Texas, New York, Missouri, Louisiana, Ohio, Oklahoma, South Carolina, Alabama, Mississippi, Michigan, Virginia, Arkansas, Kansas, Kentucky, New Mexico, Ohio, Tennessee and Illinois all have at least one station at $1.99 or less, he said.
"The $1.99 club has seen its membership swell in the last week with the number of states with stations priced at that level or lower spiking to 18 (states)," said DeHaan, adding that U.S. motorists will likely see further drops with less than four weeks before Christmas Day.
According to GasBuddy, U.S. crude oil prices have declined 14% with West Texas Intermediate, the light, sweet premium benchmark, falling from $56.76 a barrel to $50.31 in today's session on the New York Mercantile Exchange. Prices for Brent crude, the preferred international premium grade, slid from $66.76 two weeks ago to $58.46 a barrel.
THE OPEC EFFECT
Both DeHaan and AAA spokeswoman Jeanette Casselano pointed to some international intrigue in the energy markets that are pushing down international and domestic crude oil prices to their lowest level in nearly a year. The most interesting has been the impact from the Trump administration's relationship with Saudi Arabia, which was eclipsed by the U.S. in 2018 as the world's largest oil producing country.
"While many may be a skeptic of the White House taking some credit, the Trump Administration's reluctance to punish Saudi Arabia for its role in the murder of Jamal Khashoggi is likely leading Saudi Arabia to push against large cuts in crude oil production, fearing potential fallout from Trump," said DeHaan.
However, Casselano warns that some market observers expect prices to spike next week following the Organization of Petroleum Exporting Countries (OPEC) meeting on Dec. 6 in Vienna, Austria. At that meeting, the Saudi Arabia-led oil cartel is expected to curtail crude production by 1 million to 1.4 million barrels per day, which could cause crude prices to rise due to lower global inventories — which it turn would lead to higher pump prices in the U.S.
In its highly-watched weekly oil markets report, the U.S. Energy Information Administration highlighted the bloated global crude oil supplies, which has caused U.S. gasoline stockpiles to outstrip current demand. High levels of U.S. gasoline production in 2018 have outpaced gasoline consumption growth in 2018, EIA data shows, leading to average inventories in November that are 14.8 million barrels higher than at the same time in 2017.
For example, DeHaan said, refined products failed to escape the bearish dragnet and lost nearly 20 cents a gallon by the end of the post-Thanksgiving Day weekend, filtering down to millions of motorists this week. Compared to 30 days ago, American motorists are keeping $117 million of their money every day due to the near free-fall in gas prices, he said.
"In the week ahead, motorists in most states will likely see further drops, saving the country $125 million a day versus prices in early October," said the GasBuddy.com forecaster.
According to AAA's weekly gas gauge, average gasoline prices nationally are 29 cents lower than a month ago and just two cents off the $2.49 price per gallon that motorists were paying a year ago. Arkansas is among the 10 states with the largest weekly decreases as local pump prices across the state have decreased more than 9 cents since Thanksgiving Day and Black Friday.
At the same time, several of the surrounding states are among the top 10 least expensive gasoline markets. Missouri and Oklahoma lead the nation with average prices for regular unleaded at $2.18 and $2.21 per gallon, respectively. South Carolina, Texas, Delaware, Louisiana and Mississippi, Alabama, Kentucky and Ohio round out the top 10 with pump prices average between $2.23- and $2.28 per gallon.
ARKANSAS MARKET
In Arkansas, only two months after pump prices across the state hit a four-year high in early October, motorists are seeing a wide array of pump prices in key markets across the state, AAA data shows. For example, drivers in Fort Smith and Northwest Arkansas are seeing the cheapest gasoline at $2.10 and $2.13 per gallon, respectively. Drivers in Jonesboro and Texarkana, respectively, are seeing the next lowest prices with gas station signs posted at an average of $2.14 and $2.26 per gallon.
However, motorists in Pine Bluff are paying on average about $2.46 per gallon to fill up their tanks. That price is 25 cents above the state average and 16 cents higher than a year ago, a trend that is counter to the broader market. The West Memphis market is seeing the next highest price at $2.23 per gallon, one cent below year ago levels.
In Central Arkansas, motorists living or driving through Hot Springs or Little Rock will see gasoline signs posted at $2.21 and $2.22 per gallon, respectively. Those motorists look for a premium grade of gasoline are also getting some holiday relief with average pump prices at $2.79 per gallon, 29 cents lower than a month ago and nearly flat with year ago costs.
However, truck drivers and other diesel-fuel vehicles are not getting the same relief year-over-year as other refined gasoline products. According to the EIA's weekly on-highway survey, which is collected from a sample of approximately 400 retail diesel outlets every Monday, the national average retail diesel fuel price was $3.26 per gallon on Black Friday, 21 cents per gallon below the week before but 33 cents higher than a year ago.
Despite those average prices in key markets, drivers eager to roam can find prices below $2. According to GasBuddy, Teddy Bears gas station in Strong has the lowest pump price in the state at $1.89 per gallon to fill up their tanks. Also, several stations in Springdale, Fayetteville, Fort Smith and Van Buren are selling regular unleaded at or slightly below $1.93 per gallon. In Little Rock, Murphy USA stations are advertising $1.95 per gallon gas.
If next week's OPEC meeting fizzles out or cartel members can't agree on whether to cut back on production, which is a real possibility given past occurrences, Arkansas and U.S. consumers may have even more money in their pockets to spend on Christmas gifts or pay less to fill their tanks on their holiday trips to see relatives.
"Trends are indicating that the month of December may bring some of the cheapest gas prices of the year," said Casselano. "Currently, 19 states already have gas price averages less expensive than a year ago so as U.S. gasoline demand remains low and supply plentiful, motorists can expect to save at the pump as long as the price of crude oil doesn't spike."