Ten companies were announced as the teams competing for up to $100,000 to $300,000 in funding at the first-ever VC FinTech Accelerator at Little Rock's Venture Center powered by FIS Global.
In opening remarks, FIS CEO Gary Norcross said, "We're thrilled to be a part of this. When we think about where innovation will occur, we think accelerators are going to be a key component for that."
Norcross invited others to invest in the Venture Center as well as the FinTech accelerator. He noted the rich financial services history in the state.
"The state needs to continue to live up to its proud history of being one of the innovators of financial services in this industry."
Following the press conference, Norcross added that Little Rock was the best place for the company's first journey into accelerators.
"We were founded here, we've got a lot of heritage in this state. I'm very proud of being a part of it and if you look at everything that has come out of Little Rock, it makes sense that Little Rock ought to be a location that's going to be a disruptor," he said.
Managing Director for the FinTech Accelerator will be long-time technology executive Gary Dowdy.
While the ten companies began the program today with the press conference, many arrived on Sunday, May 15, and met with President Bill Clinton at the Venture Center. Clinton was in town to deliver the commencement speech at the Clinton School of Public Service graduation. The accelerator concludes with Demo Day on August 3rd.
Skip Rutherford, Dean of the Clinton School of Public Service, mentioned the gravity of the accelerator for the financial services industry as well as the Central Arkansas area.
"I think you have to give FIS credit for putting innovation and acceleration in the mix," he said following the event. "It gives Little Rock, the Venture Center and the Chamber of Commerce an opportunity to really take a technology leap up."
The companies represent cities such as New York, Los Angeles, Chicago, San Francisco, Atlanta, Lagos, Nigeria, Westport, CT, St. Louis, Charleston, SC and North Little Rock.
The accelerator and FIS are showing the strength of the current startup ecosystem and how to lend support to it, according to Chris Masingill, Delta Regional Authority Federal Co-Chairman.
"This really speaks to how strong the ecosystem is," he noted. "We are building on that, more layers and support. This is a great example of public-private partnership."
Masingill continued, "This is how you support that ecosystem until you can grow entrepreneurs so that you can provide them a pathway to be successful, and recruiting those entrepreneurs here, to Arkansas, to the Delta region, that means they are going to have more of an opportunity to stay."
He sees FIS's leadership in the accelerator as an investment in the region, including an ongoing commitment they already have.
"They also see this as an opportunity to grow, to support entrepreneurship, to support that next generation that can help their businesses as well. This is a win-win for everybody," said Masingill.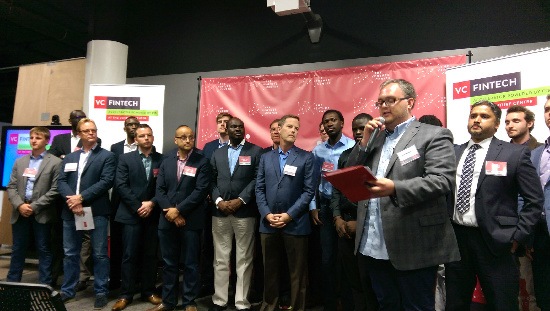 The ten teams selected include:
Akouba: Underwriting platform for lending by community and regional banks to small business
Bleu: Mobile and merchant point of sale system enabling bluetooth (beacon) payments
Dream Forward 401K: Retirement plans designed to boost savings among small businesses
Flutterwave: Technology and infrastructure for seamlessly and securely processing payments, remittances and digital services across Africa for the banked and unbanked
Fundseeder: Data and performance analytics platform for traders designed to democratize the capital allocation process
LumoXchange: Low cost remittance marketplace to compare exchange rates in countries across the world and send money online using local foreign exchange rates
Hexanika: Regulatory compliance and reporting system that provides data abstraction, normalization and transformation from disparate systems within a bank
Monotto: Personal finance solution automating the process of saving and investing and designed for college students
Mortgage Peer Network: Allows institutions to contribute anonymous data to measure performance against peers, monitor customer service and generate leads through social media marketing
PFITR: Bond and fixed income pricing, analytics, compliance and controls for public funds investment and other investors
The Venture Center FinTech Accelerator team is comprised of:
James Hendren – Venture Center Chairman, co-founder of Arkansas Systems, serial entrepreneur, investor and co-founder of Accelerate Arkansas
Lee Watson – Venture Center CEO, leader of Startup Arkansas and successful entrepreneur, including mobile banking application startup
Gary Dowdy – Accelerator Managing Director, former executive at Cardinal Health and leader of successful financial technology startup/exit, and serial entrepreneur
Brian Bauer – Accelerator Operations Lead, former aviation operations manager and helicopter crew-member that supported international special operations missions in Iraq with the U.S. Navy as part of 11 year career in the U.S. Armed Forces.
Tariq Bokhari – FIS Head of Innovation and SVP Risk
Chris Cline – FIS SVP, Channels and Digital Access for Large Financial Institution and Senior FIS executive on Little Rock campus
Collins Andrews – FIS Executive-in-Residence for the Accelerator, former senior Systematics/Alltel executive
Following the press conference, Norcross and the leadership team attended the Founder's Dinner with the startups.