A formerly blighted area in North Little Rock along the Arkansas River is being redeveloped into an upscale area with homes and apartments, including a new 365-unit development.
So far, Rockwater Village has 839 residences completed or in development, including 144 homes/townhomes in a five-block area.
More than $300 million has been invested privately by homeowners, business owners, single family residence developers, and commercial developers. One of those investments resulted in the Rockwater Marina, downtown North Little Rock/Little Rock's only full service marina, which has 68 slips.
Married partners Lisa Ferrell and Jim Jackson have been spearheading the land development since 2005. That's when Ferrell first started purchasing 40 acres of the dormant Vestal Nursery, once a large flower nursery that had been shut down since the 1980s. Alongside it was the rundown Baring Cross neighborhood.
The 40 acres had been divided into three parcels, which Ferrell began putting together. About that time, plans were announced for Dickey-Stephens Park, home of the Arkansas Travelers baseball team. The couple knew they wanted to make use of the property but didn't know exactly what.
The financial crash of 2007-08 put a halt to plans for building anything, so the couple began buying properties in the Baring Cross neighborhood, tearing down some houses and renovating others.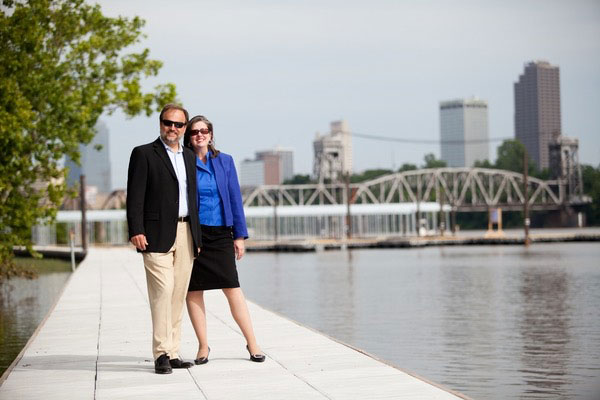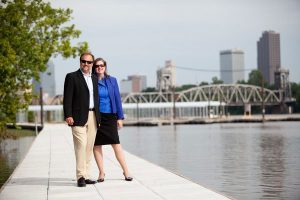 Over the years, Ferrell, an attorney and former state legislator, and Jackson, also an attorney, have toured more than 20 neighborhood developments across the country and were accompanied by city leaders on four of them. The tours helped create their vision of an area that was walkable and dense, with easy-to-maintain residences, smaller yards with a yard service, amenities and outdoors living. The couple settled on architectural design standards considered to be "Southern traditional," with eight-foot-deep front porches on the same plane with neighbors' porches to encourage interaction. In a nod to the past, they left standing the 90-foot Vestal Nursery smokestack that had been connected to a boiler room that would heat the greenhouses where the flowers were grown.
Led by the late North Little Rock Mayor Patrick Henry Hays, the city used proceeds to create Rockwater Boulevard, which connected to the first phase of the development, the Residences at Rockwater, with homes ranging from 2,500 square feet to 6,000 square feet. Construction began in 2015. The city also closed River Road and created a dedicated bike trail connected to the Arkansas River Trail.
"We can't overstate how important the bicycle trail is," Jackson said. "People move here from Magnolia, Sheridan. We've had a lot of people move to Rockwater because they want to be on the bicycle trail. And then on weekends, every Saturday that bicycle trail is just used so much, and then mornings and after work people are using it. It is just an incredible economic driver."
A key part of the development was the city of North Little Rock's issuance of a $1.2 million tax increment financing bond, or TIF. The TIF district covered the area from the Arkansas River to 10th Street, including many homes in the Baring Cross neighborhood. TIF bonds can be used to fund public infrastructure costs for urban infill. Bonds are issued based on the increase in property tax collections that will be realized over time after an improvement is made. The North Little Rock Electric Department purchased the bonds.
The TIF has led to significant property tax increases. The area previously generated $58,874 in property taxes, if those could be collected. Now it generates more than $850,900, Ferrell and Jackson said. The North Little Rock School District has been the biggest beneficiary. Its property tax collections have increased from $44,000 to $516,300 in 2022, and with more properties coming online, it soon will reach $1 million, Ferrell said.
"Really, it was a wise investment by the city of $1.2 million that has resulted in over $300 million in private investment," Ferrell said.
Ferrell and Jackson have developed the property while others sell and build the houses. The construction process has occurred in phases. The second phase was The Porches at Rockwater, where homes average about 1,700 square feet. This was followed by The Gardens at Rockwater, where homes average about 3,000 square feet. Ferrell estimated the most expensive house cost between $1.8 million to $2 million. Based on recent sales, Rockwater home values have increased 20%. Baring Cross values have increased as well.
The area is now in its fourth phase of development. The Resort at Rockwater, a 365-unit apartment complex, is being built on eight acres along the river that the couple purchased later from the Recovery Center of Arkansas, a drug and alcohol rehabilitation center that has relocated. The upscale one- and two-bedroom apartments will range in size from 520 square feet to 1,200 square feet. With delivery at least 12 months away, rents are projected to start at $900 per month. The complex will have access to the bike trail and will include a club room, fitness center, cubicles and meeting spaces.
Also developed in the area were two luxury apartment complexes, The Vue on Riverfront Apartments, which was developed by TerraForma and Newmark Moses Tucker Partners, and the Esplanade, which was developed by Monde Goup.
Sales at Rockwater Village slowed during the summer months when interest rates reached their peak, but since Sept. 1 there has been a lot of activity. Ferrell and Jackson said buyers have come to accept that rates have reached a new normal and aren't likely to fall, so if they want to own a house, they'll just have to jump in. Jackson noted that current homeowners are reluctant to sell their houses because they have locked in low rates, so new construction offers the best opportunity for people to buy a house.
"In the past 30 days, we have either sold or put under contract [12] lots," Ferrell said. "And that is, I think, a reflection of people wanting to live on the trail near the water. … Since the summer, they [builders] have sold at least six spec homes."