Asa Hutchinson focused on meeting fundraising goal for Presidential debates, weighs in on Trump indictments, policies
by Roby Brock ([email protected]) August 6, 2023 8:58 am 1,702 views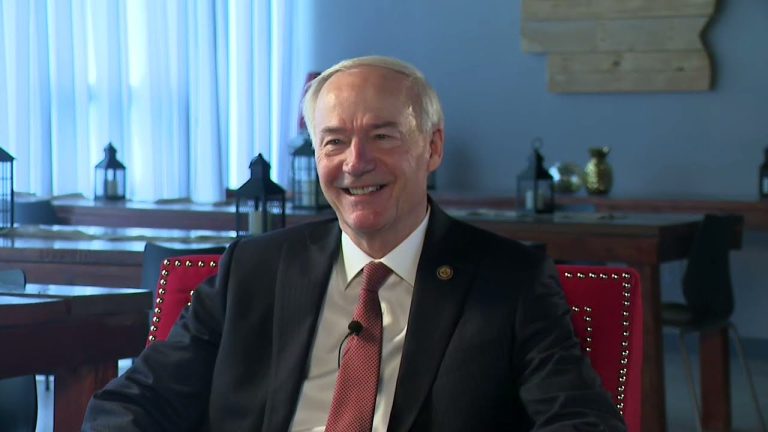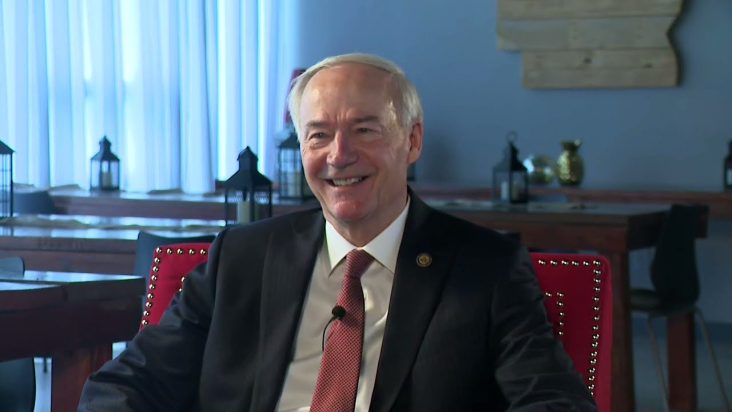 With a looming debate deadline later this month, former Arkansas Gov. Asa Hutchinson has been hitting the campaign trail in his long-shot bid to become the Republican nominee for U.S. President in 2024.
Hutchinson, who served as Arkansas Governor from 2015 to 2023, announced in April he would seek the nomination. At the time, he was the third candidate in the race along with frontrunner former President Donald Trump and former U.N. Ambassador and former South Carolina Gov. Nikki Haley. Now, the crowd is almost a dozen.
"It [the campaign] has exceeded my expectations in terms of the impact that I've had. I think I've been very clear – I know I've been very clear – in terms of my views, my vision for America," Hutchinson said in a Wednesday interview from New Hampshire.
"We need to have new leadership in our party, in our country, and so I've impacted the race. In fact, I was the third one in and since then we've had, you know, eight more jump in. I think they see the opportunity and the necessity of it," he added.
The first GOP Presidential debate of the 2024 election cycle is slated to take place Aug. 23rd. The National GOP has set qualifications for the race that include appearing in three "high-quality" national polls above one percent and raising money from 40,000 donors with at least 200 from 20 states.
Hutchinson has met the polling threshold, but still lags in meeting the donor requirement.
"Obviously, we have a long ways to go. You know, you recognize that even though you think you have a national image coming from Arkansas, you recognize that states in Florida, California, New York, they've got a lot bigger media markets. We have to do a lot to have them get to know my record and myself, and that's what the campaign's about," he said.
Hutchinson, who said he had about 4,000 donors during his last gubernatorial campaign, estimates he is nearing 20,000 donors, noting that he's added 10,000 in the last two weeks. He will have about three weeks to collect another 20,000 donors – who can contribute as little as a dollar. It's about the number of donors, not the amount raised, he said.
"We're going at a fast pace. And I want to say Arkansas has just been terrific. They've been very supportive, they know what's at stake, they want me on the debate stage. And I'm very, very grateful to them," he said. "Go to asa2024.com, asa2024.com. And what's nice is it only takes $1. Now we'll take more, but $1 is enough of a contribution to qualify as an individual donor. And so if Arkansas stepped up to the plate and everybody responded in that way, we would be almost there."
This week, former President Donald Trump – the GOP Presidential frontrunner, according to polling – was indicted in a third case, this one involving his role in the Jan. 6th U.S. Capitol riots. The four-count indictment against Trump brings total charges up to 78 for the former President. Other cases where Trump has been indicted involve his handling of classified documents and falsifying business documents related to a hush money case involving his relationship with former adult film star Stormy Daniels.
"I've been a former United States attorney, I know how the Department of Justice works. I know what a case that has a significant merit is and not. And if you look at the indictment, the case that came out of New York under Alvin Bragg, I disagreed with that. I think it was a stretch legally. And I think you could make a good argument that was politically motivated," Hutchinson said.
"But whenever you look at the last two indictments, one dealing with our national security documents, our nation's secrets, then that is serious. It has merit. There's a lot of accountability that is required. We have our soldiers that go to the brig for mishandling our classified information. So I see that as not being weaponized. I see it as a serious error, if not criminal conduct in the part of the past president."
"Whenever you look at January 6th, I think that's a more difficult case in terms of free speech arguments. But as [special prosecutor] Jack Smith laid it out, that is holding him responsible for what happened on the attack on the capitol. And when you look at 300 people nationwide being prosecuted, most of those being sent to prison because of the attack on the capitol, there obviously is somebody that's higher up that's responsible, and that was Donald Trump that brought people there," he added.
Hutchinson sees the 2024 Presidential race as a "defining moment" for the Republican Party.
"If you're running in 2024, you're either going to be saying that Donald Trump did the right thing, that it was not an attack on our democracy and he should not be held accountable. I'm in the other camp that believes that this was an attack on our democracy, that there ought to be accountability for it, and we as Republicans ought to support the rule of law. And that's as simple as it gets. You can't mince words on this. I think all the candidates going to have to state it very clearly where they stand on this," he added.
Hutchinson also discussed where he has clear policy differences with former President Trump – his fiscal policies and his isolationist foreign policy. You can watch the full interview in the video below.