With architectural designs complete, the dream for a new Sebastian County Library in Greenwood is one step closer to reality, but Sebastian County Judge Steve Hotz says a "big rock pile" might slow progress.
The Sebastian County Quorum Court approved construction of the new library in 2021 to be located on Highway 10 Spur and U.S. Highway 71 in Greenwood on two acres donated by Jacob Burton. The city of Greenwood spent $180,000 to get water to the property.
Travis Bartlett with Fort Smith-based MAHG Architecture estimated construction cost of the 10,400-square-foot facility at $4.3 million. He said he presented the architectural drawings to the Sebastian County Quorum Court during a recent regular meeting.
"What's going to be unique about this library is it's going to go away from the libraries of the past who put a lot of emphasis on security of the books. There used to be this security you had to walk through and there was some type of thing on the book to make sure you didn't leave without checking it out," Bartlett said. "Here, there is going to be access to a plaza area outdoors where you can read magazines or newspapers or books. If patrons want to go outside and read among the trees, they can."
The 5,700-square-feet Scott-Sebastian Regional Library, located on Adair Road in downtown Greenwood, was built in 1965. Library board members and library supporters have worked for about 20 years to get a new library, Bartlett said. The facility's collection has about 52,000 items. The two-story building has no community room and is limited by space on activities it can hold.
"We've been working with them for a long time, but they have been working on it for much longer. The current facility just doesn't have room to grow any more," Bartlett said. "Some of the summer reading activities (for children) have to be held off-site."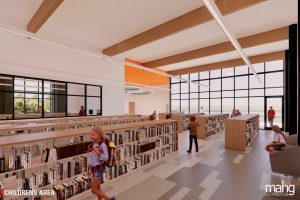 That will change with the new library, which will have a community room like the Fort Smith and Van Buren libraries in which community groups can rent for meetings. It will also have space for the Scott Sebastian County Library Board to hold its quarterly meetings, something they cannot do now, Bartlett said.
Because the new library will be one level, there will not be issues with Americans with Disabilities Act compliance, he said. There will be an adult reading and lounge area with magazines and newspapers. There also will be separate children and teen areas with age appropriate books and seating areas.
"There will be lots of glass. So even though the areas will be separated, staff will be able to see into all areas at all times," Bartlett said. "It has been exciting to work on this project."
Now that the design has been completed, the next step is to develop construction drawings and get engineer support involved, Bartlett said.
"We'll take these drawings and basically make line drawings," he said.
The engineering support involves finding a way to build on the property that is filled with rocks, Hotz said.
"We're still looking at site preparation and how to move the big rock pile," he said, noting he has no idea how long that will take.
Bartlett said they are hoping to be able to begin construction work in late summer or early fall. Construction is estimated to take 18 months, leading to an early 2025 opening, he said.