Gov.-elect Sarah Sanders announced Tuesday (Jan. 3) her intention to nominate Joe Profiri, a key criminal justice leader for Arizona Governor Doug Ducey, as the Secretary of the Arkansas Department of Corrections. He would replace Solomon Graves, the current secretary.
"As our state prepares to confront rising crime head-on and devote the necessary resources to increase prison capacity to allow for the retention of violent, repeat offenders, I made it a priority to select an individual with decades of experience in correctional oversight and who shares my commitment to public safety," Sanders said. "Joe Profiri is that person. His background and experiences, not only at the managerial level but more importantly as a correctional officer, in Arizona have uniquely prepared him to lead our Corrections Department with accountability, integrity, and professionalism. I look forward to welcoming Joe and his family to Arkansas."
Profiri is a corrections and criminal justice professional with over 30 years of experience in administration of public safety programs and correctional oversight at local, state, and national levels.
During his career with the Arizona Department of Corrections, Profiri worked in many capacities, beginning in 1988 as a correctional officer and capped by his current position as deputy director of corrections. He has served stints in the Inspector General's office as a criminal investigator and deputy inspector general, as well as Southern Region Operations director in the state's prison division.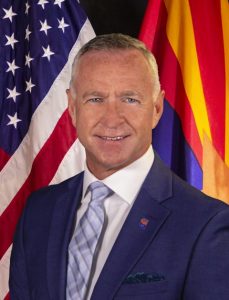 Profiri also worked as a police officer with the Coolidge Police Department and Deputy Sheriff with the Maricopa County Sheriff's Office.
In addition, he served the U.S. Department of Homeland Security – Immigrations Customs Enforcement as a contracted senior expert analyst in evaluating the effectiveness of programs, operations, and productivity of detention management at federal detention facilities to ensure their compliance with National Detention Standards.
"The work of corrections to keep communities safe by professionally retaining violent, repeat offenders and adequately preparing offender populations for reintegration is challenging but a passion of mine," Profiri said. "I am honored to accept the Governor-elect's nomination and to bring my dedication and skills to Arkansas. Governor-elect Sanders has a bold plan to reduce crime, and I look forward to joining her in that critical work along with her new choice for Secretary of Public Safety Captain Hagar."
Profiri is the 9th of 15 cabinet appointments made by Sanders.