New York Institute of Technology College of Osteopathic Medicine graduates its third class in Jonesboro
by George Jared ([email protected]) May 26, 2022 7:57 pm 791 views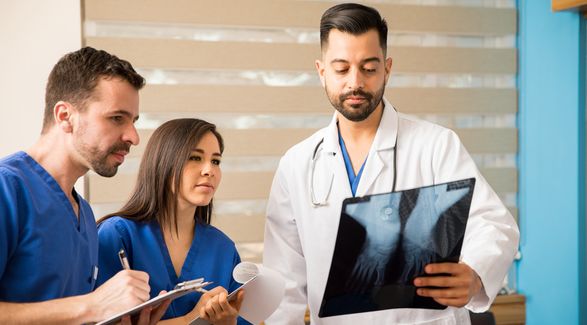 The New York Institute of Technology College of Osteopathic Medicine at Arkansas State University graduated 108 new physicians Wednesday (May 25) at its commencement and hooding ceremony.
The class arrived in Jonesboro in 2018 as the third class on the medical school's Arkansas campus, and the group experienced medical school during a time like no other. Much of the group's final two years of their undergraduate medical education came during a pandemic.
Joseph Giaimo, president of the American Osteopathic Association, served as one of the featured speakers.
"You are entering our profession at a time where our world faces a lot of challenges," Giaimo said. "But I have good news for you. Because of your hard work, because of how you are trained, you are perfectly positioned for the challenges that lie ahead. The core of osteopathic principle is what our nation truly needs. It is perfectly aligned with the mission of this college, training physicians based on evidence-based medicine, critical thinking and the tenants of osteopathic principles and practice. This distinctive approach to treating a patient is exactly what our country needs now."
Barbara Ross-Lee, the founding dean of NYITCOM at A-State and a pioneer in osteopathic medicine, also spoke at Wednesday's ceremony. She reminded the graduates of the significance and duty that comes with their new title of doctor.
"Becoming a physician is not just a career choice," Ross-Lee said. "It is a high calling with awesome responsibilities. It's something more. From this day forward, it is an immutable part of who you are and who you will always be. It will be how you think of yourself and how others think of you, because being a physician not only describes what you do but who you will have become."
As part of Wednesday's ceremony, NYITCOM at A-State awarded a posthumous degree to Chloe Vaught, a member of the Class of 2022 who died during her third year of medical school. Amanda Deel, associate dean of academic affairs, shared memories of Vaught and led attendees in a moment of silence in her honor. Vaught's parents were presented with a framed diploma signifying her accomplishment.
"I'm sure that many of you, like Chloe, back in elementary school when asked what you wanted to be, you said you wanted to be a doctor," said Chris Vaught, Chloe's father. "When Chloe said it, she meant it. She knew what she wanted to do. She was going to stick to it, and stick to it she did. She was going to be a doctor. And she is."
In addition to the 108 students who received their Doctor of Osteopathic Medicine degree, NYITCOM honored 13 students who completed the college's master of science in biomedical sciences degree, a program that was created in 2020.