State economic development officials on hand for Be Pro Be Proud Draft Day in Jonesboro
by George Jared ([email protected]) March 15, 2022 6:47 pm 646 views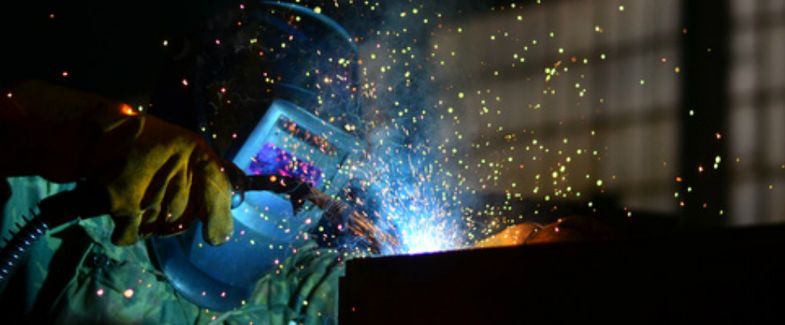 When Gov. Asa Hutchinson was growing up on a farm in Northwest Arkansas, his father had to work a manufacturing job in Tulsa, Okla. Each week, he'd leave on a Monday morning and return Friday night to make sure his family could keep their farm.
His hope as governor has been to create high-paying jobs that allow for families to live and work in the towns and cities they prefer. Hutchinson was the keynote speaker Tuesday (March 15) during the launch of Be Pro Be Proud Draft Day on the Jonesboro High School campus.
The aim of the program is to pair high school seniors with potential employers in the skilled trade market. Students from about 25 area high schools attended, along with 30 businesses.
The governor noted that the state's unemployment rate is 3.2% and businesses are in desperate need of skilled employees. There's never been a time in the history of the state that workers were needed more, he added.
"You are in demand. We need more workers," he said.
One Jonesboro area employer, Hytrol, has added an enormous number of employees during the last several years. The company makes conveyor systems and nearly every product that is bought in the U.S. has been moved at some point on a conveyor system, Hytrol President David Peacock said.
His company has about 1,700 employees at its Jonesboro and Fort Smith facilities and that number has ballooned by 700 or so during the last half-decade. Currently, the company is understaffed by about 100, and in the coming years Peacock said he expects Hytrol to need at least 2,000 total employees to maintain its operations in Arkansas.
When the company learned about the Be Pro Be Proud Draft Day, it was happy to join, he said.
"I got excited. My staff got excited," he told the crowd. "Hopefully, today is an inflection point in your life," he added.
Hutchinson said there have been a lot of job creation announcements recently in the state, but none bigger than in Northeast Arkansas. U.S. Steel is slated to build a second steel plant in Mississippi County that will make the county the top steel producer in the country.
The governor visited Israel on a trade mission and during that trip he had the chance to speak with the Israeli Prime Minister Naftali Bennett. The two talked about the burgeoning defense manufacturing sector in Arkansas, and Bennett noted that the country's Iron Dome, a rocket defense missile system, was built in Arkansas.
Many of the Javelin-style anti-tank missiles that Ukraine is using to repel Russia's invasion of the country were produced by workers in the Natural State.
"It's been a top priority for seven years … I wanted to be the jobs governor," he said.
Arkansas State Chamber of Commerce and Associated Industries of Arkansas President and CEO Randy Zook told students the goal of any career is to find one that is fulfilling and one that pays well enough to give you options.
"It's important to position yourself to have a life full of choices and opportunities," he added.
The state chamber and AIA spearhead the Be Pro Be Proud initiative.