Arkansas Supreme Court Justice Karen Baker announces for re-election
by Roby Brock ([email protected]) January 20, 2022 8:47 pm 2,931 views
Arkansas Supreme Court Justice Karen Baker said Thursday (Jan. 20) she would seek a third term on the state's highest court.
Baker has served two terms as a Supreme Court Justice. She completed the remaining four years of then-Justice Annabelle Clinton Imber's term, and was elected to a full-term in 2014.
"I believe my experience at every level of the judiciary is unmatched, and I am currently the senior, most experienced justice on the Arkansas Supreme Court. I want to continue to put that experience to work for the people of Arkansas," Justice Baker said in an announcement release.
State Supreme Court justices are elected on a nonpartisan basis in Arkansas and serve eight-year terms. The election will be held May 24, 2022.
Baker has served on the Arkansas Supreme Court since 2011. She serves as the Supreme Court liaison to the Board of Law Examiners, the Continuing Legal Education Board, and the Judges and Lawyers Assistance Program.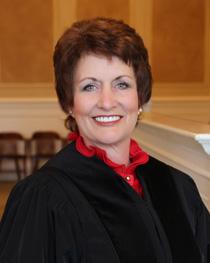 Prior to serving on the Arkansas Supreme Court, Baker served as a Circuit and Juvenile Judge in the 20th Judicial District for six years and served on the Arkansas Court of Appeals for ten years. Prior to serving on the bench, she was in private practice for seven years.
Baker is a graduate of Clinton High School; Arkansas Tech University; and the UALR Bowen School of Law.
Baker faces a challenge from Sebastian County Circuit Judge Gunner Delay, who announced for the seat in June 2021.
A former Republican state legislator and prosecuting attorney from Fort Smith, Delay has served on the bench since he was appointed by Gov. Asa Hutchinson in 2018. He was re-elected as circuit judge without opposition in 2020.
Earlier this week, Lt. Gov. Tim Griffin, a GOP candidate for Attorney General, endorsed Delay.