Jessica Chastain to headline Arkansas Cinema Society's Filmland festival
by Roby Brock ([email protected]) September 21, 2021 11:22 am 1,041 views
Academy Award-nominee Jessica Chastain will headline Filmland in the Park, the Arkansas Cinema Society film festival in downtown Little Rock. The outdoor park series will run Sept. 30 through Oct. 3 at MacArthur Park.
Tickets are available for members and sponsors starting Thursday, September 23rd at 9 a.m. and will open to the general public at 9 a.m. on Friday, September 24th. Concessions and a rotation of local food trucks will be available each night.
Chastain stars in the recently-released "The Eyes of Tammy Faye," a movie about televangelists Tammy Faye and Jim Bakker.
Other headliners include the Cannes Film Festival Grand Prix winner A Hero with multi-Academy Awarding winning director Asghar Farhadi; and the documentary from Academy Award-winning producer Evan Hayes and Peabody Award-winning director Liz Garbus Becoming Cousteau. A full list of movie screenings can be found at the end of this post.
On Saturday, October 2, Chastain will take the stage with ACS co-founder and director Jeff Nichols, a Little Rock native, following the screening of "The Eyes of Tammy Faye." They will discuss her role as Tammy Faye and her career in acting and producing.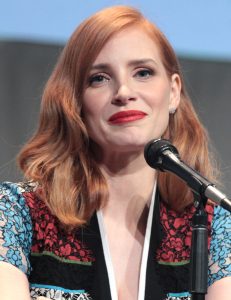 "I've known Jessica since we worked together on our film Take Shelter," said Nichols. "It was exciting to be on that set and watch the immense talent she'd bring every day, and it's been equally exciting to watch how her career has evolved and exploded over the last decade. I truly consider her one of the best actors working today."
Filmland moves to October 2020 this year, according to ACS Executive Director Kathryn Tucker.
"Last year, we were the first to bring Nomadland to Arkansas, which went on to win best picture at the Academy Awards, and we are equally as excited and hopeful about this year's line-up. The chance to showcase the latest works by a brilliant directors – Asghar Farhadi and Liz Garbus – will be such a treat," Tucker said.
ACS is also launching a collaboration with the Arkansas Museum of Fine Arts. Their members will receive advance notice and 10% off tickets to all Filmland in the Park screenings and workshops.
"AMFA is excited to collaborate with ACS to host Filmland in the Park in MacArthur Park, our backyard. We welcome these wonderful films and artists to Little Rock," said AMFA Executive Director Victoria Ramirez. "If last year is an indicator, then hopefully we have another Oscar winning movie in the lineup."
Tickets for AMFA members will be available on the AMFA website Thursday, September 23, 2021 at 9 a.m. Purchase tickets at: www.arkmfa.org.
FILMLAND IN THE PARK LINE-UP
Becoming Cousteau
Adventurer, filmmaker, inventor, author, unlikely celebrity and conservationist: For over four decades, Jacques-Yves Cousteau and his explorations under the ocean became synonymous with a love of science and the natural world. As he learned to protect the environment, he brought the whole world with him, sounding alarms more than 50 years ago about the warming seas and our planet's vulnerability. In Becoming Cousteau, from National Geographic Documentary Films, two-time Academy Award®-nominated filmmaker Liz Garbus takes an inside look at Cousteau and his life, his iconic films and inventions, and the experiences that made him the 20th century's most unique and renowned environmental voice — and the man who inspired generations to protect the Earth.
The Eyes of Tammy Faye
Directed by Michael Showalter and written by Abe Sylvia, The Eyes of Tammy Faye is produced by Jessica Chastain, p.g.a., Kelly Carmichael, p.g.a., Rachel Shane, p.g.a., and Gigi Pritzker. The film stars Chastain, Andrew Garfield, Cherry Jones, and Vincent D'Onofrio. Chastain, whose previous musical experience was limited to college, does her own singing in the film, which is an intimate look at the extraordinary rise, fall and redemption of televangelist Tammy Faye Bakker. In the 1970s and 80s, Tammy Faye and her husband, Jim Bakker, rose from humble beginnings to create the world's largest religious broadcasting network and theme park, and were revered for their message of love, acceptance and prosperity. Tammy Faye was legendary for her indelible eyelashes, her idiosyncratic singing, and her eagerness to embrace people from all walks of life.
A Hero
Oscar-winning writer/director, Asghar Farhadi's latest film, A Hero, took home the Grand Prix during the 2021 Cannes Film Festival. Starring Amir Jadidi, Mohsen Tanabandeh and Fereshteh Sadrorafaii, A Hero tells the story of Rahim, who is in prison because of a debt he was unable to repay. During a two-day leave, he tries to convince his creditor to withdraw his complaint against the payment of part of the sum. But things don't go as planned…
A native of Iran, Farhadi has directed nine feature films. Only a handful of directors have won the Academy Award for Best Foreign Film multiple times and Farhadi is among them for his films, A Separation (2012) and The Salesman (2017). In 2012, he received the French Legion of Honour and was named one of Time's 100 Most Influential People and a Top 100 Global Thinker by Foreign Policy.
The Arkansas Cinema Society's Filmland is a curated annual celebration of cinema with a mission to nurture and inspire filmmakers in Arkansas by exposing Arkansans to filmmakers and their art.
More information can be found at this link.