Banker, restaurateur, businessman and avid sportsman Philip Tappan of Little Rock was named to the Arkansas Game & Fish Commission by Gov. Asa Hutchinson on Thursday (July 1).
Tappan is the chairman of The Purple Cow restaurant chain and owns and manages land through Tappan Land and Water, LLC. He is the former president and CEO of Quality Foods, was on the board of Delta Trust & Bank, and has served as executive vice president of financial services for Simmons Bank.
"He brings his community commitment and genuine passion for the outdoors we have in Arkansas and his understanding of the need for conservation to our incredible natural heritage," said Hutchinson.
Hutchinson said Tappan's love of the outdoors, his business acumen and his community service was a major factor for appointing him.
"Phillip, with his passion and his business sense, will be a great addition to the Game & Fish Commission," he said.
Tappan replaces Andrew Parker, whose seven-year term ended in June. He served as the commission's chairman over the last year.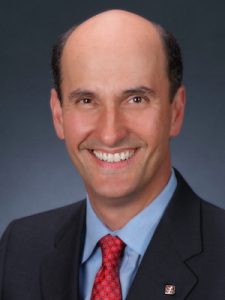 Tappan grew up in Helena and has hunted and fished since childhood. He thanked Hutchinson for the appointment, which is one of the most coveted appointments a governor makes.
"I plan to take this work with the same vigor and devotion as he did in this process," said Tappan, who recounted his years of being a sportsman in Arkansas and his efforts in the conservation field.
Tappan and his wife, Gina, have three children.
The Game & Fish Commission faces daunting challenges, which Tappan acknowledged in his remarks during the governor's ceremony at the Witt Stephens Jr. Central Arkansas Nature Center in downtown Little Rock. Notably, the commission faces funding issues to manage the infrastructure of its vast portfolio and duties, there are land management and costs associated with habitat maintenance, and the constant need for protecting endangered species.
It was also the first day on the job for Austin Booth, the newly appointed executive director of the Arkansas Game & Fish Commission, who spoke to the crowd gathered for the commissioner appointment. He is the 19th director of the commission.
"It's hard for us to look anywhere in Arkansas and not see the outdoors," Booth said. "Where we see the outdoors most is in our people… the outdoors is what gives us Arkansans our virtues."