Multi-million dollar deal at Chaffee Historic District to include new commercial, residential space
by Tina Alvey Dale ([email protected]) May 20, 2021 9:17 pm 2,136 views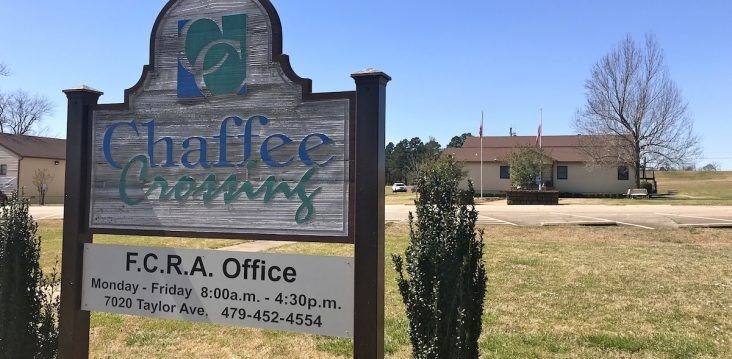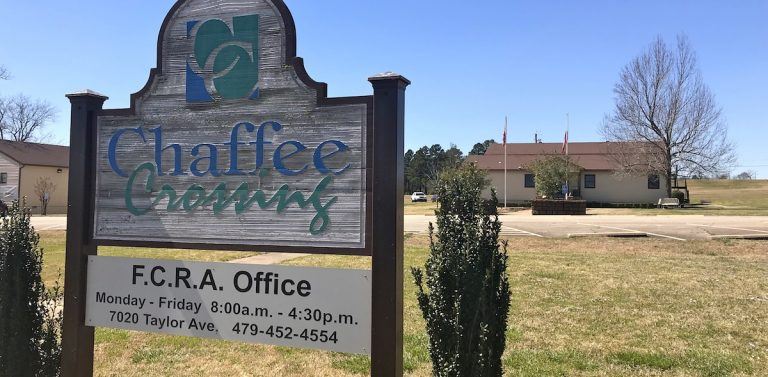 The Fort Chaffee Redevelopment Authority Board of Trustees has approved the sale of 21 buildings, a gravel parking lot and 0.75 acres in the Chaffee Historic District. The move takes FCRA's holdings in that district to a mere five warehouse buildings.
The board during Thursday's (May 20) meeting approved the sale of 19 barracks buildings on Buckhorn Street and a gravel parking lot Lloyd Sumpter with Rival Commercial RE for $513,000, or $27,000 per barrack. They approved the sale of two buildings at 7428 Ellis St. and 11821 Darby Ave. and 0.75 acres to Sumpter as well for $150,000. Sumpter will take possession of Buckhorn Street with the transaction of the barracks, said Daniel Mann, FCRA executive director and CEO.
Sumpter plans to turn the barracks into 25 commercial spaces, 72 apartment buildings and three restaurants that will fit into a planned project Rival started with the purchase of a property at Ellis and Ward streets, the first of the two-story barracks in the historic district to be sold.
Sumpter is turning that property into commercial and retail space, which fits with the planned zoning district (PZD) passed by the FCRA board and Fort Smith Board of Directors in 2020. The historic/mixed use designation allows for restaurants, retail and office space and residential dwellings among other uses, but would not allow for warehouses, Mann said. The PZD provides all properties inside the boundary a single set of zoning guidelines and end-uses, which will make it easier and faster for business owners to get building permits from the city of Fort Smith, Mann said.
This latest purchase of the barracks will have one-bedroom apartments above the 25 commercial/retail spaces. That space will include a Rival office in order to give them a presence in the district. The two-story buildings will be turned into two-bedroom two-bath townhouse-style apartments.
"The plans call for a real community feel," said Audrey Hester, commercial project manager for Rival CRE. "Some of the (single bedroom) apartments will be Airbnb, which will allow those who were stationed at Fort Chaffee or who spent time here during different times … the chance to bring their families and show them some of their history."
Rival will also convert the gravel parking lot to a solid-surface public parking lot and widen Buckhorn Street to allow for street parking by tenants. The Buckhorn project has an 18-month timeline and a projected cost of $12 million. The project will include sidewalks, some of which will tie into the FCRA trail system. The development will be inside the permanent entertainment district at Chaffee Crossing. The two buildings on Ellis Street and Darby Avenue will be used for commercial projects and perhaps additional public parking, Mann said.
The board also approved a collaboration between FCRA and Arkansas College of Health Education to develop trails at Chaffee Crossing that will connect to the Fort Smith master trails system. ACHE received a grant in 2019 Arkansas Department of Transportation's Transportation Alternatives and Recreational Trails Program for the first phase of its trails project that connects the college's Celebration Park to the west with Chaffee Crossing's trail system. It is applying for a grant from ARDOT to connect Celebration Park east on land the colleges agreed to purchase from FCRA early this year. Closing on that property is scheduled for next week.
Per the collaboration agreement, FCRA and ACHE will contribute $50,000 towards that trail system. FCRA will then apply for a grant in 2022 to further its trail system and both FCRA and ACHE will again contribute $50,000 for that project, Mann said.
In other business, the FCRA board agreed to sell 28 acres located on Flagstone Road to Harmon Arkansas Properties at $45,000 per acre for an estimated $1.26 million. The buyer plans to develop the property into an approximate $40 million industrial warehouse project, Mann said.