ArcBest sees revenue decline in 2019, pays out first-ever bonus to union members
by Michael Tilley ([email protected]) January 30, 2020 4:01 pm 1,255 views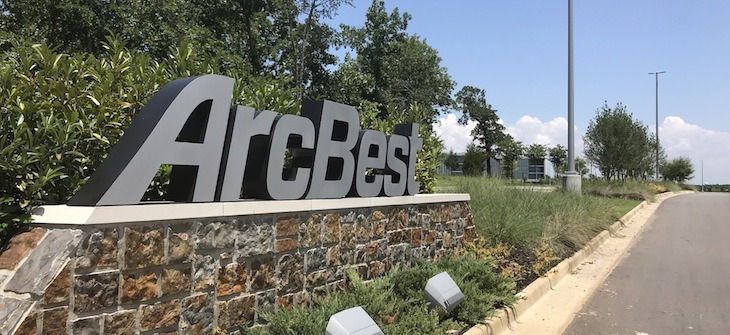 ArcBest posted 2019 net income of $39.985 million, well below the $67.262 million in 2018, but the sixth consecutive year of positive income. The transportation holding company also announced a first ever profit-sharing bonus for all eligible union-represented employees.
The Fort Smith-based company posted full-year revenue of $2.988 billion, below the $3.093 billion in 2018. Per share earnings for the year of $1.51 missed the consensus estimate of $2.53. However, when factoring out one-time charges of $26.5 million largely related to the revaluing of certain tangible and intangible assets, the per share earnings reached $2.86.
Fourth quarter revenue was $717.418 million, down from $774.279 million. The company posted an income loss of $5.549 million, or a 22 cent per share loss, compared to a $15.299 million gain in the same quarter of 2018. Again, factoring out the one-time charge that hit in the fourth quarter, quarterly net income was $14.8 million, with per share earnings of 56 cents beating the consensus estimate of 42 cents.
ArcBest is the parent company of ABF Freight, one of the nation's largest less-than-truckload carriers, and ArcBest Logistics and FleetNet.
"Overall, 2019 represented a solidly profitable year for ArcBest filled with ongoing innovation and customer-centric initiatives," Chairman, President and CEO Judy McReynolds said in the earnings report posted Thursday (Jan. 30) after the markets closed. "While conditions were not as favorable as those seen in 2018, our team succeeded in providing customers with valued expertise, a better experience and the full suite of logistics services they require. As a result of our expansion and investments in recent years, our cross-sold accounts have become larger in size and are growing faster than single-service accounts. Importantly, they also have higher rates of retention, which is a more stable foundation for future growth."
The profit-sharing bonus, the first for union-represented employees in the company's 100-year history, will be paid to about 7,400 employees. It is tied to a contract goal of achieving a 95.2% operating ratio in 2019. The bonus will be 1% of a qualifying employees' W-2 earnings.
"Returning ABF to historical margins has been a long-term goal, and the bonus payment is something we have hoped to do for some time," ABF President Tim Thorne said in a statement. "Thanks to successful yield initiatives, focused account management and prudent cost management, we reached the required levels to pay the bonus and we thank all of our employees for their hard work and dedication to the company and our customers. This is a proud day for ABF."
ABF revenue in 2019 was $2.144 billion, below the $2.175 billion in 2018. Operating income for the segment was $102.061 million, down from $103.862 million in 2018. Revenue in the asset-light segments – ArcBest Logistics and FleetNet – for the year was $950.13 million, below the $976.249 million in 2018. Operating income in the segment was a loss of $15.383 million, compared to a gain of $27.973 million in 2018. The aforementioned one-time charge was part of the loss.
Following are other notes from the earnings report.
• Revenue per hundredweight was up 3.78% for ABF in 2019.
• ABF shipments for the year totaled 4.928 million, down 2.6% compared to 2018.
• ABF tonnage was 3.028 million tons, down 5% compared to 2018.
• Revenue per shipment in the logistics business was down 8.6% in 2019 compared to 2018.
• Estimated capital expenditures in 2020 are set to range from $135 million to $145 million.
Company shares (NASDAQ: ARCB) closed Thursday at $25.63, up 45 cents. During the past 52 weeks the share price has ranged between $41.87 and $24.69.