Nucor reveals plans to build new plate steel mill in rural northwest Kentucky community
by Wesley Brown ([email protected]) April 1, 2019 12:09 pm 4,315 views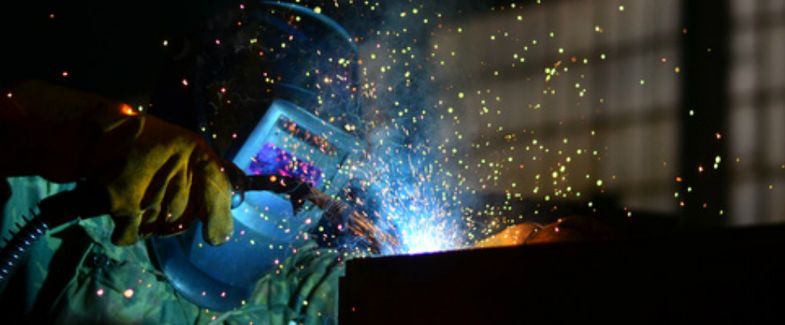 U.S. steelmaker Nucor Corp. has announced plans to build its new state of the art steel plate mill in Brandenburg, Ky., located along the Ohio River southwest of Louisville. The Charlotte, N.C.-based industrial giant said it will invest around $1.35 billion to build the mill, which will be capable of producing 1.2 million tons per year of steel plate products.
The plate mill in the rural Kentucky community, which has a population of less than 3,000, will employ more than 400 full-time workers with an average annual salary of $72,000, company officials said. The steel plant is expected to be fully operational in 2022, pending permit and regulatory approvals.
"This strategic investment will enable us to build a clear market leadership position in the U.S. plate market. Kentucky is an excellent location for this mill, right in the center of America's largest plate consuming region," said Nucor Chairman and CEO John Ferriola. "Our acquisition of the Gallatin sheet mill in Ghent, Kentucky five years ago has been a tremendous success, and we are pleased to add a second mill in the state."
Nucor first announced in early January plans to build another U.S. steel mill in an unknown Midwest location consistent with the company's drive to continue delivering sustainable, profitable growth and superior returns for Nucor shareholders.
According to company officials, the Kentucky plant will produce cut-to-length, coiled, heat-treated, and discrete plate ranging from 60 to 160 inches wide, and in gauges from 3/16 of an inch to 14 inches in thickness, enabling Nucor to supply plate products that the company does not currently offer. Nucor currently operates plate mills in North Carolina, Alabama and Texas.
In May 2018, Nucor Arkansas said it would invest $240 million in a new galvanizing line at its Hickman-based sheet mill. The new line will employ about 100 workers and will produce 500,000 tons each year. Nucor jobs at the planned Arkansas mill will pay around $80,000 per year, company officials have said. That expansion is expected to be completed in the first half of 2021. That announcement came right after the company opened a $230 million specialty cold mill in April 2018 at the same site, adding 100 jobs.
For the quarterly period ended Dec. 31, Nucor reported fourth quarter net earnings of $646.8 million, or $2.07 per share, up 68% from year ago earnings of $383.9 million, or $1.20 per share. Nucor's net sales increased 24% compared with $5.09 billion in the fourth quarter of 2017.
On a yearly basis, Nucor reported profits of $2.36 billion, or $7.42 per diluted share, up 78% compared to the steelmaker's earnings of $1.32 billion, or $4.10 per share, in the same period of 2017. Both the quarterly and yearly financial results, respectively, represent the most profitable performances in the company's history.
"The best way to sum up 2018 is this – it was a record year for Nucor. We posted record earnings per share and record revenue, and we shipped a record amount of steel," said Ferriola.
Comments
comments