Charles Morgan promotes new entrepreneurship book, outlines Arkansas tech workforce challenge
by Roby Brock ([email protected]) February 24, 2019 8:34 pm 1,578 views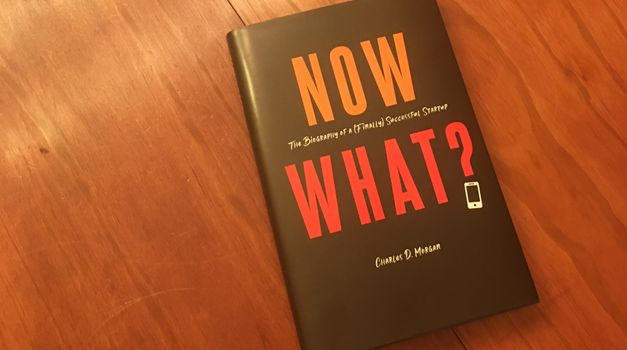 In a wide-ranging television interview to promote his new book, "Now What? The Biography of a (Finally) Successful Startup," First Orion Corp. Chairman and CEO Charles Morgan discussed the struggles getting his startup off the ground and the challenges facing Arkansas' technology workforce.
He wrote the book to chronicle the lessons learned on his latest entrepreneurial endeavor. Morgan, the former company leader of Acxiom and a state business Hall of Fame inductee, said he's spent nearly a decade working to get First Orion into its current position of success.
"I was so naive about the telemarketing industry. I thought I was pretty smart. I didn't know much of nothing," he said.
Launched during the financial crisis, First Orion utilizes software and technology to provide a variety of services to telecom providers, business and consumers. For consumers, First Orion has apps that can block unwanted calls, for example. It has evolved into a larger solution-based approach that can provide telecom carriers with products to guard against fraud and to analyze network data.
First Orion's big break came several years ago when it inked a deal with Metro PCS and eventually with its largest current client, T-Mobile. Combined with another blockbuster account, First Orion is now serving nearly 80 million U.S. customers, Morgan said.
Now, the Little Rock-based company is poised to move into a new state-of-the-art facility in downtown North Little Rock next year. With more than 160 employees in central Arkansas, Seattle and London, Morgan said finding the workforce of the future – computer programmers and data analysts – is not much different than the challenge he faced during his Acxiom years.
"There are a lot of under-trained, maybe under-educated, under-trained people who can be trained and whose skills can be brought up. We at Acxiom, in the old days, we had to hire 500 DBAs [database administrators] in a period in the '90s. We couldn't go out of state and hire them. There weren't 500 DBAs in Arkansas, there probably weren't 300 in all of the state. We set up Acxiom University and we'd put these young people through 10 weeks of education. When they came out, they go straight to work," Morgan said.
He's re-creating this concept with employees now so that he can produce iOS programmers with experience.
"It's a great recruiting tool because these young people even when they graduate in Computer Science degree, they know they're not completely trained to go to work and they have a lot of general skill and knowledge. They don't have specific skills," Morgan said.
You can watch more of Morgan's full interview in the video below.