Oaklawn to build $100 million gaming, hotel complex, ready by early 2020
by Wesley Brown ([email protected]) November 19, 2018 1:20 pm 3,122 views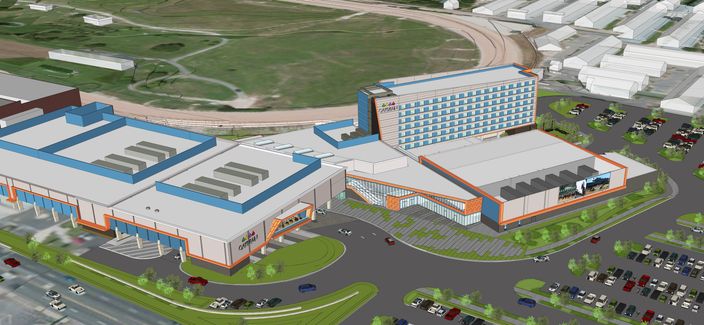 Less than two weeks after Arkansas voters approved a constitutional amendment to expand casino gambling in Arkansas, Oaklawn Racing and Gaming on Monday (Nov. 19) announced plans for a $100 million-plus project that will include a new high-rise hotel, multi-purpose event center, a larger gaming area and extra on-site parking.
Oaklawn officials called the gaming expansion project, which is expected to create as many as 2,300 jobs doing the construction phase, one of the largest hospitality investments in the history of Arkansas. Work will begin in May immediately following completion of the 2019 racing season, officials said, with the target completion date for the gaming facility in early 2020 and the hotel and event center later that year.
HBG Design of Memphis, which has worked on previous Oaklawn expansion projects, has been hired as the architectural firm. Springdale-based Flintco Construction will be the construction manager for the yet-to-be named multimillion-dollar, seven-story, 200-room project that will include two presidential suites, and other amenities such as an outdoor swimming pool, a luxury spa, fitness center and restaurant.
Adjacent to the hotel will be a 14,000 square-foot multi-purpose events center that will accommodate up to 1,500 people for various events such as concerts, meetings, banquets and weddings. The project also includes the addition of approximately 28,000 square feet of gaming space and significantly expanded parking.
"This historic announcement represents a new chapter in the rich 114-year history of Oaklawn," said Louis Cella, president of Oaklawn Jockey Club. "As we enhance the entertainment experience for our customers, we will also further elevate thoroughbred racing and help make Arkansas and Hot Springs even stronger regional tourism destinations."
ISSUE 4 IMPACT?
Cella, who said the project plans were in the works well ahead of the Issue 4 voter referendum, said a project of this size required years of planning and infrastructure development. He said the 4-star hotel complex will offer a unique "down the stretch" vantage point for patrons that will overlook the track of the 114-year old horse track, which opened in 1904.
"While one may assume that today's announcement comes in response to the passage of Issue 4 on Nov. 6, we actually began planning for this during our last expansion in 2014," said Cella. "Our goal then, as it is now, is to use a quality gaming experience to enhance racing and help attract even more great champions to Arkansas such as Smarty Jones, Zenyatta, and American Pharoah."
Gov. Asa Hutchinson, who did not publicly support Issue 4 in November, said the Oaklawn expansion will be monumental. Last week, Hutchinson also warned that the passage of legalized gambling will create a $38 million "budget hole" for the upcoming legislative session that begins in January due to a reduced tax rate on casinos that was a portion of Issue 4.
"The state of Arkansas is grateful to Louis and his family for their commitment to growing their business right here at home," Hutchinson said. "This project, which will be financed exclusively with private funds, not only represents one of, if not the largest, tourism related expansion projects in our history, it will also rank among the state's largest economic development projects in 2019."
Kane Webb, director of the Arkansas Department of Parks and Tourism, said the Oaklawn expansion will create more success stories for Arkansas' thriving tourism industry.
"Hot Springs is already one of the top tourism destinations in the South," Webb said. "This expansion will thrust Hot Springs into the category of the nation's elite vacation and recreation locations."
Earlier this year, Oaklawn officials announced a shift in the spring racing season to later in the calendar year, noting that horse racing will also continue into May for the first time. At the time, Hot Springs officials called that season switch the biggest change in the traditional Oaklawn racing schedule since World War II.
Although Cella downplayed the impact of Issue 4, the impact is already being felt from the much-debated constitutional amendment that would permit casinos in four Arkansas counties – Garland, Crittenden, Pope, and Jefferson – with two of the casino licenses being granted to Oaklawn and Southland.
Before voters approved the constitutional measure at the ballot on Nov. 6, Driving Arkansas Forward, one of the groups backing the ballot issue, had boasted the proposal would create jobs, expand tourism, and keep tax and tourism dollars in Arkansas.
A study from the University of Arkansas at Little Rock's Arkansas Economic Development Institute, which was backed by the Driving Arkansas Forward interest, said 3,000 jobs would be directly created in the gaming industry and another 3,000 would be created in sectors tied to the industry as a result of Issue 4. It could mean $5.8 billion in GDP growth over the next decade, the study noted.
OTHER PLANS
Besides the Oaklawn announcement Monday, publicly-traded Delaware North has also revealed plans to build a hotel and convention center in West Memphis tied to the company's Southland Gaming and Racing location in Crittenden County. In an interview with Talk Business & Politics, Delaware North Senior Vice President of Governmental Affairs Jack McNeill said that project would spend up to $200 million and would likely be located on the Southland property.
In addition, Quapaw Tribe Chairman John Berry has told Talk Business and Politics he hopes to get permits in Jefferson County early next year to bring a $37 million gaming and hotel facility in Pine Bluff by 2020. Berry, who attended an Issue 4 discussion at the University of Arkansas at Pine Bluff in October, said the project would bring hundreds of jobs and millions of dollars in economic development to the region, which has seen negative gross domestic product growth over the past decade.
The Cherokee Nation, which also contributed to the campaign to back Issue 4, has been mentioned as a possible applicant for a permit in Pope County near Russellville. The Cherokee Nation, based in Tahlequah, Okla., is the largest of three Cherokee federally recognized tribes in the U.S.
After Gov. Hutchinson's address last week to the Joint Budget Committee and Legislative Council outlining the executive branch's $5.75 billion budget for the biennium, several lawmakers expressed concern about the $38 million "shortfall" for the upcoming fiscal year due to voters approving Issue 4 on Nov. 6.
Department of Finance & Administration Director Larry Walther and other state budget hawks told lawmakers it would likely be until at least fiscal 2020, which begins on July 1, 2020, before Arkansas budget coffers see any growth revenue from the constitutional amendment to allow casino gambling at Oaklawn, Southland and the two other locations in Jefferson and Pope counties.
The Arkansas Racing Commission must still promulgate rules and regulations to oversee the new casino amendment. They will have until March 2019 to complete that process.