Gov. Hutchinson shares personal insights on service, trade during stop in Rogers
by Kim Souza ([email protected]) October 4, 2018 4:27 pm 298 views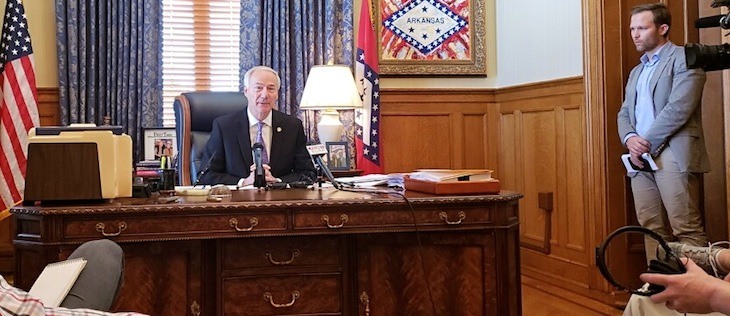 Seeking out opportunities to be useful each day is one way Gov. Asa Hutchinson finds joy and satisfaction in his personal life, even while doing a very public job.
Speaking to a large crowd Thursday (Oct. 4) at the Summit Business Luncheon hosted by Cross Church in Rogers, Hutchinson said he didn't start out wanting to be a public figure, and he had no dreams of being governor as a high school kid growing up in Northwest Arkansas.
That said, Hutchinson said being governor — the only one in Arkansas' history to be born in Benton County — has been the highlight of his 40-year career.
"Some the happiest days of mine and Susan's [wife] were living in a double-wide mobile home near Gravette when I was practicing law on the square in Bentonville," he said. "We started our family there on that little farm growing raspberries. I didn't start consider making a run for governor until I was in my 40s.
"That's how life is. It unfolds itself in unpredictable ways and our job is to be ready and receptive to opportunities whenever they present."
As governor, Hutchinson said he loves sharing stories from around the state in his travels. He said there is no ego trip in being governor, and that's made clear to him regularly by citizens across the state.
"I wanted to get out of the capitol a while back so I went down to Hampton to the Hogskin [Holidays Festival] Parade," he said Thursday. "I was standing there near the parade route when a lady walked up to me and asked if she could give me a hug. I thought, well she approves of my work as governor. And then she said to me, 'Just who are you?' That was great lesson in humility."
He also said he received a returned contribution campaign letter in the mail with a note written on the back saying the fellow was retired and on a fixed income and could not send any money. But he would "support me for governor until someone better comes along," Hutchinson joked.
Hutchinson said that's the way it should be. He said this country built on the backs of immigrants seeking freedoms is still about the people choosing leaders they want.
"It's important that this nation not relinquish our mantle of leadership, and while strength is important so is humility," he added.
During Hutchison's career in public service he served under President George W. Bush as Undersecretary for Border & Transportation Security at the U.S. Department of Homeland Security. Hutchinson said while there have been successes in his life, there have also been plenty of challenges and opportunities to learn from others.
"While at Homeland Security, I met a lady who ran an event lighting company in Iowa and she taught me a lesson on the importance of being useful, no matter the circumstances," Hutchinson said. "As she watched the Twin Towers go down in New York City [on Sept. 11],she wanted to be useful. And so she ordered her workers to load up the semi-truck with the lighting equipment and head out for Manhattan. They warned her it would be a mess there but she told them to get going and call her when they arrived.
"When the drivers got to New York from Iowa after driving through the night they were stopped short of their destination. They called her as instructed and she told them to stay put and she would pray. Hutchinson said a bit later someone knocked on the cab of the semi and asked the driver what they doing. They said they were hauling lighting equipment and wanted to help. After looking at the equipment, the truck was waved through to the site.
"That was a lady in Iowa who saw an opportunity to use what she had to try and help people in New York. We should all look for ways to be useful with the tools we have and trust we will get the help we need to carry out this effort."
STATE GOVERNMENT/TRADE
Hutchinson took a few minutes to talk briefly about the need for a streamlined government, a plan he unveiled Wednesday. He said streamlining the government structure will lead to savings that can be used to raise teacher pay and establish a long-term highway funding plan for the state.
"I plan to work with the legislature to get a long-term highway funding plan on the ballot for 2020," he said. "The future is growth and a growing economy can change people's lives."
Hutchinson said while Northwest Arkansas is a leader in the state for job growth and immigration of talent, there are other pockets of success around the state which also contribute to Arkansas' long-term growth. He cited the diversified growth in the Jonesboro economy, the Blytheville steel industry — which is second in the nation in steel production — the growing aerospace industry in Camden with Raytheon and Lockheed Martin, and Caterpillar's investment in Little Rock to add 250 new jobs.
He told Talk Business & Politics that Arkansas' growth prospects are brighter with free trade. He said the new trilateral trade deal announced this week with Canada and Mexico is a big win for the state's agriculture business.
"This new NAFTA deal gives us some certainty for the future," he said. "Now that our trading partners understand this is in place and we are not going to have a tariff war between the Americas, there is some certainty and that's what business needs. It should help us have more opportunity to recruit industry here. It's also a big for our agricultural community because Canada and Mexico are huge trading partners for Arkansas agriculture."
Melvin Torres, director of Western Hemisphere trade at the World Trade Center Arkansas in Rogers, recently noted 72% of all agriculture exports from Arkansas went to Western Hemisphere countries in 2016 and 2017. He also said growth in Arkansas experts to the Western Hemisphere was up 20% last year.
"Canada and Mexico are consistently our top two partners every year with different countries taking the other places different years," he said. "Arkansas companies have incrementally benefited from exporting to the region and we hope business leaders strongly consider the Western Hemisphere for more opportunities."
Hutchinson was asked about the trade war underway with China and the impact it could have on Chinese business investment in the state.
"China remains a concern and a challenge," he acknowledged. "We understand the [President Donald Trump's] focus on protecting intellectual property and such, but we must also realize these Chinese businesses are investing millions of dollars in states like Arkansas. It's also helping to reshore manufacturing which is good for the state and the nation. We don't want to lose that benefit in the midst of the other controversy."
Trade is a two-way street and Hutchinson said policy is challenging from a tariff perspective when so much of the world operates as a global economy.
He said U.S. tariffs on imports will also continue to have an impact on investments in Arkansas. One local example is the $40 million expansion previously planned to create 100 new jobs in Rogers by Belgium-based Bekaert. This summer, Bekaert stopped those plans, citing the U.S. trade policy that imposed tariffs on steel and aluminum, which the company imports for that business. The company makes steel cord used in tires. The tariffs imposed on steel and aluminum products earlier this year caused prices to go up on Bekaert's imports and no longer made the local investment viable.