Good Roads group says new highway funding will give state $1.3 billion economic boost
by Wesley Brown ([email protected]) October 16, 2018 12:59 pm 786 views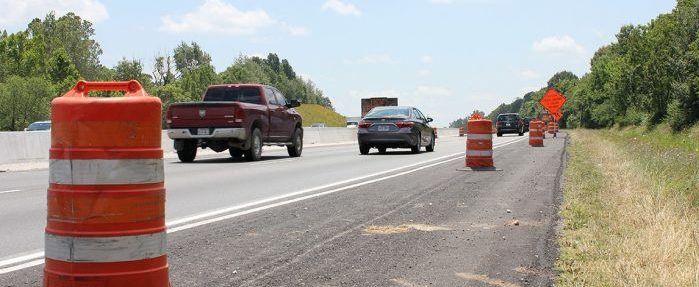 As state legislators begin budget hearings ahead of the 2019 regular session, the Arkansas Good Roads Foundation released a study Tuesday (Oct. 16) highlighting the need for increased highway funding that could boost the state's economy annually by more than $1.3 billion.
At a press conference held at the Arkansas State Chamber of Commerce's downtown Little Rock headquarters, the public-private foundation study offered research that an additional $478 million budgeted for the state's existing highway system could lead to an overall economic impact of at least $1.3 billion statewide and another 5,729 jobs throughout all sectors of the state's economy.
"This study is another blunt reminder that few things impact the quality of life in Arkansas like good roads that connect and link us," said Joe Quinn, executive director of Arkansas Good Roads Foundation. "People want safe roads that make it easier for new business, new families, and tourists to come to their area. We need to find a long term solution to shrinking the gap between what we need to spend maintaining and building roads, and what we are actually spending."
"Adequate transportation infrastructure is vital to Arkansas's ability to attract and keep industry here," said Randy Zook, president and CEO of the Arkansas State Chamber of Commerce. "It is essential that our state find a way to make the kind of road funding investment that will at least maintain our current system. To know that investment would also result in the creation of thousands of new jobs and an economic boost of millions of dollars throughout the state, means we can't afford not to act."
Quinn, a former Walmart public affairs executive who was named to the Good Roads post earlier this summer, emphasized that the $478 million investment figure is based on a 2017 report by Arkansas Legislative Audit, which highlighted what the state needed annually just to meet ongoing highway and bridge maintenance and improvement needs.
More than a year ago, the Good Roads group released a survey showing that almost two-thirds of likely 2018 voters favor making permanent the current half-cent sales tax for highway improvements, but 82% want to make that decision rather than legislators, and 81% would be more likely to support a state legislator who votes to give them that opportunity.
Approved by voters in 2012, the half-cent sales tax funds the Connecting Arkansas Program and expires in 2023. The 2017 survey noted that, 62% of Arkansas voters favor making the tax permanent, and 81% of those supporters said they would vote "today" to make it permanent in 2023.
Asked if the Good Roads group had a proposal ready to present to state legislators ahead of the 2019 General Assembly, Quinn said he hopes to begin meeting with lawmakers, policymakers and Gov. Asa Hutchinson's staff after the November elections to come up with a few proposals for the legislative session.
In recent speeches touting his government transformation plan, Hutchinson has said he hopes to take the savings from downsizing the number of state agencies from 45 to 12 to raise teacher pay and establish a long-term highway funding plan for the state.