Defense spending boost from Lockheed Martin's $400 billion F-35 stealth fighter project spills into Arkansas
by Wesley Brown ([email protected]) August 7, 2018 5:14 pm 917 views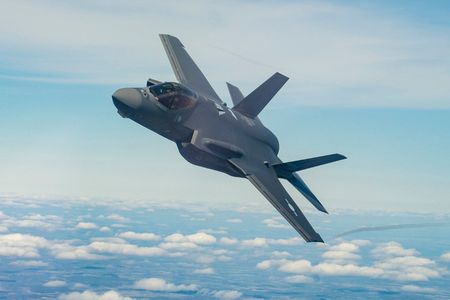 As Lockheed Martin ramps up next generation production of its $406 billion F-35 fighter jet program, Arkansas is benefitting from offshoot contract work that is filtering into the state from the mammoth industrial project that is supporting jobs in 46 states, company officials told Talk Business & Politics Tuesday (Aug. 7).
Just two weeks ago, after the Trump administration highlighted stronger defense spending by showcasing a full-scale F-35 model on the White House lawn, Lockheed Martin officials announced that the company had hired more than 1,800 new employees in support of stealth fighter jet program, meeting a commitment made in January 2017.
"The F-35 is an iconic product that represents the best of U.S. innovation, technology leadership, and advanced manufacturing," said Marillyn Hewson, the company's chairman, president and CEO. "The program supports 194,000 direct and indirect jobs nationwide, and as we ramp up production we are creating even more opportunities for American workers. The men and women who participate in the F-35 program take pride in delivering unmatched, fifth-generation capabilities to the U.S. military and our allies around the world."
Lockheed Martin spokeswoman Brecke Boyd told Talk Business & Politics that the multi-state project now has five supplier locations in Arkansas that support nearly 400 direct and indirect jobs with a $33.9 million annual boost to the state's fast-growing aerospace sector. Altogether, the 5th generation Lightning II version of the stealth fighter program supports 1,600 suppliers across the globe, including more than 1,500 companies based in the U.S. and Puerto Rico.
One of those companies, Triumph Fabrications of Hot Springs, announced on Thursday (Aug. 2) that it received a contract extension from Lockheed Martin to continue supplying titanium hot form machine exhaust screens for use on the F-35 blocker doors.
"We are honored to continue supporting Lockheed Martin and the F-35 program," said Pete Wick, executive vice president for Berwyn, Penn.-based Triumph Aerospace Structures. "The F-35 is the most lethal, survivable and connected fighter aircraft ever built and we are very proud of the role it will play in enabling the men and women in uniform to execute their mission and return home safe."
Triumph Fabrications officials did not immediately respond to questions from Talk Business & Politics concerning the terms of its supplier deal with Lockheed Martin, including the length of the contract extension and financial arrangements. The Hot Springs manufacturer is a subsidiary of Triumph Group Inc., which reported $3.2 billion in annual sales in fiscal 2017 and has nearly 14,000 employees worldwide, according to the company's annual report.
The Hot Springs company was recognized in March for exceptional supplier performance in support of their Lockheed Martin's Sikorsky helicopter business. The Arkansas factory produces complex sheet metal components for Sikorsky's UH-60 Black Hawk platform, according to SEC filings.
Nationwide, the Pentagon's F-35 Joint Program Office and Lockheed Martin delivered the 300th production F-35 aircraft in June. The first 300 F-35s delivered this year included 197 F-35A conventional takeoff and landing variants, 75 F-35B short takeoff/vertical landing aircraft, and 28F-35C carrier models that have been delivered to U.S. and international customers. More than 620 pilots and 5,600 maintainers have been trained, and the F-35 fleet has surpassed more than 140,000 cumulative flight hours, company officials said.
Despite the broad economic impact, the fifth-generation of the joint strike fighter is $163 billion overbudget and seven years behind schedule. In response to those cost overruns, Lockheed Martin officials said as production volume increases and additional efficiencies are implemented, the project is on track to reduce the cost to $80 million per aircraft by 2020, which is equal to or less than legacy 4th generation fighters.
"We are focused on reducing costs, increasing efficiencies, and ensuring the highest level of quality as we ramp to full rate production and sustainment of the operational fleet," said Greg Ulmer, Lockheed Martin vice president and general manager of the F-35 program.
Besides the F-35 program, the nation's largest defense contractor also produces guided missile systems and warheads at the company's industrial manufacturing facility in Camden, Ark. Earlier this summer, the South Arkansas munitions factory received a $364 million contract to produce the U.S. Army's Tactical Missile System (ATACMS) missile.
The ATACMS is the U.S. Army's only tactical long-range, deep precision-strike surface-to-surface weapon system. The long-range missiles can be fired from the entire family of Multiple Launch Rocket System (MLRS) launchers, enabling battlefield commanders the capability to operate in contested environments.
According to the Arkansas Aerospace and Defense Alliance, the aerospace industry is the state's number one export, generating more than $1.8 billion in annual revenues for the nearly 180 aviation and aerospace-related companies in the state.