Gov. Hutchinson addresses medical marijuana bribery allegations, the identity of 'Senator A'
by Wesley Brown (wesbrocomm@gmail.com) June 7, 2018 5:37 pm 3,124 views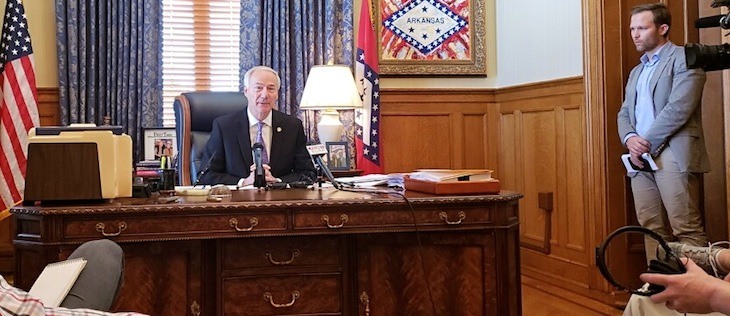 In a busy day of news at the State Capitol, Gov. Asa Hutchinson told reporters late Thursday afternoon (June 7) that allegations concerning possible bribery of two state officials was "profoundly serious" and "troubling," but refused to respond to speculation that one unnamed senator involved in an ongoing federal probe was his nephew.
Earlier in the day before Hutchinson's pen-and-pad with reporters at his State Capitol offices, former Arkansas lobbyist Milton "Rusty" Cranford pleaded guilty in federal court to bribing Arkansas elected officials in a multi-million-dollar scheme that also involved embezzling millions of dollars from Springfield, Mo.-based Preferred Family Healthcare (PFH).
In that guilty plea to federal prosecutors, Cranford admitted that he and other executives at PFH paid bribes to former Arkansas Sen. Jonathan Woods, former Pine Bluff judge and state legislator Henry Wilkins IV, a person identified in court documents as "Arkansas Senator A," and "others" who provided favorable legislative action for Cranford, his clients and the Springfield healthcare group.
MEDICAL MARIJUANA BRIBE ATTEMPT
Also on Thursday, Arkansas Supreme Court Chief Justice Dan Kemp released the contents of a letter from Attorney General Leslie Rutledge that one of the five commissioners on the state' five-person Medical Marijuana Commission was offered a bribe by one of the companies hoping to receive of the one of highly-prized licenses to grow and supply pot to medical patients across Arkansas. (Link here for a PDF copy of the letter.)
Although Rutledge had asked the high court to seal the letter for public purview, Kemp released the letter following the hearing on the AG's appeal of March 21 decision by Pulaski County Circuit Court Judge Wendell Griffen declared the AMMC's process of scoring and awarding Arkansas' first licenses to five pot cultivators as "null and void" and unconstitutional.
As the flurry of news reports spread among state legislators, government officials and policymakers, Hutchinson sought to put each issue into perspective and said he needed to take time to first review details of the ongoing federal probe that has entrapped several Arkansas lawmakers, lobbyists and other officials.
"I did review the actual statement in the plea and the indictment that has been entered. It was obviously a quick review and it's a very lengthy indictment of the actual statement and it is a complex case and so this needs to be reviewed much more carefully," Hutchinson told reporters. "But without any doubt, the allegations that are contained in the indictment and factual statements are profoundly serious and undermine the system of legislative process that the public relies upon and undermines the confidence that the public has in their government."
'SENATOR A' SHOULD RESIGN IF INDICTED
Concerning allegations in the federal court filings involving an unnamed lawmaker and speculation for months that Sen. Jeremy Hutchinson, R-Little Rock, would be the next to fall in the federal probe, Hutchinson said, "since Senator A is not named in the indictment, I don't want to presuppose anything and get ahead of the facts."
When pressed if he would ask his nephew to resign if he turned out to be "Senator A," Hutchinson reiterated "if Senator A is indicted, then he or she should resign."
A month ago, a federal jury in U.S. District Court in Fayetteville returned a guilty verdict against former Republican Sen. Jon Woods of Springdale and consultant Randell Shelton, of Alma, for their involvement in a widespread kickback and bribery scheme. According to evidence presented at the trial, federal prosecutors said Woods used his official position as a senator to appropriate and direct government money, known as General Improvement Funds (GIF), to two nonprofit entities by, among other things, directly authorizing GIF disbursements and advising other Arkansas legislators – including former State Rep. Micah Neal, 43, of Springdale, to contribute GIF to the nonprofits.
Specifically, Woods and Neal directed the Northwest Arkansas Economic Development District, which was responsible for disbursing the GIF, to award $600,000 in GIF money to the two nonprofit entities. The evidence showed that Woods and Neal received bribes from officials at both nonprofits, including Oren Paris III, 49, of Springdale, who was the president of Ecclesia College, a private Christian school.
Neal pleaded guilty on Jan. 4, 2017, to one count of conspiracy to commit honest services fraud. Paris pleaded guilty in the same court on April 5, 2018, to one count of honest services wire fraud. Sentencing for all parties will be scheduled later.
THE SECRET BRIBERY LETTER
As Hutchinson and his legal staff take the time to sift through documents in the widening federal probe, the governor also addressed a letter to the state Supreme Court that Rutledge had sought to keep under seal earlier this week.
According to contents of the letter, Rutledge said the AG's office was presented last week with "additional allegations" concerning the AMMC's scoring process and other improprieties in the cultivation licensing process.
"While most of these allegations remain unsubstantiated at the present time, we have learned the following. A commissioner has said that he was offered a bribe by an applicant and that he did not report it," Rutledge wrote, adding that the entity in question was Natural State Agronomics. "The commissioner has said he did not accept the bribe. The commissioner gave that entity the second-highest score that he awarded to any entity in the application process. This score was significantly higher than scores awarded to that entity by any other commissioner."
Rutledge further noted there is no specific law or regulation requiring a commissioner to report a bribe attempt, "and we have no evidence that the commissioner took the bribe or based his scoring on the offer. Still, we believe we needed to provide these facts to the tribunal."
Noting that he did not support the constitutional amendment approved by voters in November 2016 that made medical marijuana legal, Hutchinson said Rutledge's letter to the court speaks for itself. Hutchinson, a former U.S. Attorney, said he also doesn't believe the bribery allegations should impact the Supreme Court's decision concerning the earlier Pulaski Court ruling to halt the Commission's scoring and award process.
"In terms of the letter, that is something that was under seal that the Court made public. If you read the letter, it is obvious that it is just a matter of a straightforward disclosure to the court on these (bribery) allegations and that there is an ongoing investigation about those allegations," the governor said.
Hutchinson said he hopes the state Supreme Court will issue a ruling by the end of the month, adding that other states involved in the implementation of rules of medical marijuana use have encountered similar legal wrangling and setbacks.
"If you look at other states in varying degrees, it has taken all of them a significant amount of time in order to craft rules and accomplish dispensaries and all the licensing process," Hutchinson said. "We are not behind compared to (where) some other states are in the process but that doesn't change the fact that the will of the people has been expressed …"
Comments
comments