Wal-Mart Stores sees international segment as growth engine and talent provider
by Kim Souza ([email protected]) October 12, 2017 5:38 pm 745 views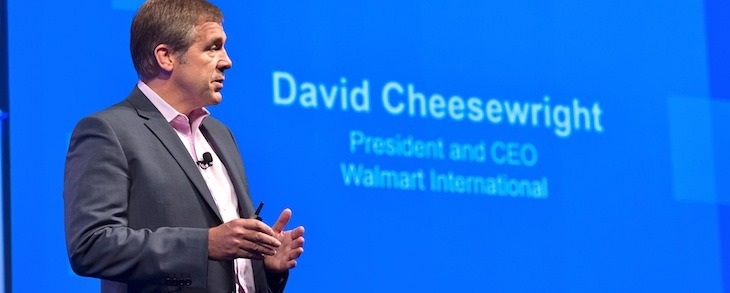 Walmart's international division is viewed as a growth engine and talent developer for Wal-Mart Stores, according to divisional CEO David Cheesewright.
Walmart International consists of one million employees in 27 countries and operating under more than 50 retail banners. Last year Walmart International generated total sales revenue of $123.4 billion, which comprised 25% of the company's total $485.14 billion in sales revenue.
Cheesewright is a retail veteran with 18 years at Wal-Mart Stores. He said he's more optimistic about Walmart International than he's been in the past four to five years. Part of that is because the largest markets of Mexico and Canada are doing well with continued growth in China and much improved business in the United Kingdom after seven dismal quarters of negative same-store sales. For the first half of this year net sales rose 3.2% across the combined international footprint. Cheesewright said the United Kingdom posted same-store sales growth of 1.5%, up from 7% losses a year ago.
"We are also finally taking back some lost share in this (UK) market," he added.
He said comp sales represent 50% of the growth internationally which is also a strong overall metric.
"Our strategy remains consistent and our role is accretive for growth, talent and innovation with leading returns," Cheesewright told analysts at the investor meeting in Bentonville on Tuesday (Oct. 10).
WINNING IN CHINA
He said China and India represent only about 10% of Walmart International sales but they are where the biggest future growth potential.
He said the strategy to win in China involved pairing up with JD.com to get meaningful marketshare, and results of the partnership are positive. He said the flagship stores opened by JD.com are giving Chinese consumers the opportunity to buy U.S. items and diapers from Japan which are a hot commodity among the Chinese population. He said ASDA, the grocery chain in the UK also has a flagship store selling goods to consumers in China.
Cheesewright said in China Walmart is also looking at some different formats, such as slightly smaller supercenters on a single floor as well as dark stores which are buildings in lower rent areas and serve as fulfillment centers with about 1,000 items.
Another area Cheesewright sees opportunity in China is with private label. He said the Great Value brand does well with Chinese consumers and is one area where the retailer is under-leveraged. He also said Walmart is rebalancing the business in China into the southernmost part of the country where growth is more active.
LOW-COST, TALENT POOL
Being true to Wal-Mart Stores' low-cost mantra, Cheesewright said the international division must also be the lowest cost operator and "driving savings to fund growth." He said the retailer uses cost analytics to get to the best purchase price from suppliers. And it's using a global sourcing center which also serves the U.S. division as well as Sam's Club. He said by moving further up the supply chain this office is helping the retailer contain costs.
"We are buying together items like tuna and olive oil and finding high quality and yet keeping costs down because of the our shared purchasing power," Cheesewright said.
Cheesewright said aside from running a lean and profitable business, the international division must also help develop a world-class talent pool that can serve the entire company. He said management in the international division speak more than 20 languages and have diverse insight in the world of retail.
Walmart U.S. has tapped the international talent pool time and time again with CEO Greg Foran coming from the company's operation in China, and COO Judith McKenna and central operations chief Mark Ibbotson each coming from the ASDA grocery business in U.K.
"I feel really good about the international business as sales growth is outpacing expense growth, profits are growing faster than sales, sales are greater than inventory growth and payables growth is also outpacing inventory growth. There is good momentum in the business," Cheesewright said.