Arkansas is leading the nation in job growth through foreign investment, Gov. Asa Hutchinson and Arkansas Economic Development Commission Director Mike Preston said Friday.
The two spoke in separate appearances at "The Arkansas Delta: Why It Still Matters," a daylong series of speakers presented by Simmons Bank. Preston said he learned of Arkansas' leading status while participating in an event sponsored in Washington, D.C., by the U.S. Chamber of Commerce.
Hutchinson also announced that the state would offer a $2,000 stipend to computer science teachers and said his MyIdea project, a state initiative seeking input from Arkansans, had received 120 suggestions in one day.
Hutchinson and Preston said the state is leading the country in foreign direct investment growth but were unsure of the specifics or the source. The AEDC said the assertion came from the Organization for International Investment, which said that in the past five years, Arkansas' foreign direct investment employment growth of 41.5% is double the national average.
Hutchinson and Preston singled out the recent announcement by the Shandong Ruyi Technology Group that it was investing $410 million in a textile mill in Forrest City. It will employ 800 people and use 200,000 tons of Arkansas-grown cotton annually – the state's entire crop. Preston said the Ruyi Technology Group is China's largest textile manufacturer with 30,000 employees.
That announcement will increase jobs in the Delta, which in recent years has lagged behind other parts of the state. It was the third jobs announcement coming from the Shandong Province, where Hutchinson has twice traveled.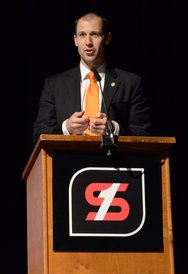 Preston said the state first received a lead in September 2015 from its Shanghai office that a textile company was looking to open a plant in the United States in an area with a cotton supply. Hutchinson and Preston traveled to China and met with the company's leadership in November 2015 and then spent the next year trying to woo the company. In October 2016, they traveled again to China and presented an incentives offer.
Hutchinson said companies don't simply "knock on the door" with 800 jobs.
"They come to you and say, 'We're considering four different states. Tell us what you have to offer,'" he said. "And it takes that local participation and the state effort to sell it, but it's also important to be overseas to make sure that we build those relationships."
Hutchinson said he will continue his international marketing efforts and that he will be traveling to France and Germany this year and also will visit China for a third visit. He said 3 million Chinese visit the United States each year, and many are eager to avoid the big cities and visit Middle America. Many are intrigued by the state's Crater of Diamonds State Park, where tourists can mine for diamonds and keep what they find. During this year's Chinese lunar new year, he hosted the Chinese consul general on a duck hunting trip that the consul general seemed to enjoy. He also said he would continue trying to open rice trading opportunities with Cuba, another initiative that would benefit the Delta.
Preston pointed to other major industrial announcements in the Delta, including the Big River Steel plant in Osceola employing 450 people earning $75,000 a year. The Hino Motors Manufacturing plant in Marion now employs 750.
Preston said that, for the state to continue its momentum, it must have a prepared workforce, explaining that's the first thing consultants and companies ask about. Other issues are affordable housing and quality of life.
Hutchinson announced that the Department of Education is dedicating $400,000 to offer a $2,000 stipend to 200 teachers for his computer coding initiative offering computer science classes at all state high schools. He said that, as a result of the initiative, 5,500 students are taking computer science, almost a 400% increase, and 32% of computer science students are minority students. When the initiative began, there were only 27 computer science teachers statewide, and today there are more than 200. But one school he recently visited had zero students because it didn't have a teacher, and more are needed.
The governor's MyIdea project will allow Arkansans to offer their ideas to improve services and increase efficiencies. Hutchinson said Amy Fecher, the state's chief transformation officer, told him that, one day after the initiative was announced, 120 ideas have already been submitted. When he asked her for an example, she jokingly responded that one was, "You should resign."
This is the second year for the Delta summit, which brought to the Pine Bluff Convention Center a range of speakers discussing economic development, education, health care and other issues. Rodney Slater, a Marianna native and former secretary of transportation under President Clinton, said conference attendees should envision Interstate 40 connecting Little Rock and Memphis as a biomedical, biofuels and biotech corridor.
"This major truck and potentially renowned agri-tech thoroughfare could one day be mentioned in the same sentence … as people today think about Highway 101 in Silicon Valley because it connects industries and it develops its own character as a result thereof," he said.
Quoting the philosopher Henry David Thoreau, Slater said, "It matters not so much what you look at but what you see. There are many who look here and they see want. There are those of us who know that it's not want of charity. It's want of opportunity. We look and we see a people and a region able and capable of doing all that it desires."
Randy Zook, president and chief executive officer of the Arkansas State Chamber of Commerce, said more Delta schools should take advantage of Economics Arkansas, which offers professional development for all schoolteachers in economics education.
He said the organization trained 2,020 teachers last year in grades K-12, but only 31 came from the state's 10 southeastern counties, and no school system in that region has a no-cost partnership agreement with the organization. Meanwhile, 150 teachers were trained in Washington County alone, and all 13 districts in Northwest Arkansas have partnership agreements.
He said the program can teach children as young as kindergarten age fundamental lessons that can develop their human capital.
"I'm convinced that it's one of the very fundamental issues that we've got to tackle," he said. "We can tackle it within a reasonable amount of time. It's not a generational thing. You can literally begin to teach our teachers from K through 12 in one single academic year. We can begin to move this around the area with great impact and with great help."
Court of Appeals Judge Raymond Abramson of Holly Grove, a co-chairman of the conference, said the region has momentum and that many share the vision, which is to bring various Delta-based interests together and form a coalition.
He said the recent announcement by the Ruyi Technology Group was "providential."
"We didn't know it was going to happen until now," he said. "It was just a happy coincidence, but that's exactly the sort of thing that we're hoping to have a lot more of going forward."
Other speakers at the event included Simmons Bank Chairman George Makris Jr.; Dr. Laurence Alexander of the University of Arkansas at Pine Bluff; Dr. Shane Speights of the College of Osteopathic Medicine at Arkansas State University; Dr. Fitzgerald Hill of the Scott Ford Center for Entrepreneurship and Community Development; Chris Masingill of the Delta Regional Authority; Robert Moore Jr. of the Arkansas Highway Commission; Doug Friedlander of Friends of the Historic White River Bridge at Clarendon; Dr. Ruth Hawkins of Arkansas State University; and Scott Simon of the Nature Conservancy.
Comments
comments