Flurry of court filings continue ahead of second slate of executions; Innocence Project, ACLU on inmates' case
by Wesley Brown (wesbrocomm@gmail.com) ago 210 views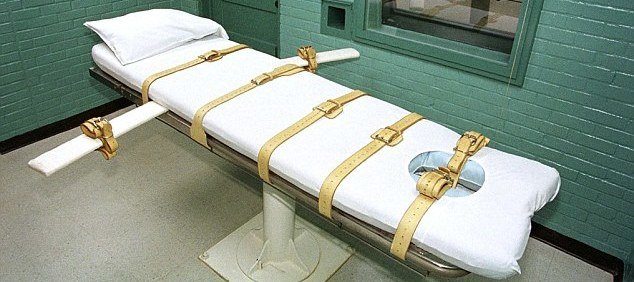 As the second round of executions scheduled for Arkansas death-row inmates enters the last 48 hours, the two prisoners condemned to die on Thursday have filed a flurry of motions in state and federal courts in hopes of staying out of the execution chamber.
The Innocence Project, the New York City-based legal group that has exonerated nearly 350 prisoners in the U.S. since 1992 through DNA testing and other means, has joined the last-minute legal maneuverings by filing an appeal with the Arkansas Supreme Court seeking a stay of execution for Stacey Eugene Johnson, who is scheduled to be executed Thursday (April 20).
Innocence Project attorneys, along with Little Rock defense attorney Jeff Rosenzwieg, are appealing a decision by a trial judge in Sevier County who refused to grant testing or conduct a hearing at which he could hear expert testimony and other evidence establishing Johnson's right to access to DNA testing that has never been performed in his case that could prove his innocence.
Innocence Project attorneys Karen Thompson and Bryce Benjet are assisting with the DNA motion, while also asking the court to remand the case back to the trial court for a hearing in accordance with the state's DNA testing law. The appeal filed Tuesday asks the state's high court to stay the April 20 execution and remand the case back to the trial court for a hearing on the DNA testing.
"We've established that modern DNA testing methods can prove Mr. Johnson's innocence, and Arkansas law clearly established that Mr. Johnson is entitled to that testing," said Karen Thompson, a staff attorney with the Innocence Project, which is affiliated with Cardozo School of Law. "It's just common sense that before the government sends a man to his death, we should use the best scientific methods to make sure we have convicted the right person."
Also on Tuesday, McKesson Medical-Surgical filed a lawsuit in Pulaski County Circuit Court alleging that Arkansas officials improperly acquired drugs from the company, planned to use them in executions, and failed to return the drugs when the state was refunded its money. The suit, if successful, would likely result in postponing the remaining five executions Arkansas officials plan to carry out by April 27.
FEDERAL, CIRCUIT COURTS TOSS OUT APPEALS
At the same time, Johnson's federal court claim that the state's three-drug, lethal injection protocol violated his 8th Amendment Rights was thrown out by U.S. District Judge Kristine Baker late Tuesday evening.
Johnson filed his claim on Monday, saying his "unique and specific medical conditions … there is a substantial and unjustifiable risk that Arkansas's lethal-injection protocol will affect Mr. Johnson differently than an average healthy inmate and will cause severe pain and serious harm to him." In his complaint, Johnson notes he suffers from multiple serious health maladies, including hypertension, angina and probably lung and heart disease.
Baker rejected Johnson's argument, saying the prison inmate was not diligent in bringing his claim to the court before Gov. Asa Hutchinson announced his plans on Feb. 17 to execute eight death-row inmates between April 17 and April 27.
The American Civil Liberties Union also filed Tuesday a motion in the U.S. District Court in Little Rock, asking federal court officials to re-open the execution case of Ledell Lee because of his intellectual disability. He will be executed with Johnson on Thursday.
In Lee's case, ACLU Attorney Cassandra Tubbs' motion in U.S. District Court in Little Rock, asked the court to reconsider the condemned man's circumstance due to the breakdown in counsel over his decades of review, particularly the failure of counsel to bring evidence of his intellectual disability. Lee also has presented new evidence showing that he has fetal alcohol syndrome disorder, significant brain damage, and intellectual disability.
In an associated case heard Tuesday before Pulaski County Circuit Court Judge Herbert Wright, Stubbs also asked the local court to reconsider critical evidence from Lee's 1993 trial to prove his innocence. Stubbs, according to court filings, asked Judge Wright to test blood and hair for DNA evidence that has never been previously tested in the case. Late Tuesday evening, Wright denied the ACLU's motion to reopen Lee's case. In his order, the Pulaski County judge said he did not find that the proposed DNA testing for Lee would raise a "reasonable probability" that the prison inmate did not commit the crime he was convicted of nearly 24 years ago.
THURSDAY EXECUTIONS STILL A GO
Johnson and Lee are scheduled to enter the execution chamber at 7 p.m. on Thursday. Johnson was convicted of the murder of Carol Jean Heath, who was attacked in her home in early April of 1993. He was tried twice for the crime, and his conviction and death sentence rested largely on biological evidence and the testimony of the victim's six-year-old daughter who identified Johnson as the killer.
"The trial record still would contain the testimony of three eyewitnesses who place the defendant at the victim's home nearby at the time of the murder," Wright wrote in his four-page order. "The verdict has been attacked, appealed and considered multiple times here and in higher courts, and this Court will not now substitute its own judgment for that of the jurors two decades removed."
Despite the legal setbacks for Lee and Johnson less than two days before they are expected to be executed, the attorneys for the two condemned men and the other prisoners scheduled to be executed over the next nine days have shown a propensity to find legal avenues and arguments to file new appeals.
Lee was convicted of killing Jacksonville resident Debra Reese on March 24, 1997. The 26-year old murder victim was found brutally murdered in her home in Jacksonville on Feb. 9, 1993. She had been beaten some thirty-six times with a tire thumper, a tool resembling a baseball bat that her husband Billy, a truck driver, had given to her for protection while he was away.
On Monday, the Arkansas Supreme Court granted a stay for the executions of Don Davis and Bruce Ward after a flurry of local, state and federal court filings that began late last week. Chief Justice Dan Kemp and Justices Courtney Goodson, Josephine Hart, and Robin Wynne were in the majority opinion. Justices Karen Baker, Shawn Womack and Rhonda Wood were the three dissenters.
J.R. Davis, spokesman for Gov. Asa Hutchinson, said the clock for both men's death sentence will now have to be reset after April 30, when one of the drugs for the state's execution protocol will expire. However, the other five executions scheduled for April 20 and April 27 will continue as scheduled, he said.
Those capital punishment dates this week will be followed by the executions of Marcel Williams and Jack Jones on April 24 and Kenneth Williams on April 27. ADC inmate Jason McGehee was granted clemency earlier this month. He was sentenced to death Jan. 8, 1998, for capital murder for kidnapping, torturing and killing 15-year-old John Melbourne Jr. in 1996.
Comments
comments