A Walton Family Foundation grant of $2.4 million is funding a new University of Arkansas program geared to help low income students in 26 counties in Arkansas' Delta region.
The Accelerated Student Achievement Program (ASAP) is designed to assist first-generation and low-income students the 26 counties and is a joint effort by the Center for Multicultural and Diversity Education and the Office of Graduation and Retention at the university, according to a UA statement issued Wednesday (May 18).
ASAP will work with 100 first-generation and low-income incoming UA freshmen from the following counties: Arkansas, Ashley, Chicot, Clay, Craighead, Crittenden, Cross, Desha, Drew, Greene, Independence, Jackson, Jefferson, Lawrence, Lee, Lincoln, Lonoke, Mississippi, Monroe, Phillips, Poinsett, Prairie, Randolph, St. Francis, White and Woodruff.
University of Arkansas Chancellor Joseph Steinmetz, a first-generation college graduate, made the announcement Thursday while meeting with high school administrators in Helena-West Helena as a part of a five-day bus tour of Arkansas.
"We're excited about this program and the opportunities it will provide to so many deserving students," Steinmetz said. "The Walton Family Foundation understands that this is the type of gift that will not only deliver benefits to individuals and their families but to entire communities, regions and the state as a whole as well."
The program is a four-year pilot initiative designed to accelerate academic success, college completion and career readiness among students from the Delta region.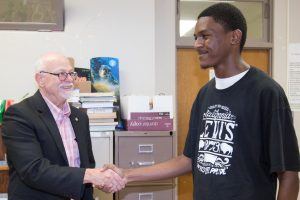 "We are very grateful to the Walton Family Foundation for their generous support of this summer bridge program," said Charles Robinson, vice chancellor for student affairs. "It is great to partner with an organization that shares our passion and commitment to enhancing the college retention and completion rates of these very deserving Arkansas students."
Zabrian Mitchell, a senior at Central High School in Helena-West Helena, met with Steinmetz on Thursday.
"I plan to take part in the program that was announced today," Mitchell aid. "I feel like I will be able to start relationships with students and meet people on campus more quickly. The chancellor's visit to our campus makes me feel like I can get the support I need to transition to college. I feel assured that I can do it and make that transition from leaving a small town and go to college and be successful."
ASAP staff will identify all students from those counties who are first-generation to attend college or low-income and who qualify to be admitted to the UA. During the four years of the program, schools in the region served by ASAP will receive targeted outreach tailored to their needs on college admissions counseling and college readiness support. ASAP-eligible students will also receive help with early advising and financial and college planning. They will also attend new student orientation at the U of A as a group.
The students selected as ASAP Scholars will earn the opportunity to complete three courses during a summer session before their freshman year at the university. Students will take a one-hour course designed to improve successful college transition and completion and two freshman-level courses in partnership with the J. William Fulbright College of Arts and Sciences. They will continue to receive priority advising and course registration throughout their first and second years on campus. As sophomores and beyond, these scholars will be encouraged to serve as leaders and mentors to their younger peers.