The State Senate race in the North Little Rock area's District 34 has heated up recently when a mailer went out from Americans for Prosperity hit Democratic Rep. Barry Hyde for his votes for a tax increase proposal in last year's legislative session.
Hyde has been vocally displeased with the mailers and attempted to hit back today with his own piece, but his attempt to paint his opponent Rep. Jane English as a clown may have backfired and painted himself as one.
The mailer paid for by "State Representative Barry Hyde for State Senate/District 34" according to the return label is a Halloween-themed cartoonish looking mail piece.
The front side says – "Jane English and her out of state cronies might tell you… Barry Hyde has Martians living in his basement (He doesn't own a Martians); Barry Hyde keeps Bigfoot as his pet (He has a Golden Retriever); Barry Hyde invented the internet (Heard that one a few years ago)"
Now I am quite certain that no one has accused Hyde of any of these things. They have highlighted Hyde's vote for some proposed tax increases, such as his vote for a proposal to increase the sales tax by a half cent to fund a highway program – which English voted against.
Anyway, the back side is even odder and perhaps even offensive if it is possible to take this mailer seriously.  "Halloween is coming early so don't be 'tricked' by the scary stories you have heard or are going to hear about State Representative Barry Hyde."  It contains a picture of Americans for Prosperity as a tea party; of the Koch Brothers as Draculas; and of Rep. English's face on the body of a clown.
It seems the goal of this mailer was for Hyde to respond and perhaps get ahead of mailers from conservative groups that he knows are coming.  Instead of taking the time to defend his votes, he instead decided to use cartoon pictures to try and make his opponent look like a clown.
To borrow a quote from Bryce Harper – That's a clown mailer, bro.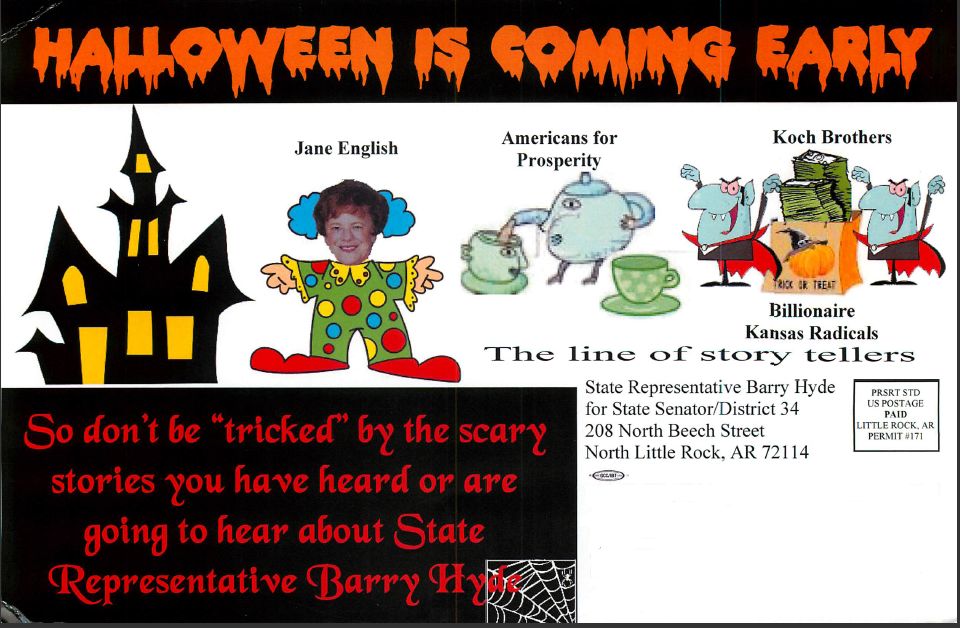 UPDATE – At the risk of becoming the Barry Hyde Mailer Blog, here is a second one from Hyde that is a comparison piece with English. I highlight a couple interesting items below.
He compares himself as a "Vietnam era Veteran, U.S. Air Force, Honorary Commander Little Rock Air Force Base" to English's "Wife of veteran."  I assume the purple check mark by his and red X by hers means he does not approve.
Also he claims that he "Voted FOR a new Senate District to include North Little Rock, Jacksonville, Sherwood, Maumelle."  This is interesting as the new state senate map was voted on by the Board of Apportionment which is consists of Gov. Mike Beebe, Secretary of State Mark Martin, and Attorney General Dustin McDaniel.  So how exactly did he vote for this map as he claims?