Greenway, state grant helping Lonoke students train for John Deere technician jobs
by Steve Brawner ([email protected]) February 4, 2023 9:15 am 594 views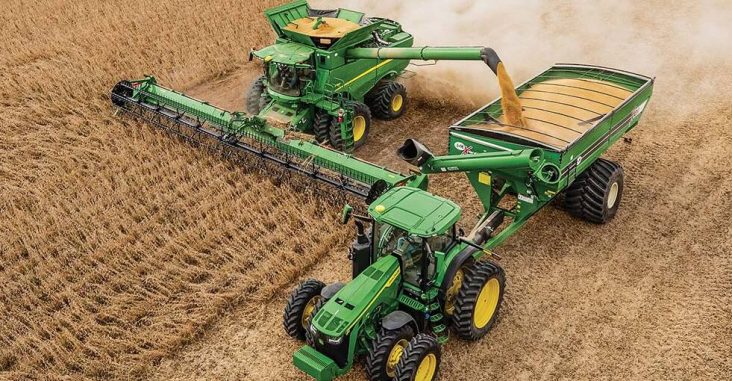 A $1.5 million investment by the Greenway Equipment Co., a John Deere-affiliated dealership, and a $1.2 million grant from the Arkansas Office of Skills Development will prepare Lonoke High School students for agricultural technician jobs that will pay them $40,000-plus after they graduate.
Gov. Sarah Sanders announced the state grant at the Lonoke Business Academy Friday (Feb. 3).
Students will spend 2.5 hours a day in the classes and will earn air-conditioning, computer diagnostics, hydraulics and electrical certifications. Greenway's investment will pay for equipment, tools and the instructor. Greenway designed the curriculum.
Jared Field, Greenway training manager, said in an interview that the certification process for adult trainees normally lasts about two years. Lonoke students will undergo most of that training during their junior and senior years.
Once they graduate, they'll need another three months of training to be a John Deere-certified technician. Then they'll be ready for jobs that start at $40,000 plus monthly performance bonuses. After about a year, they can be earning $60,000 to $80,000, Field said.
Superintendent Jeff Senn said Lonoke is the first school in Arkansas to be affiliated with John Deere and one of only two in the country.
"I don't know of many schools in the nation, in Arkansas especially, that can say, when you walk out on graduation day, the very next day you'll start at a $40,000 job that we taught you to do," he said.
Senn said the district wanted to work with a local employer and wanted to provide opportunities and direction for its students. He said only about 30%-35% of Lonoke graduates attend college, and that schools have been too focused on academia and not enough on students entering the workforce.
Field said the company created the program to benefit the community and to bolster its own workforce. Family-owned Greenway operates 27 dealerships in Arkansas, four within 30 miles of Lonoke, and five in southeastern Missouri.
"Any given moment, we're looking for at least 30 service technicians, and so there's always space within our shops," he said. "For kids that are not interested in going to post-secondary education, this is an opportunity to grab them while they're in high school, get them up to speed educated to where they can roll out and immediately be as effective as one of our service technicians who's been with us for several years."
The $1.2 million state grant will pay for tools and equipment requested by Greenway. Senn credited Ken Calhoun, board chair of the Office of Skills Development, with helping spearhead the grant.
In announcing the grant, Sanders said the program is unlike any other in the country and that it can be replicated elsewhere.
"I spent about two years on the campaign traveling all over the state," she said. "Every single corner that I went to, every region, every business leader I met with, everybody had the same problem: They could not find skilled, qualified workers fast enough, and so what is happening here today is changing the game, changing the dynamic of what really building a skilled, qualified workforce looks like."
The two-year program will start this fall and be limited to 24 students who will undergo an application and interview process before being accepted. Students must be on course to graduate on time in order to be accepted.
Field said the company wanted to limit the classes to 24 students, half in the morning and half in the afternoon, so they can receive more hands-on instruction. He said students will be trained on up-to-date technology.
"Autonomy is coming real soon in John Deere tractors," he said. "Those tractors are out there. They're floating around right now. So we'll bring some of that latest and greatest. As it filters into our area, we'll bring autonomy into these shops so that they can see autonomous tractors."
Field said students who discover they don't want to be service technicians will gain skills they can use elsewhere in the company, such as in the parts department. Classes their senior year will cover John Deere communications and computer processes.
They also can find employment working for other companies in the agriculture or diesel mechanic fields if they decide not to work for Greenway.
The program will be housed in the 30,000-square-foot Lonoke Business Academy. It was built after the district passed a 2.5-mill increase in March 2020 – an effort led by then-private citizen and now-Lonoke School Board member Elizabeth Anderson and her husband, Jamie. The program teaches classes in industrial technology, diesel mechanics, agriculture, aquaculture, horticulture, hydroponics, welding, animal science and rural health care.
Through the diesel mechanics program, students can earn concurrent credit hours with Arkansas State University – Beebe. Senn said 50-60 students are involved in those classes now.
The Greenway program does not offer concurrent credit. It also includes an agriculture focus that includes training on harvest systems including combines, hay bailers and cotton pickers.
Field said Greenway decided to work with Lonoke after the school district approached the company. The district already had built the facility and had done the heavy lifting, he said.