J.W. Brown was working for Memphis Light, Gas and Water when he had a horrible accident working on power lines and nearly died. He spent a year rehabbing and when he healed, he was told he would return to the power lines.
Brown decided he wanted to form a band instead, and he sought out his first cousin, Jerry Lee Lewis, a talented but unknown piano player from Louisiana. He took Lewis to Sun Studio to meet Sam Phillips, the famed music mogul of the era. After some cajoling, Phillips agreed to sign the new band.
Within months Lewis, known as "The Killer," would become a megastar in the rock-n-roll world with hits like "Whole Lotta Shakin Goin On," and "Great Balls of Fire." In the middle of this whirlwind, he did something that nowadays seems unthinkable. Without permission, he married Brown's 13-year-old daughter, Myra, now Myra Williams.
The couple remained married for 13 years and would have two children, she told Talk Business & Politics. Lewis, 87, died Oct. 28 in Mississippi and was buried Saturday (Nov. 5).
"If it weren't for my father, J.W. Brown, the world would have never known Jerry Lee Lewis," she said.
Lewis's career, like many other rock-n-roll artists of the era, took off in fantastical fashion. He recorded many songs at Sun Studios and his piano playing can be heard in several songs by other musicians. He worked with Carl Perkins, Johnny Cash and many others. Lewis played at numerous honky-tonks and juke joints across eastern Arkansas up and down Highway 67, "the Rock N Roll Highway."
Perkins reportedly had studio time booked at Sun on Dec. 4, 1957, and Lewis was slated to play piano during the session. Perkins had just released his song "Blue Suede Shoes." J.W. suggested that Phillips record a song the band performed on the road "Whole Lotta Shakin Goin On" and it had been released earlier that year along with "Great Balls of Fire."
Cash, dubbed "The Man in Black," appeared unannounced at the studio. Songs such as "I Walk the Line" and "Folsom Prison Blues" had already made him a star. He wanted to hear Perkins record that day.
Then a king appeared. Elvis Presley was no longer a Sun recording artist, but he wanted to stop by to chat with Phillips. "Jailhouse Rock" and "All Shook Up" were current chart toppers.
Sensing an historic moment, Phillips contacted the local newspaper. The four began an impromptu jam session. Phillips recorded all the songs they sang. A reporter who arrived on scene dubbed them the "Million Dollar Quartet."
It's considered by many one of the most iconic moments in modern music history.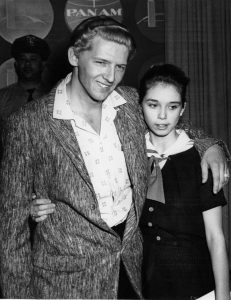 Lewis's marriage to Myra shocked the world, but it may have shocked her even more, she said. The musician traveled to Louisiana to get the marriage license and a female friend pretended to be Myra when it was signed. It was a mere eight days after the Million Dollar Quartet jam session.
At the time, Lewis was living with the Brown family. He returned and asked Myra to get into his car.
"We're married," he said emphatically.
Myra was stunned. She didn't know how to react.
"I mean, I thought there was more to getting married, but what did I know? I was only 13," she said with a laugh.
At dinner the two formed a ruse. Jerry Lee asked Myra at the dinner table if she wanted to go to the movies. She agreed and they left. The couple actually went to meet with a preacher to get married.
The couple got away with the secret marriage for a few days. Myra's mother discovered the marriage license and the game was up.
J.W. was filled with anger, Myra said. He grabbed a pistol and started looking for Lewis. Her mother called Phillips to let him know J.W. was on his way to Sun Studios. Phillips took Lewis to the airport and told him to get on the first plane leaving the city.
Brown arrived at Sun Studios. He told Phillips he intended to shoot Lewis. Phillips was able to calm J.W. down. J.W. and his cousin would next see each other on stage during their band's next performance. He played the bass while Lewis pounded away on his piano.
The press learned about the marriage in May 1958. Presley had been drafted into the Army, and many in the industry thought this would be Lewis's opening to ascend to the top of the music world. But the marriage to his second cousin proved too controversial and he lost performance contracts.
Myra said he continued to work in the 1960s, and the couple welcomed two children Steven and Phoebe. Steven tragically drowned in a swimming pool at the age of 3 in 1962.
What was it like to be married to Jerry Lee Lewis?
"Tell me what it's like to not be married to Jerry Lee Lewis," she replied with a laugh.
Even though he was nine years her senior, she said she was the adult in the relationship. He often liked to get into squirt gun or pillow fights with family and friends. He was mischievous and always fun to be around, she said.
The constant road shows, alcoholism, drugs and infidelities took a toll on their marriage, she said. His family didn't treat her very well, and that was the final straw. The couple divorced in 1970, but remained cordial.
He asked her to come back to him years later, but she refused.
Myra went into the real estate business and eventually married a man named Richard Williams. The couple settled in Atlanta, Ga., where they run a real estate business to this day.
She co-wrote a book "Great Balls of Fire … The Uncensored Story of Jerry Lee Lewis" during the 1980s. Hollywood producers bought the rights to the book and made a movie by the same name in 1989 starring Dennis Quaid and Winona Ryder who played Myra.
Last year at Hernando's Hideaway in Memphis, Quaid talked about how he moved to Memphis and spent months with Jerry Lee leading up to the filming. Quaid said he learned how to play the piano from the Hall of Fame musician. Ironically, Lewis often played at Hernando's, a nightclub near Graceland and Quaid played the piano the night he spoke with the house band.
The movie and depictions were highly inaccurate, Myra said. She visited the set and the actors and she was surprised by how bad the movie turned out.
"It (the movie) was one of the disappointments of my lifetime," she said. "It was an embarrassment."
Phoebe served as her father's manager for years. The two had a falling out and it ended in litigation. Father and daughter were able to reconcile before he passed, she said.
Living nearly her life in the public eye has been daunting for her and her daughter, Myra said. She's far enough removed from that fame that a lot of people she deals with have no clue she was once married to one of the iconic pioneers for the early rock-n-roll age.
In a moment while recalling memories of Lewis and dealing with public scrutiny, she fought back tears. She said there were things about Lewis that were wonderful and unforgettable.
"You know, celebrities are just people too. I think a lot of people don't understand that. They go through the same things that normal people go through. Each day they start off by putting one pant leg on after the other just like anyone else," she said.