Anecdotal evidence emerges that corn, rice yields could be down; soybeans projected to be up
by George Jared ([email protected]) September 21, 2022 1:38 pm 293 views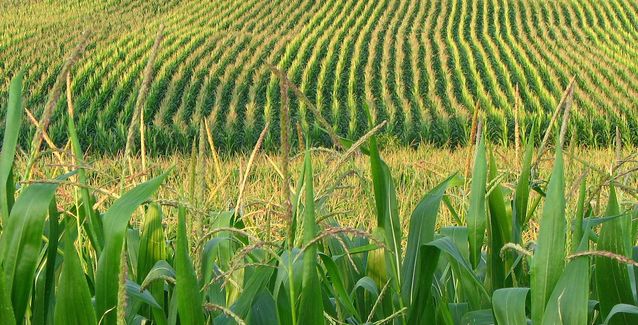 Agriculture sector experts have feared that the heavy rains in the early spring, the drought that consumed the Delta during the first part of the summer, and blistering heat waves would have a significant impact on row crop yields. Anecdotal evidence that yields could be down for some crops has started to emerge as the harvest is underway.
Jackson County farmer Hallie Shoffner told Talk Business & Politics they've harvested the corn on her 1,500-acre farm in the township of Shoffner. She's not sure how much corn yields will be impacted, but she's certain it'll be down from last year.
Heavy rains delayed springtime planting for many farmers and crops that are planted later tend to have smaller yields. The drought and heat are also negatively impacting yield numbers.
"It was so hot and dry this year … corn didn't do well," she said. "The environmental factors have been difficult to deal with."
Her rice crop looks decent right now, but she won't know until it's milled. The quality of milled rice impacts payouts, and any loss based on quality would be a bitter pill to swallow due to the fact that rice margins have been thin this year.
Rice requires significant water and Shoffner said she had to spend a lot more money on diesel to run her irrigation pumps during the summer. A high-pressure system settled over the state in early June and caused some places to go 50 more days without rain including large swaths of Northeast Arkansas , according to the National Weather Service.
Shoffner's observations on her own farm are similar to estimates from the U.S. Department of Agriculture's National Agricultural Statistics Service or NASS projections.
Arkansas corn for grain production is forecast at 121 million bushels, down 1% from the August forecast and down 20% from 2021, NASS reported. Yield is expected to average 176 bushels per acre, down two bushels from last month and down eight bushels from last year. Planted acreage is 710,000 acres, unchanged from June 2022. Harvested acreage for grain is 690,000 acres.
All rice production for the state is forecast at 81.2 million hundredweight, down 5% from the August forecast and down 11% from last year's production of 91.1 million hundredweight, NASS reported. The all-rice yield for 2022 is forecast at 7,500 pounds per acre, down 50 pounds from last month and down 130 pounds from last year.
All rice planted acreage is revised to 1.11 million acres, up 45,000 acres from June.
Input cost issues don't just include the added irrigation, Shoffner said. The cost of fertilizers, herbicides, and other chemicals used on farmers has skyrocketed as much as 40% due to the Russian invasion of Ukraine in March.
Grain prices have been higher but haven't offset a steep rise in input costs.
"The slim margins you have in farming are getting slimmer," she said.
One glimmer of hope could be Shoffner's soybean crop. That crop is normally harvested in October, and if the NASS projections hold, it could be better than last year's crop.
Soybeans are forecast at 167 million bushels, down 1% from the August forecast but up 9% from last year, NASS reported. Yield is expected to average 53 bushels per acre, unchanged from last month but up 2 bushels from last year. Planted acreage is revised to 3.18 million acres, down 20,000 acres from June. Harvested acreage has been revised from 3.17 million to 3.15 million acres.
The high temperatures and extended drought have left fields extremely dry, Shoffner said. For months, many farmers prayed for rain and now the opposite is true. Water on ground this dry isn't as absorbent, and if it rains enough, floods and runoff could damage fields and crops.
Shoffner won't have to worry about rains in the forecast just yet. During the next week, the National Weather Service is only predicting a slight chance for rain on Saturday and Sunday in Northeast Arkansas. But triple- and near-triple digit temperatures are projected to drop by 20 degrees or more.
Farming has its own unique problems, Shoffner said. At some point, there needs to be more connectivity between people at the grocery store and those who work on farms.
"It is a stressful job … I wish there was more of a bridge between customers and farmers. It's a hard job producing the world's food supply."