Actor William Shatner, made famous by his role as Capt. James T. Kirk, in the show Star Trek that debuted in the mid-1960s, almost didn't make it into space. Shatner made worldwide headlines Oct. 13, 2021, when he really reached the final frontier aboard the Blue Origin's New Shepard spacecraft, created by Amazon billionaire founder Jeff Bezos. The 91-year-old is the oldest human to ever go into space.
Shatner told Talk Business & Politics he approached Bezos in 2020 when plans for Blue Origin were being finalized. He wanted to be on the first ship, but Bezos offered him a ride on the second ship.
"No, no. I wasn't going to go," he said. "I didn't want to go on the second one."
The iconic actor, director, author, and musician was in St. Louis on Sunday (May 15) to give a talk to fans about his career and upcoming projects.
The pandemic slowed the private space program's progress, but the first was launched with Bezos aboard on July 20, 2021. Eventually, Shatner acquiesced to Bezos and agreed to take part in the second space ride. When he reached space, it was a humbling experience. It was never-ending and lonely, he said. When he looked back at the Earth, he realized how fragile our world is, and said we need to take greater steps to protect it.
"The Earth … it's like a mote of dust in the universe," he said. "It was a hugely profound experience."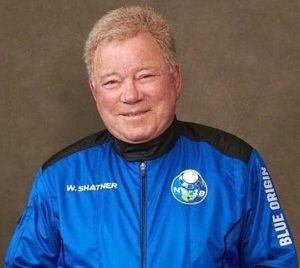 After spending a few moments in space, the craft descended back to Earth, landing in the arid deserts of west Texas. He and Bezos shared a hug.
His foray into space came around the same time he released an album, titled Bill. It's a collection of songs about his life, and it's the ninth album he's released during his career, he said.
Songs from the album were featured at a special performance at the Kennedy Center, the home of the National Symphony Orchestra in Washington D.C.
"I gave a music evening (at the Kennedy Center) and I can't even sing. It was really good. How did I know? They (the crowd) stood up and applauded," he said with a laugh.
One thing Shatner has enjoyed a lot through the years is meeting interesting people. He once wanted to do a sit-down interview with theoretical physicist Stephen Hawking. The revered scientist agreed to be interviewed but had two requests. One was Shatner had to come to England to do the interview, and the second was questions had to be submitted beforehand. Hawking, who suffered from ALS for decades, had to speak through a speech generating device and it made communications difficult.
Shatner made the trek to England and said he was very excited to meet a scientist. When the interview ended, Hawking asked him if he could ask him one question. Shatner agreed.
"I was sitting there wondering what does the greatest mind in science want to know from me?"
Often, fans ask Shatner about which episode of Star Trek is his favorite. Hawking asked the same question.
"The real answer is … I don't know," Shatner said with a laugh. "The show is 55 years old … I haven't watched them."
The actor is now working on a new book about things he's learned in life. It will be titled Boldly Go or Go Boldly and will be released in the fall.
Of all his accomplishments and experiences through the years, Shatner said he tries to focus on just a few things. He remembered when he was young and driving from Montreal to Toronto to get his career off the ground. He borrowed $350 from his father to buy a small car and he had to pay his father back.
As he drove across a bridge an 18-wheel truck drove by and the force of the wind as it passed nearly blew him off the road. Had that happened his dreams may have ended right there. He said he realized in that moment that life would be full of moments like this and he needed to be ready for tribulations when they came his way.
When asked about his brightest accomplishment, he said he has a very simple answer. After seven decades in the public limelight there's one thing that he has been able to maintain.
"I think I've worked very hard at keeping the inner child (in me) alive," he said. "I've always been curious … and I always hope to remain curious."