Sometimes the solution to a problem comes by accident. The emergence of a commercial real estate startup in Rogers is precisely that.
Loloft is a 45,000-square-foot industrial co-working space at 2117 W. Walnut St. The business name is an acronym for "Local Logistics, Flexible Terms." The owners are marketing the concept to early-stage or growing companies by offering warehouse spaces on a flexible basis with lease terms starting at 30 days.
Loloft operates similarly to a regular co-working business by offering all-inclusive pricing and move-in-ready spaces. Amenities include Wi-Fi, meeting rooms, phone booths, loading dock access and daily carrier pickups. Also included is a free unloading service, so members don't need their own forklift or pallet trucks. And they don't even need to be on-site to receive shipments.
"The easiest way to describe Loloft is to think WeWork combined with warehousing to create this new concept we call 'industrial co-working,'" co-founder and CEO Brendan Howell said. "It has all the amenities that office co-working has in the front, but we've applied the concept to microwarehousing. We have small suites ranging from 150 to 5,000 square feet in the back, and we allow companies to rent those monthly. It takes away a lot of entry barriers to real estate for smaller companies or companies that may be scaling up but aren't sure how much space they ultimately need.
"It's a solution to a problem that we had."
MOVE FROM MIAMI
Two years ago, Howell and co-founder Paola Ibarra moved from Miami to Northwest Arkansas for a previous business venture. Howell said they came to set up a facemask assembly facility.
"During the pandemic, I was importing facemasks," Howell said. "I thought, 'Why not start making these in the U.S.?' I invested in the equipment and had it shipped to Northwest Arkansas. We had a Walmart contract lined up, but that ended up not happening. But through that process, we found it difficult to find right-sized real estate. We needed around 10,000 square feet for a year, and the best we could [find] was 20,000 square feet for five years."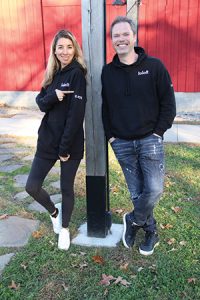 Howell said Marshall Saviers, president of commercial real estate firm Cushman & Wakefield/Sage Partners in Rogers, helped strike a deal for Howell to build a 2,000-square-foot microwarehouse inside a 275,000-square-foot warehouse in Rogers owned by Stribling Inc.
"Just after we opened, other businesses in the area started approaching us asking if they could also take space, anywhere from 500 to 5,000 square feet," Howell said. "That was the genesis of the idea. It was sort of like an accidental solution to a problem. And now it's turned into a business."
Howell said that the Loloft location in Rogers is a pilot project. Within the next 12 months, he hopes to open more than 20 locations across the United States. In addition to building a flexible last-mile supply chain, he envisions an ecosystem of like-minded individuals and synergistic businesses to facilitate the speedy delivery of goods to customers.
BUSINESS BREAKDOWN
Howell explained that the Loloft business model varies from typical real estate deals.
"We partner with the property owner and do a revenue share," he said. "In this case, we go in and design the location, manage the construction, run the operation, and then the owner gets a revenue share."
Businessman Bryan Hunt owns the Rogers Loloft building. It was previously a Kmart several years ago. Hunt is the managing member of several private companies, including Hunt Automotive LLC, and is the son of Johnelle Hunt and the late J.B. Hunt, founders of Lowell-based J.B. Hunt Transport Services.
Howell said Loloft's all-inclusive pricing reduces the costs and time delays businesses experience when moving to a new location. All-inclusive lease rates for the smallest warehouse units start at $646 a month. Offices start at $730 a month. More than half of the building is already leased.
"The market is speaking to us already," he said. "We're signing a new contract every couple days. It's super positive."
Howell said Loloft has also raised $1 million in funding. In addition to local capital, part of the investment is from Revolution's Rise of the Rest Seed Fund, led by Revolution Chairman and CEO and AOL co-founder Steve Case.
A native New Zealander, Howell is an experienced entrepreneur and has the experience to scale a business. In 2015, he and his brother Peter developed an auction-style mobile app called Dropit. The platform sells goods in one-minute reverse auctions. The auction price drops each second — the longer an auction lasts the cheaper an item becomes.
"We have pivoted by creating a [joint venture] with another technology company to make it a Shopify plug-in," Howell said. "The testing has shown very promising results, and it's going live to be available on all 1 million Shopify stores in a few weeks. Me and my brother are still the largest shareholders. So that story is still being written."