Denise Thomas, a longtime trade director at the World Trade Center Arkansas, has been named the center's next leader, the center announced Monday (July 19). Her appointment makes her the first Black woman to become CEO of a World Trade Center in the U.S.
Thomas, who oversaw trade in Africa, Europe and the Middle East, replaces Dan Hendrix, the center's first president and CEO. Hendrix retired in June after more than a decade leading the Arkansas center.
"I have big shoes to fill. Dan worked hard to lay an incredible foundation," Thomas said. "The center has helped enhance opportunities for bilateral trade with Arkansas businesses. I'm optimistic about the future role that the Natural State and the center will play on the global stage."
Thomas, a California native, began her economic development career in 1998 in Florida at the Jacksonville Chamber of Commerce. There she worked with the U.S. Small Business Administration to create a networking hub for entrepreneurs that combined several chambers of commerce and small business development organizations, creating a one-stop shop for entrepreneurs in one location. She was later appointed to oversee the Jacksonville chamber's division of diversity, equity and inclusion.
Thomas moved to Arkansas in 2002 and joined Walmart as a senior recruiter. She worked closely with hiring managers to build strategic teams in diverse markets, both domestically and internationally.
Thomas joined the World Trade Center Arkansas five years later, becoming one of its earliest staff members.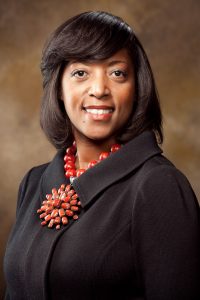 John Drew, chair of the World Trade Centers Association, said Thomas' tireless efforts to educate other members about trade and trade activities has made her an invaluable asset.
"She's great at mentoring and she's educated a lot of our members about how to do this work and how to do it successfully," Drew said. "She's just a stalwart."
The center was created to grow trade and increase Arkansas exports by connecting Arkansas businesses to the world through international trade services. The center is part of the University of Arkansas Office of Economic Development and serves as the trade promotion arm for the Arkansas Economic Development Commission.
Arkansas exports in 2019 accounted for $6.2 billion in trade while supporting over one-fourth of the state's workforce, according to data compiled by the center.
Nearly 80% of exporters in Arkansas were small businesses. Over the last few years, Arkansas trade-related jobs have grown six times faster than total employment, paid up to 18% more than similar jobs at non-exporting firms and were shown to be more secure, the center said.
"I'm delighted Ms. Thomas will lead the World Trade Center Arkansas in this next phase of growth," said Mike Preston, Arkansas secretary of commerce. "Over the past 14 years, she has demonstrated the highest levels of knowledge and experience that have allowed Arkansas to earn a reputation on the global stage as an incredible state for doing business. She is highly respected here at home and abroad, and I have every confidence that the World Trade Center Arkansas is in great hands."