U.S. Secretary of Transportation Pete Buttigieg visits I-40 bridge; still no timeline for repair completion
by George Jared ([email protected]) June 8, 2021 9:06 am 662 views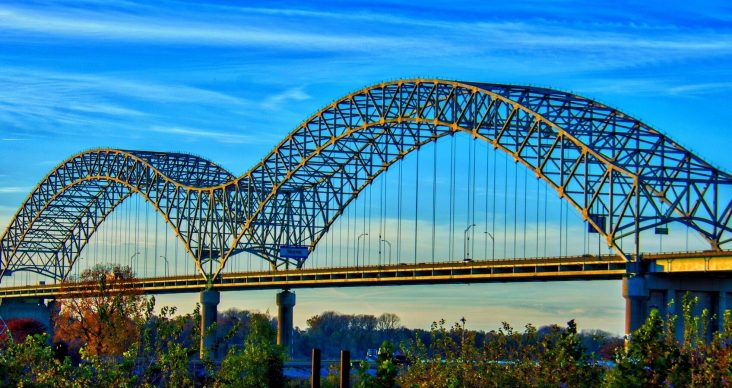 U.S. Secretary of Transportation Pete Buttigieg recently visited Memphis to survey the damage to the I-40 bridge and meet with local and industry leaders. During a panel discussion about the McClellan-Kerr Navigation system Monday (June 8), Buttigieg said he noticed the enormous amount of freight that moves along the Mississippi River and the high number of freight trucks that cross the river at that point.
"The protracted closure has been frustrating, it has been difficult, it has been challenging and it has been costly," Buttigieg said. "We often have a single piece of infrastructure in a single place that really influences the life of the entire country when it's not available or when its availability is diminished. I want to emphasize our awareness as a department and an administration that the greater Memphis metro area is critical to the national supply chain and the global supply chain."
Arkansas Trucking Association President Shannon Newton was invited to participate in a roundtable discussion where she highlighted the significant impact the bridge closure is having on trucking.
"Trucking is a huge industry; in fact, it represents one out of every ten jobs in Arkansans," Newton said. "But it's primarily made up of small businesses, so the expense of additional time, fuel and miles is having a massive impact and forcing carriers and drivers to make tough decisions."
No timetable for repairing the bridge, closed since mid-May has been released. The Tennessee Department of Transportation has stated that work is likely to continue to fix the fracture through the end of July at a minimum.
Carriers are weighing the benefits of shifting routes and driving times, which impacts their drivers' scheduled home time.
"The trucking industry was already reeling from a national driver shortage," Newton said. "If you thought it was challenging to attract drivers before the closure, imagine trying to recruit them now to deliver fuel from northeast Arkansas to northwest Mississippi. Regional operations that can have shifted their work and delivery schedules to avoid peak traffic times, but delays still exist. Companies are urging their drivers to be patient, choose travel times and routes wisely, but expect longer transit times, regardless."
Data collected by the Arkansas and Tennessee Departments of Transportation is showing a decrease in travel time for vehicles using the I-55 detour. However, this may indicate fewer people are traveling or avoiding the area all together, which hinders economic activity and growth within the region.
"An estimated 26,500 commercial trucks cross between Memphis and West Memphis each day," Newton said. "With bridge repairs expected to last through July, trucking companies continue to face rising expenses, costing the industry an estimated $2 million each day. Because of our location and geography, businesses in Arkansas are being disproportionately negatively impacted by the bridge closure."
Gov. Asa Hutchinson echoed Buttigieg sentiments about the importance of the bridge.
"The I-40 bridge is a vital link for our country," he said.