About seven years ago, Colton Knittig was grilling for friends when he needed a light to see what he was cooking, but the porch light was out.
Meanwhile, he held a platter and spatula and under his chin was a cellphone to shine a light so he could see.
"I thought, 'Why can't we put these two things together here and put a light directly in the tool,'" Knittig said. "And Grillight was born."
Knittig, president and co-founder of Fayetteville-based grill accessory company Grillight, said the company was established in January 2014 after he and a co-founder spent about two months developing the spatula with a built-in flashlight. Since then, new iterations of the Original Grillight LED Spatula have been developed. The company has 14 products.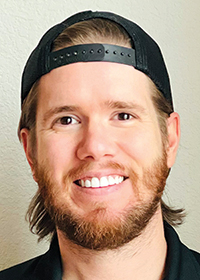 Over the past year, Grillight adapted to the COVID-19 pandemic and shifted its focus, reaching customers online and on TV shows, such as Good Morning America, which featured Grillight three times in 2020. Before COVID, 20% of its business came from direct-to-consumer sales, Knittig said. Now, it comprises about half its business.
Sales rose by 60% in 2020, and Knittig expects similar growth in 2021.
Knittig said his favorite tool is the tongs with the built-in flashlight. He said the LED lights used in Grillight tools replicate sunlight as opposed to some LEDs that emit a bluish light. Another Grillight product is the Grillmat. The high-temperature mat rests on the grates to turn the grill into a griddle.
The Fort Smith native said he's always looked to find better solutions to problems or develop simpler or easier ways. Knittig, who earned a bachelor's degree in finance from the University of Arkansas in 2011, noted the simple design of the stainless steel tool.
"We work really hard to put out a great product that solves a problem," Knittig said. "Not trying to reinvent the wheel or do anything crazy, but sometimes it's the simplest solutions that make the best products. …We really put a lot of thought into it and try to make sure we're one of the best ones out there."
The company has two employees.