Shared-housing startup Common greenlights live-work project in downtown Bentonville
by Paul Gatling ([email protected]) January 26, 2021 8:04 am 4,788 views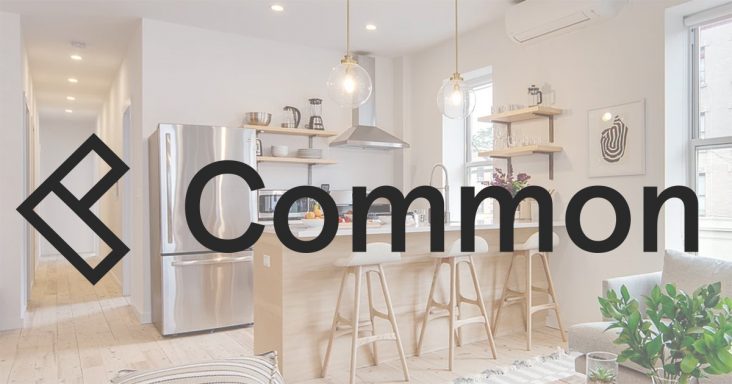 New York-based co-living and rental-apartment management company Common said Tuesday (Jan. 26) it has chosen fast-growing Bentonville as one of five U.S. cities to design and build a unique live-work development.
Common's Remote Work Hub program is in the early stages of planning. The company launched the initiative in August 2020 with a site selection competition that asked both public and private respondents to submit locations to attract and retain a new wave of workers: a distributed workforce not bound by the employer's location.
Common's Request for Proposals (RFP) received 29 responses, including from Blue Crane, the real estate acquisition and development arm of Runway Group, a private but growing business team based in Bentonville led by Steuart Walton and his younger brother, Tom Walton. They are grandsons of Walmart founder Sam Walton and the sons of Jim Walton, chairman and CEO of Arvest Bank Group Inc.
Runway Group is a holding company that makes strategic investments in real estate, hospitality, cycling and aviation. Blue Crane development projects in Bentonville in recent years include 8th Street Market, Skylight Cinema, Blake Street House and The Record. Blue Crane is also developing a mixed-use project on Emma Avenue in downtown Springdale.
Other finalists in Common's Remote Work Hub RFP are New Orleans, Ogden, Utah, Rochester, N.Y. and Rocky Mount, N.C. Common will pursue projects with all of them and reveal the detailed design concepts in each location to the public this spring.
Jared Faciszewski, Blue Crane's director of real estate investment and development, did not disclose the Bentonville site's specific location, only that it would be downtown and revealed this spring. Common officials described the design proposal as a multi-acre site that would be master-planned to create a new city destination.
Common did not disclose a project value in Tuesday's announcement. Faciszewski said Blue Crane would self-finance and own the Bentonville property when completed. Once it begins, development is expected to take up to two years.
"I think we'll have a good idea of the [development] time frame in the next three months," Faciszewski said.
Founded in 2015, Common has seen tremendous growth in the past year by taking its tech-driven platform built around co-living and applying it to all residential industry segments, including different unit types, target renters and brands. The firm has received more than $110 million in venture capital funding, including a $50 million Series D funding round this past September.
Common manages 48 multifamily buildings in nine cities across the US — New York, Jersey City, Los Angeles, San Francisco, Chicago, Washington, D.C., Seattle, Philadelphia, and Fort Lauderdale. The company has plans to expand to more than 20 cities across the globe.
"Common is an exceptional partner," Faciszewski said. "They're a best-in-class multifamily operator that understands a wide swath of multifamily tenants. They are a good manager and a good planner and designer of a remote work community. And we're big believers in flexible work. We think it's here to stay, and remote work is going to be a big part of that."
POST-PANDEMIC THINKING
The impact of COVID-19 is prompting people throughout the country to consider where they live and work, with remote work becoming the new normal for many professionals.
"It has become overwhelmingly clear over the past nine months that traditional corporate life — every employee going to the office every day —is no longer the way things will get done in a post-pandemic America. While this enables workers to live anywhere, I am bullish on cities and believe most will choose to live near others, favoring amenities, culture, and socialization," said Brad Hargreaves, the founder and CEO of Common. "The responses we received to the Remote Work Hub RFP were outstanding in their quality and vision of the future of residential real estate. I am thrilled to be taking Common's brand to these new locations and build the natural connection between work and life in modern residential real estate."
The Remote Work Hub will provide remote workers a place to live, work and socialize. It could take the shape of garden-style apartments, multiple mid-rise buildings on a campus, a high-rise mixed-use building, or a community of single-family homes. The Hub is for locals and non-locals and not exclusive to a specific demographic.
Common officials say lease rates will be at a level middle-income workers can afford through design and centralized operations. Escaping major urban centers' high rents is one of the most appealing parts of remote work. The Hub will offer a variety of reasonable housing options, and be open to various stay lengths ranging from monthly to yearly.
Faciszewski said Blue Crane is interviewing architects and designers for site planning.
"We haven't started the design in earnest, but if I was guessing what this looks like, it will be a lot less co-living and a lot more multifamily designed around remote work and flexible work," he said. "We're excited to tell the story of why Bentonville is an amazing remote work destination. Bentonville has a real business community and a high quality of life in terms of access to the outdoors and also big-city arts and cultural amenities."
Bentonville's appeal is undoubtedly growing. The city added more than ten people per day between 2018 and 2019 and was the fifth fastest-growing U.S. city with at least 50,000 people, the U.S. Census Bureau reported this past July.
A pilot program launched late last year by the Northwest Arkansas Council to attract remote workers to the region also garnered much interest. The council's Life Works Here initiative offers a substantial cash incentive for some remote workers to put down roots in Northwest Arkansas — $10,000.
The program received more than 25,000 applications from all 50 states, three U.S. territories and 150 countries. The council will announce the first round of 25 recipients in the coming weeks.