P.A.M. CEO Daniel Cushman earned almost 3% raise in 2019, total compensation fell to nearly $1.2 million
by Jeff Della Rosa ([email protected]) March 27, 2020 11:32 am 2,095 views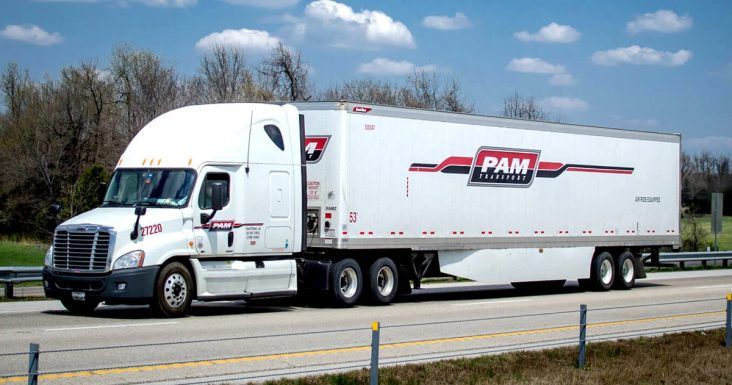 Daniel Cushman, president and CEO of Tontitown-based carrier P.A.M. Transportation Services Inc., received a 2.9% salary increase in 2019, and his total compensation fell 29.3% to $1.18 million last year, according to the company's proxy statement.
P.A.M. filed Friday (March 27) the statement with the U.S. Securities and Exchange Commission that shows the company will host its annual shareholders meeting at 11 a.m. April 29 at 12225 Stephens Road in Warren, Mich.
Cushman's salary rose from $610,430 in 2018 to $628,400 in 2019, and his total compensation fell last year from $1.68 million in 2018.
Allen West, vice president of finance, chief financial officer, secretary and treasurer, received a 6.1% salary increase in 2019, and his total compensation fell 29.4% to $532,858. West's salary rose to $347,620 in 2019, from $327,626 in 2018, and his total compensation fell last year, from $755,131 in 2018.
The company's board of directors comprises nine members. Manuel Moroun will retire from the board after the shareholders meeting, and Matthew J. Moroun, 19, has been nominated to the board. He is the son of board chairman Matthew T. Moroun, 46, and is pursuing a bachelor's degree in finance at the University of Notre Dame.
Board members who are seeking reelection include Michael Bishop, Frederick Calderone, Cushman, Scott Davis, Edwin Lukas, Franklin McLarty, Pete Montaño and Matthew T. Moroun. Shareholders as of March 10 can vote in the election.
Following are the shareholders who owned more than 5% of the company's stock:
Matthew T. Moroun, 68%, or 3.9 million shares
Renaissance Technologies LLC, 6.7%, 385,074 shares
Dimensional Fund Advisors LP, 6.7%, or 384,418 shares
Recently, P.A.M. temporarily laid off more than 50 employees, including office staff and drivers, as a result of the closure of automotive plants in Michigan amid the COVID-19 pandemic. About half of the carrier's business can be attributed to the automotive industry.
For 2019, the company's net income fell 67.1% to $7.9 million, or $1.34 per share, from $23.99 million, or $3.90 per share. Revenue declined 3.6% to $514.18 million, from $533.26 million.
Shares of P.A.M. (NASDAQ: PTSI) were trading Friday at $30.18, down $4.97, or 14.1%. In the past 52 weeks, the stock has ranged between $71.56 and $22.