Jonesboro Regional Chamber of Commerce Business Expo sees surge in participation
by George Jared ([email protected]) April 3, 2019 7:40 pm 399 views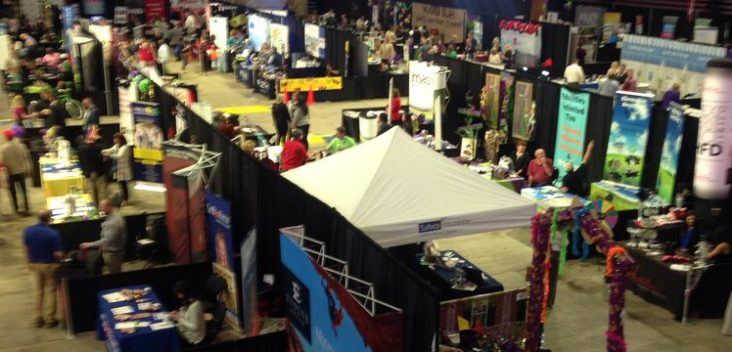 Ajax Floor Center, based in Paragould, has expanded a lot in the nine or so years that Alan Jackson has owned it. The company sells carpet, hardwood, tile, back splashes, cabinets, and other building wares.
When he hired Micah Chambers to handle his outside sales, she decided to explore more markets. Nearby Jonesboro, the largest city in the region, was a natural target. To gain exposure in the city, Chambers opted to host a booth during the Jonesboro Regional Chamber of Commerce Business Expo on Wednesday (April 3). It was held inside the 1st National Bank Arena on the Arkansas State University campus.
"It's (Ajax) literally a one-stop shop," she said.
This year, 265 vendors took part, a 22-vendor increase from last year, Jonesboro Regional Chamber of Commerce President and CEO Mark Young told Talk Business & Politics. The expo has been held in April each year for the last 29 years.
"We're up for sure," Young said.
An estimated 5,000 people attended the expo, according to the Chamber. About 3,000 visited during the chamber's members only session from 8 a.m. to 2 p.m., and another 2,000 came through the doors during the general public session the next two hours.
A lot of business is conducted during the expo, but there's a greater opportunity for vendors and other participants, Young said. Business owners and representatives get an invaluable day of networking with other businesses and civic leaders throughout the region, he said.
It provides other opportunities, too. A group of students and teachers from the Nettleton School District visited booths and talked with business owners. Several asked for business cards. Their teachers were educating the students on "soft skills," such as shaking hands, making introductions, and engaging in business conversation.
Planning the event is a long process, Expo Committee Chairwoman Lorie Cartwright said. The planning begins shortly after the last expo is finished and is handled by six volunteer committees: Booth sales, silent auction, move in, premium showcase, expo experience, and advertising.
"This is a true business to business experience," Cartwright said.
This year's theme was based on Mardi Gras, the New Orleans-based celebration that has been held for 300 years. Booths were encouraged to "theme" their booths and offerings based on Mardi Gras. Each year, the Expo brings in a luncheon speaker and this year's speaker was renowned Memphis chef Felicia Suzanne Willett, a Jonesboro native.
Willett chronicled how her upbringing in Jonesboro, her grandmother's kitchen in Hoxie, and her devotion to cooking in her youth led her to Johnson and Wales culinary school in South Carolina and an internship with world-famous chef Emeril of New Orleans.
Helping in his kitchen and later as he launched a high-profile television career, Willett gained the experience and confidence to open her own restaurant in nearby Memphis. She credited her Jonesboro roots and an early loan from banker Wallace Fowler for giving her the confidence and ability to leap into her entrepreneurial endeavor.
She counseled the pro-business crowd to admit when there is a struggle, it's okay to seek help. Being able to find mentors and advisors to guide you through the tough times will not only help you through choppy waters, but will help you make it in the long-run.