First National Financial Park is officially open for business in Jonesboro. Business and civic leaders gathered Thursday (April 4) to celebrate an official ribbon cutting ceremony at 3500 E. Johnson Ave.
The 60,000 square foot, 5-level building has an underground parking deck, community room, outdoor terrace, and an outdoor walking path, FNB Business Development Officer Allison McDaniel told Talk Business & Politics. Businesses have been operating in the building since January. The community room has been utilized at least 15 times in the last couple of months, she said.
Quraishi Law Firm, Gazaway & White Realty, and Northwestern Mutual are located in the park. Chow, a restaurant in downtown Paragould, is expected to open a second location on the first floor in the near future. There is still space for another business to locate on the third floor, McDaniel added.
"It will give our bankers the space they need. It gives us a chance to grow," McDaniel said.
FNB has 20 locations across Arkansas and has $1.6 billion in assets, Vice President for Retail Banking/Marketing Blake Guinn told the crowd of several hundred that gathered for the ribbon cutting.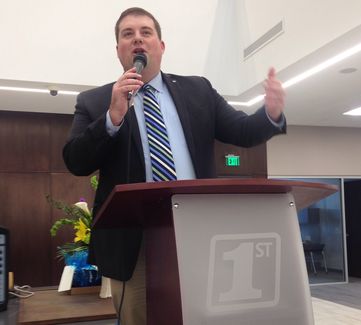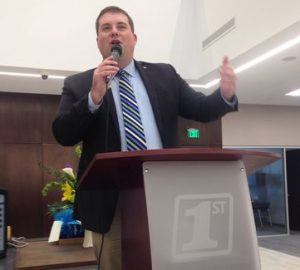 "This is an exciting day for First National Bank," he said. "We're celebrating 130 years in business."
First National Bank was founded in Paragould in 1889 and expanded into the Jonesboro market 20 years ago at the same location as where the new financial park stands. Since then, two more First National Bank branches have opened in Jonesboro.
In 2013, FNB opened a Piggott office. In 2014, it opened offices in Heber Springs and Rogers. In 2015 First National Bank added four new branches in the Northwest Arkansas. Those cites expanded to include Bentonville, Fayetteville and Springdale. In August 2018, the company opened five bank offices in Little Rock and one in North Little Rock.
Construction of First National Financial Park began in 2017. The building will replace the current First National Bank Hilltop location. Plans are to tear the current structure down to make room for more parking at the facility.