Little Rock's Venture Center appoints Wayne Miller as new executive director
by Wesley Brown ([email protected]) November 7, 2018 11:11 pm 876 views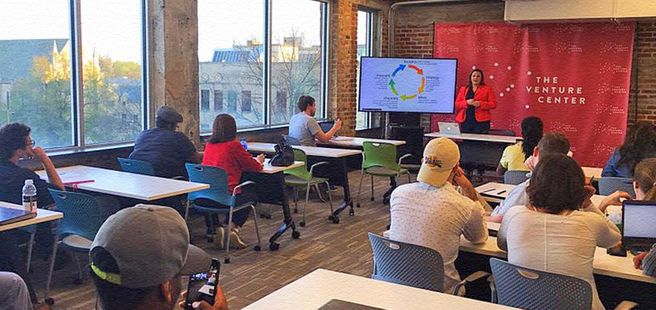 The Little Rock Venture Center board of directors has unanimously appointed Wayne Miller to the top leadership post for the nonprofit startup program after conducting a nationwide search following the resignation of longtime director Lee Watson earlier this summer.
Miller, who relocated to Little Rock from the Washington, D.C. area more than a year ago to take over the Venture Center's Fintech Accelerator program, spread word of his new appointment Wednesday through the nonprofit's email communications network.
"I am incredibly honored to have the opportunity to advance the Venture Center's mission to inspire social and economic change in Arkansas," wrote Miller. "The opportunity is extraordinary and I truly love the work we are doing. Helping entrepreneurs succeed and companies innovate is a privilege."
In mid-June, longtime Venture Center CEO and co-founder Lee Watson, announced that he was transitioning into a newly created position as "chief innovator" of the entrepreneurial program. Bill Yoder, a local entrepreneur and former Acxiom executive, assumed the position of interim CEO.
At the time, the Venture Center board said the move represented the next step in the Venture Center's growth plans as the organization continues its mission "to be one of Arkansas's premiere entrepreneurial resource centers."
The six-person Venture Center board of directors has not provided details on Yoder's and Watson's current roles, now that Miller has assume the top post. Before taking this position, Miller previous was managing director of the center's Fintech Accelerator program.
According to his bio, Miller spent two years as CEO of a private equity backed medical device manufacturer before joining the Venture Center executive team. He also worked with two start-up technology companies in the healthcare and cybersecurity sectors and was COO of a $45 million dollar transportation and logistics company with over 1000 vehicles, five facilities and staff of 1,500.
In his tenure at the Venture Center, Miller oversaw the 2018 iteration of the nonprofit group's 12-week startup program that includes "in-depth mentoring and training" from Fortune 500 financial technology Fidelity Information Services (FIS) and local business leaders and entrepreneurs.
This summer, that program selected 10 startup firms out of a pool of 281 applicants from 47 countries, 26 states and six continents to participate in the three-month long business bootcamp. The chosen companies were each given $75,000, with a potential to earn an additional $100,000 to $300,000 to grow their companies.
Last week, the Independent Community Bankers of America (ICBA) said that it is partnering with Miller and the Venture Center to launch the ICBA ThinkTech Accelerator. The new cohort will be a first-of-its-kind community bank-focused fintech accelerator program with an aim of helping community banks directly engage and partner with early-stage fintech companies focusing exclusively on product development.