There were no seismic moments in the only scheduled debate between the three candidates for Arkansas' Second Congressional District. The nearly one-hour debate hosted at UCA and airing on AETN featured incumbent GOP U.S. Rep. French Hill, Democrat Clarke Tucker, and Libertarian Joe Swafford.
The three candidates rotated answers to questions surrounding the MeToo movement, immigration, election interference by Russia, the rising national debt, tariffs and raising the minimum wage.
Hill, who was first elected in 2014, drew his biggest contrast against his opponents in his closing statement when he declared voters in the central Arkansas district are better off than they were two years ago when President Barack Obama held office.
"What I'd like to say to the voters of the Second District is, 'you're better off today than you were two years ago,'" said Hill, who referenced positives for the economy, jobs, Little Rock Air Force Base military funding, K-12 education reforms, Arkansas Children's funding and changes to veterans hospital management.
"That's the kind of work that I'm proud of in the last two years," Hill said. "In this race, voters in our district have a choice. Do you want to send me back to Washington to fight for our vets, fight for our priorities, or do you want to send one of these gentlemen to Washington?"
Tucker used his closing argument to discuss what is likely the definitive issue of the campaign – healthcare – which didn't receive any attention in the candidates' questions.
"Healthcare is the issue more than any other that compelled me to run for Congress this year," Tucker said, referencing his state legislative support of Arkansas' Medicaid expansion program now known as Arkansas Works. "The Affordable Care Act is not perfect and needs to be improved. But it did provide essential protections for people with pre-existing conditions."
Tucker noted Hill's vote for the American Health Care Act, which he said would have dismantled the state's Medicaid expansion program and would have made it more difficult for people with pre-existing conditions.
Swafford pitched himself as a regular person, not a politician. He said that his lack of polish was a positive in earning voters' trust.
"I hope you see it as genuine. I hope you see it as 'I'm one of you.' I'm here to listen to you. My bosses, if I go to Washington, is three things and that is the Constitution, my constituents and my conscience. And everybody else, including big interests and party players can kick rocks," Swafford said.
The full debate will eventually be available at this site.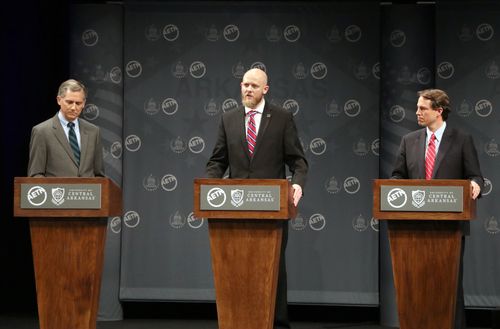 Photo courtesy of Haley Lingenfelter.